Last year, Exhumed was invited to play the 2018 edition of the annual 70000 Tons of Metal cruise. I hadn't played with Exhumed in almost a full year's time while their former bass player, Matt Slime, filled-in for me. He's logged in more time playing with Exhumed than I have since "replacing" him. I actually did offer Exhumed to take Slime in my stead, because a nice cruise seemed like it would be a good reward for hard work. Well, they insisted I go and I got to enjoy my second 70000 Tons.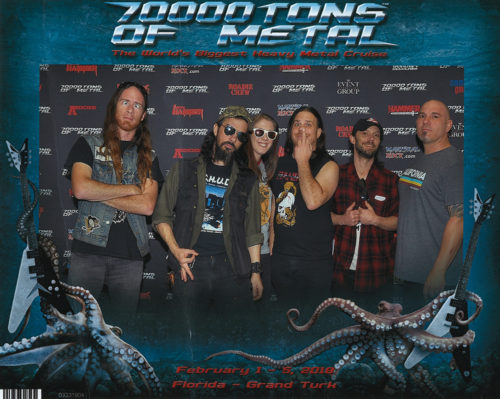 I played the boat two years ago with my fellow hooded cannibals. It was a wild ride. We're obviously not the main kind of draw that the cruise has, it being mostly populated with power metal bands from Europe. They do get a few good death and thrash bands to even things out a bit for the attendees who like something more than just songs about ale and vikings on long boats.
On the boat, each of 60+ bands plays two sets. It is typical that the sets change a bit. So, I had a fun month after tour practicing about 25 Exhumed songs by myself because Matt Harvey is a maniac who wants to play ALL THE SONGS. Eventually, I drove down to San Luis Obispo for one real practice, then we flew to Florida the night before the cruise, and finally got cozy in our home for the next four days.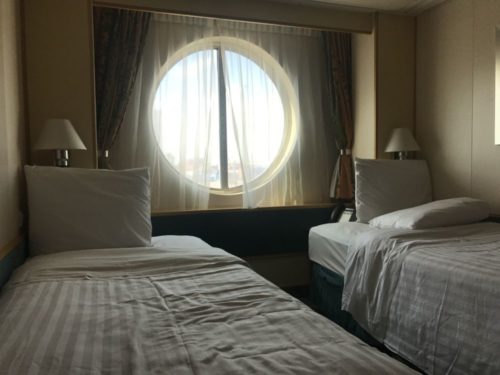 We didn't have much time to enjoy the amenities of the cruise, as we were set to be one of two bands playing FIRST. The ship hadn't even left port before we were set up to play and I felt the engine start while on stage. It was apparently a great time to play, as the Pyramid Lounge, the smallest venue on the ship, filled to capacity with eager sailors ready to start head banging. Were that the stage hands were also ready… there was no power to the stage or P.A. We started almost 20 minutes late and had to cut our set by half. It felt rather anti-climactic, as we weren't even scheduled to play again for another two and a half days. Oh well, time to go pace the boat and check out some bands!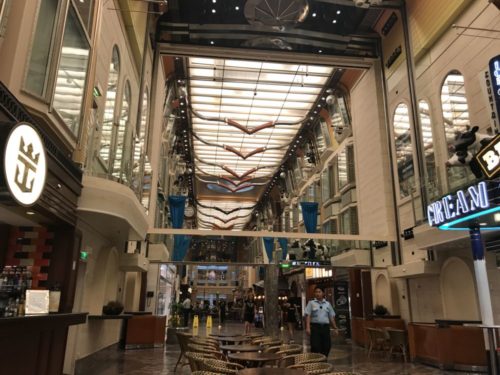 Food is included with your travel on the boat either in the Windjammer buffet or in the fancy schmancy dining hall. But beer is not, and it is EXPENSIVE. I decided to see how long I could go sober and save up the small credit that band members were allotted. I stayed up for another 12 hours watching bands. The cozy Pyramid Lounge was host to Witchery.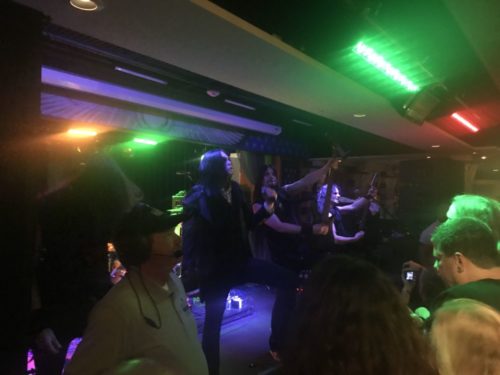 The enormous Alhambra Theater has a balcony, inclined mezzanine seating, and floor space. It's so big, it has doors on two decks. There I caught Kreator with the charismatic Mille Petrosa dazzling the crowd.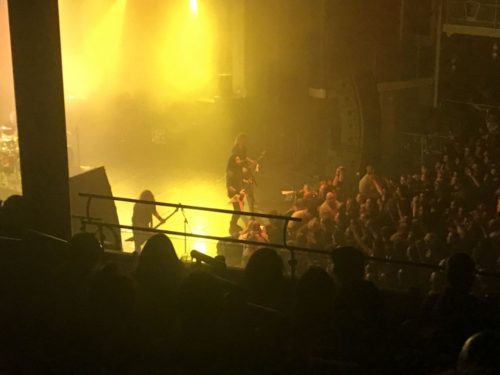 The Ice Rink stage is more like a large club. This is probably my favorite stage on the ship, as it's intimate enough but leaves a lot of room for moshers and those who wish to be seated. The first night there I caught Goatwhore pummeling the crowd… at 4 AM.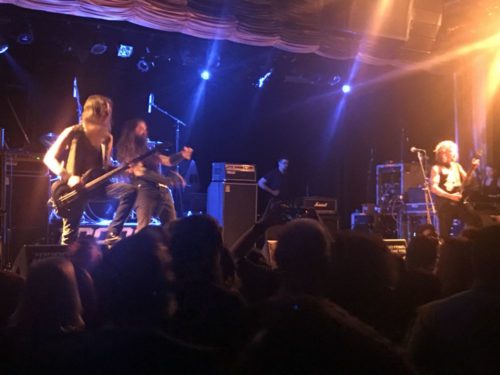 The Pool Deck stage was still under construction and wouldn't be open until the next day. But this didn't keep me from enjoying a late night dip in one of the hot tubs. 24 hours of food kept me well nourished. It truly is like being the lap of luxury, if you idea of luxury is hearing European power metal blaring from the loudspeakers in every room you enter. I spent a lot of time refreshing my ears on deck 4, quietly sitting on deck chair while reading comics on my iPad.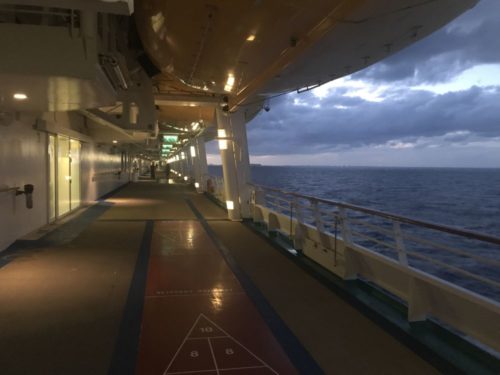 On day two I got up relatively early for maybe the worst scrambled eggs of my life. Everything else tasted fine on the boat, but holy fuck, those eggs will haunt my nightmares. Around 10 AM, I caught Benediction having an absolute blast on the outdoor Pool Stage, clearly, the silliest and most fun of all the stages.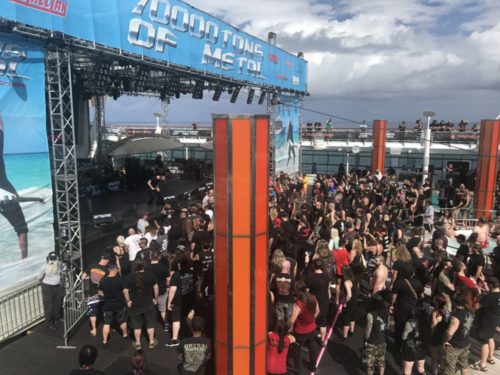 If you ever thought about a mosh pit turning into a mush pot, wonder no longer…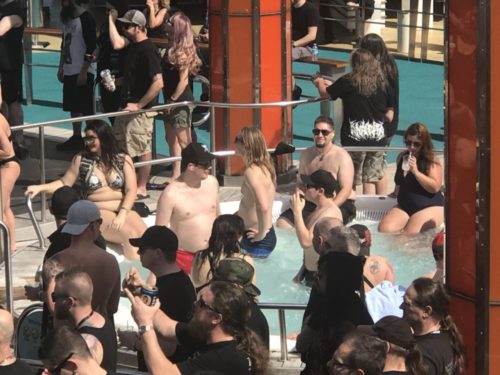 I still had obligations. Day two includes all the bands participating in signing sessions. We, being the knuckleheads we are, had a very silly signing session. And thank God… who can take this shit seriously when people are running around with drinking horns on a cruise ship?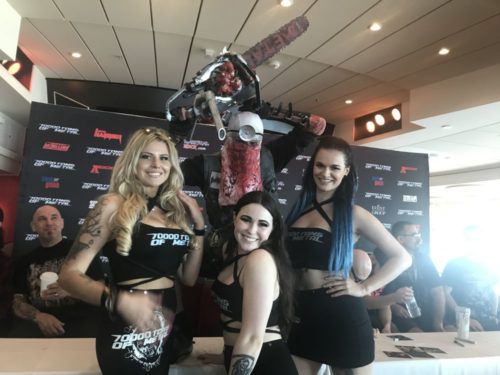 Of course the day also included more bands, more eats, and other ship amenities such as mini-golf, wave-simulators, an arcade, casino, basketball, massages, and a bunch of other shit normally only afforded by old retired people whose bones are too achy to even enjoy any of this shit. Like me. I mostly read some more comics until one of my favorite bands ever, Voivod, played.
Day three began with us docked at the island of Grand Turk and me waking up VERY early to a bickering married couple. It seemed like a good time to leave and join up with the snorkeling trip that advertised participation by members of Exhumed and Aborted! It was a funny thing to advertise, as I had to pay my way onto the excursion. No regrets, I love snorkeling. But it seemed a devious way to guilt me into going.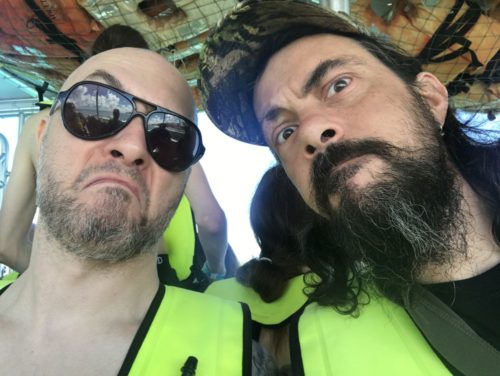 After we saw some fish and shit, I vacated for some FINALLY cheap-ish beer and a refreshing walk along the beautiful beach. On my previous 70000 Tons, we landed in Jamaica no where near a swimmable beach. It was right on top of a poor town that had my cis-white-male guilt running in overdrive. In Grand Turk, the advantages of a first-world life flowed through me like Captain Cook.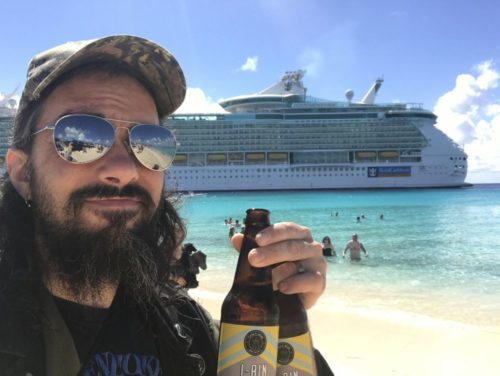 As soon as the ship left dock in the evening, bands started right up again. I headed to the upper deck to enjoy local Bay Areans Exodus sing about fishies and shit.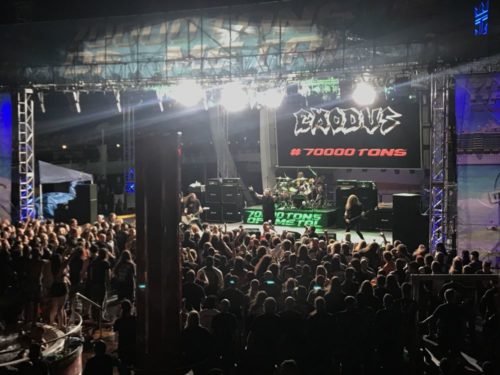 Day four began and our set was scheduled early at noon. I had previously been excited about this set on the Ice Rink stage. Then we realized we were opposite the belly flop contest. Do you want to know what's the most popular event on 70000 Tons? Here's a hint, it's not Exhumed. What a vast wasteland that room was when we started.

By the end of the set, it was okay. I have to admit after the first set and then this, I felt like I hadn't really put in the work for my berth space. Oh well, I was still going to enjoy the food, some not-so-prohibitively-priced Fosters, and one more set by Voivod. Others decided to enjoy the Super Bowl. Pshaw… posers, all.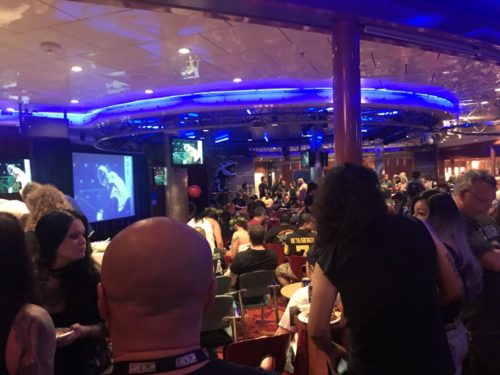 The next day, we docked back in Florida and people left with their loving memories and incredible hangovers. Playing the ship is weird. Rubbing shoulder to shoulder with bunch of middle-class European metal heads and Canadian oil riggers on a luxury cruise ship makes you wonder what fucking world you stepped into. But it's fun. I don't know if I'd ever pay for such a thing, but I travel with and see bands ALL THE TIME. I'm jaded as fuck. For the regulars on this boat, however, this is a vacation of TITANIC proportions (see what I did there?) I definitely hope to be invited back again.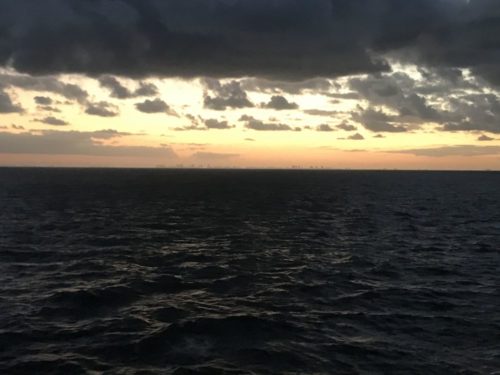 And the best part of this trip versus the last one I did? The asshole bassist of Dead Cross wasn't there to record his experiences in a shit headed blog that pooh-poohs everything he doesn't understand.