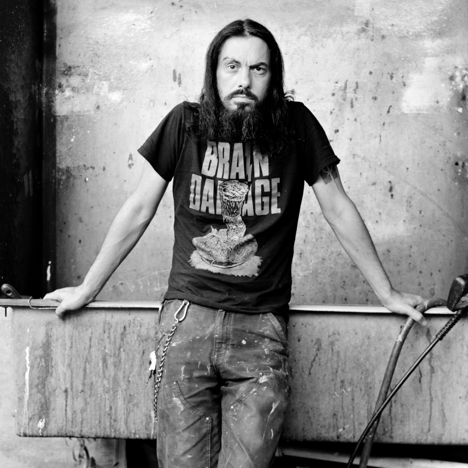 Ross Sewage, a.k.a. Herr Doktor Monsewer Ross Sewage Abwasser, a.k.a. Shit Bucket, is a musician, artist, raconteur, and general miscreant.
Known for his noise making amongst a myriad musical groups, Doktor Sewage makes a living in the arts. He is head printer during the day at Monolith Press in Alameda, California, and subverting all things moral during the night at his drawing table in Oakland.
Doktor Sewage's artistic output has appeared in comic book anthologies, tutoring material for students, coffee table gift books, and art anthologies. He also has a large body of work consisting of album covers for musical groups. He's performed on stages in Europe, Japan, and all through North America. His art has shown in galleries from Europe to Asia, as well as in dive-bars and garbage cans at home.
Though he is largely focused on his own expression of distaste for carbon-based life, Doktor Sewage is available for hire as an artist, designer, photographer, or anything else that earns him the damn greenbacks he needs to put dinner on the table for his six inner demons.
Some Previously Satisfied Clients…
APPAREL:
Bad Press
Nightgaunt Graphics
Punkstuff: Hangar 19 Apparel
LABELS:
Alternative Tentacles
Century Media
The Flenser
Land O' Lakes Records
Life Is Abuse Records
Lunar Tomb Records
Metal Blade
Necropolis Records
Neurot Recordings
Profound Lore
Razorback Records
Relapse Records
Tankcrimes
Throne Records
Wax Maniax
Willowtip
BANDS:
Cartilage
Engorged
Ex Dementia
Exhumed
Ghoul
Impaled
Infinite Missiles
Ludicra
Middian
Order of the White Rose
Prime Specimen
Revolta
Scolex
Skarp
Vale