After a long-assed drive from Oakland's punk-sister-city of Portland, I was back home. Hell, I spend such an inordinate amount of time at the Oakland Metro Operahouse, I even got married there. Tonight, I would rock the stage yet again, but this time with the first band I was ever in worthy of noting. It felt like I would be showing the biggest group of friends ever an old photo album.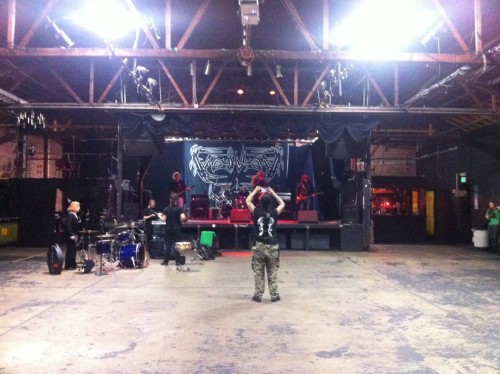 I showed up early, because I have a nervous fit if I'm not in a club I'm playing before doors open. I had absolutely no cause to be there, but to walk around not actually loading shit. If I'd wanted this set to be 100% old-school, the proper thing to do would've been showing up five minutes before playing and realizing I had a broken string.
[contextly_sidebar id="K3CEo7xN9JZhdyHEO3ca5gn8cMQUC5nr"]This night, Phobia was joining up for some dates on the tour. I love Phobia. I've enjoyed their antics since 1992 while watching my metal tutors, Matt and Col of Exhumed, play shows with them. Before I ever played a note, I saw Shane's calloused fury and vibrant stage-presence as the epitome of the unbridled anger grind-core was capable of inspiring.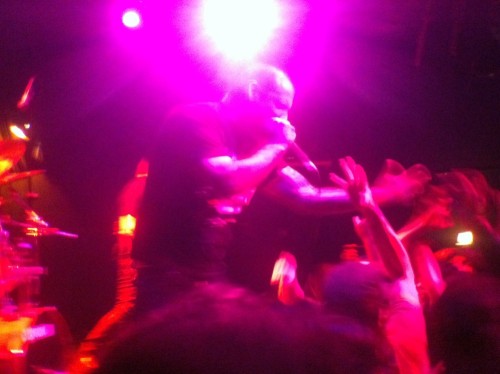 Eventually, I was able to fill in on bass for these guys for a tour just sixteen year after I'd first seen them. It was a wild experience. I especially miss playing with Brian Fajardo, the drummer. The man does receive accolades for his playing, but not nearly enough. That said, I simply adore the current line-up of Phobia. It's the most solid line-up I've seen for Phobia on and off stage. It's as much a pleasure to watch them as it was to play in the band.
Tour mongers Iron Reagan have bashed it out at the Metro so many times now, I think that crew may soon have played the stage more times than I have. They're always welcomed by the Oakland audience with unabashed enthusiasm, keeping it real and fun in equal measure. The crowd lit up for them and was given a special treat when Barney from Napalm Death literally snuck in to do guest vocals.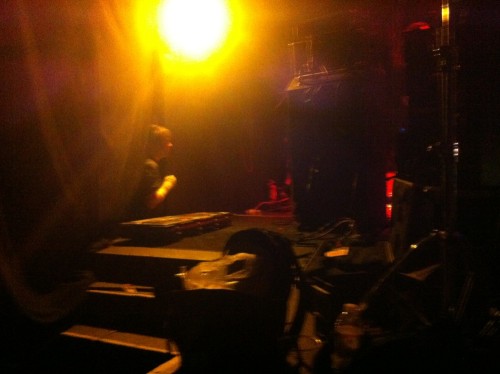 Exhumed was up next. I can't lie, it felt a little weird before going up. I have to keep reminding myself, I'm not some sad sack who retired long ago from music and is itching for some glory. I continue to work hard with great bands and great bandmates, creating our own musical history that I'm immensely proud of. This is about something else. This is about fun, old friends, and making shit positive.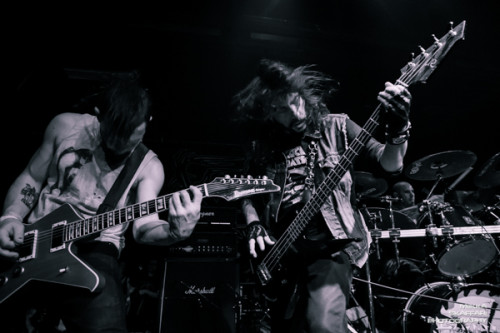 Normally I like to see bands from the audience view, as this is how the show is performed. In Oakland, I stood behind the stage like a privileged turd and took in Away's drumming for Voivod. The man regresses into a child as his fervent enjoyment of what he does takes over. It's absolutely infectious to watch. Not to mention, being close enough to watch his foot relentlessly pounding out the most vigorous D-beat I've ever seen was super exciting. And to my left… Jello Biafra enjoying the same. I know the guy, I was on his label… but the teenage punk in me still gets giddy every time I see the man.
Even more giddy was the crowd during Napalm Death. At one point, Jello joined Napalm Death on stage for what had to be the most crushing version of "Nazi Punks Fuck Off" ever. Napalm spit out the hits for the enthusiastic Oakland crowd. Everyone walked away happy they'd bought their tickets in advance for this sold-out show so they could to brag to their poor friends who did not.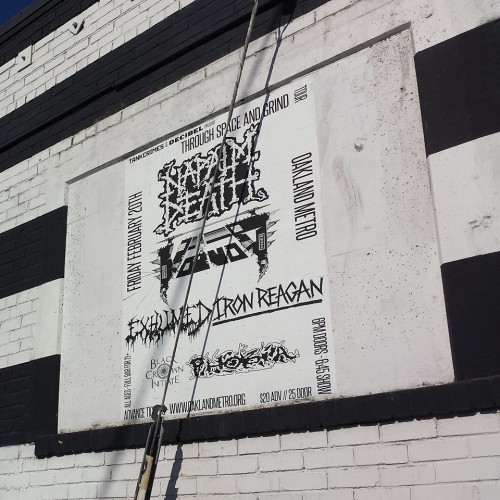 The wife and I headed home to get a night in our own apartment with the cats. After a leisurely breakfast we headed out to Fresno. I started the car and realized I'd forgot to pack my bass. I can know every piece of gear and its place when I'm on tour Tetris-ing the hell out of a trailer, but it seems I'm just a doddering old fool when it's time for a road-trip for the wife.
Taking Interstate 99 in California, it's easy to forget you're in California. Gone are the tech billboards of San Francisco smushed in between high-rise buildings. Instead, you get ads for Golden Corral and half of the radio stations play country music. The other half play banda.
The last time I'd been in Fresno with Exhumed was at the hospital after we had a truly shitty car wreck that required some plastic surgery for moi. They forgot to un-ugly me, but they did manage to kinda sorta piece together the hamburger that was my eyebrow. At Strummers, we were definitely going to have a more fun evening with some true fans.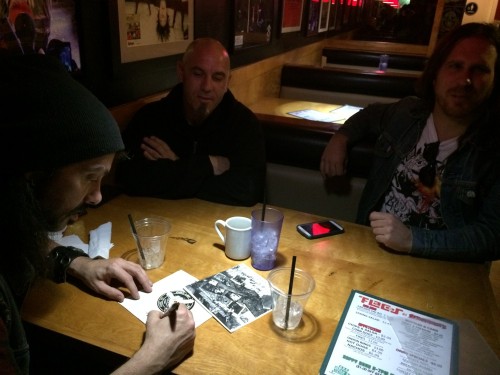 I think everyone's expectations for Fresno were guarded, but all were obliterated. This was the third sold-out show in a row in a cool rock club sidled next to a vegan restaurant. I never imagined a vegan restaurant in Fresno… color me a judgmental liberal.
Phobia again rocked the joint, as did Iron Reagan. Matt Slime, who is the current and currently-exiting bassist for Exhumed, asked me for a special favor in Fresno. He wanted to play the whole set on bass so that we could all perform together. Of course, I said yes. It meant I could finally hit the bourbon!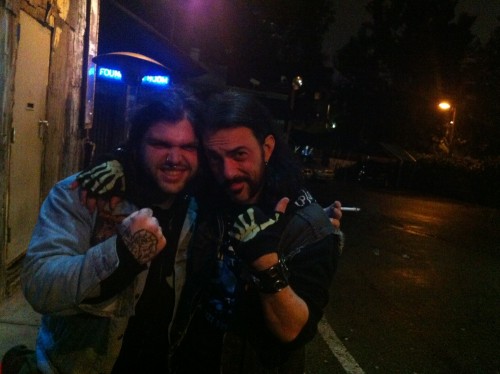 And hit that bourbon I did, drunkenly coming up for a vocal set that included about 1,000 invisible oranges thrown at the crowd from my non-bass playing hands. Now, you want to talk old-school… vocalist was my first real job in Exhumed. And it was great fun to re-create the spectacle of being a five-piece.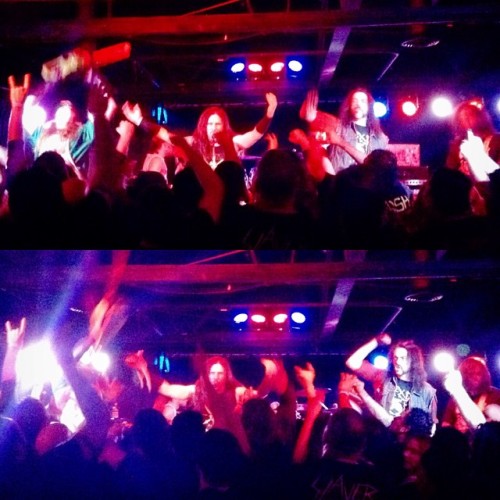 I'm going to assume Napalm Death and Voivod did a great job. I know I watched them, but… well, please reference the aforementioned bourbon drinking. After the show, the wife and I took Matt Harvey and we headed to his abode in San Luis Obispo. We conversed about all the things we've been through and put each other through over the years. And I don't remember a lick of it. The next thing I remember was the hangover the next morning.
After about three hours of sleep, we jumped back in the mini-van as Matt, Jehn, and I ventured to the famous Grill 'Em All burger-joint in Alhambra for a noon time Exhumed / Iron Reagan meat and greet. I'm not gonna lie, I was in it for the Behemoth burger. Two grilled cheese sandwiches surrounding a patty… vegetarian in my case. It doesn't get more greasy hangover food than this. But I would have to wait for it in Alhambra's biggest queue.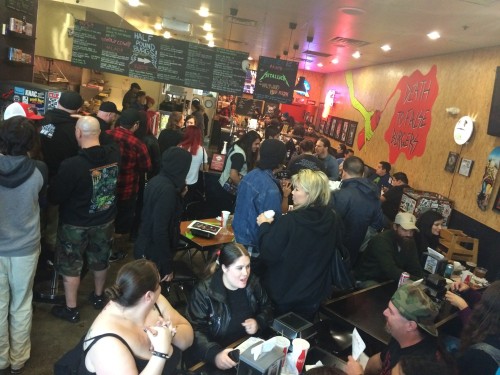 I guess this band I used to be in got popular at some point? I don't know, I wasn't paying attention. Grill 'Em All was slammed with a line out the door and scads of people waiting to get records signed. They even had to stop letting people in. They had some little problems like "maximum occupancy" and "patron safety." In the end Bronzino from Iron Reagan made sure I got my Behemoth, which took me two days to finish. Jehn enjoyed the Iron Vegan with Ryan of Iron Reagan.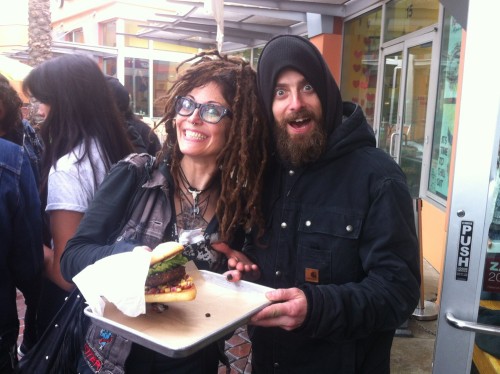 Jehn and I departed from the tour to meet up with Liz Schall from Dreaming Dead and her boyfriend, the little brother I never knew I wanted, Leon del Muerte from Murder Construct. And Phobia. And Exhumed. And Intronaut. And Impaled. And Pale Existence. And Nausea. And Terrorizer L.A. And Infanticide. And Ritmos Satanicos. And Paragon Of Infamy. And Cup O' Grind. And Destroyed in Seconds. And Black Ops. And Artificium Sanguis. Hold on while I catch my breath…
We all headed together to the Los Angeles House of Rules… er, excuse me, the House of Schmooze… uh, no, wait for it, the House of Blues.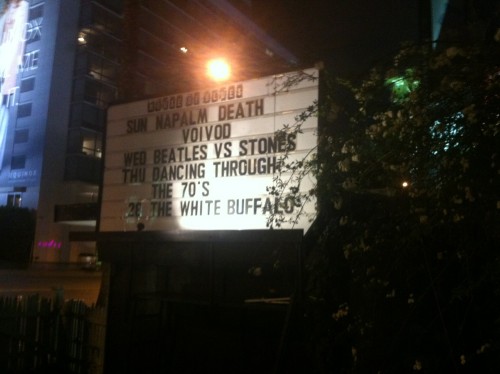 Seriously, I know this place is getting torn down and that it's always bad to lose a place for live music. But fuck ancient-alien-enthusiast Dan Aykroyd and his corporatized monolithic version of a blues bar. The faux-organic facade of these gigantic $20-french-fry and $50-ticket-priced franchises makes me ill. The staff is also trained to be over-bearing security dick-holes that frisk you like a criminal… just like a blues bar in the '30s, amiright?
The back stage was typical of L.A., just about as crowded as the pit. For our part, we had enough Exhumed bassists to fill up a telephone booth and go for a world record.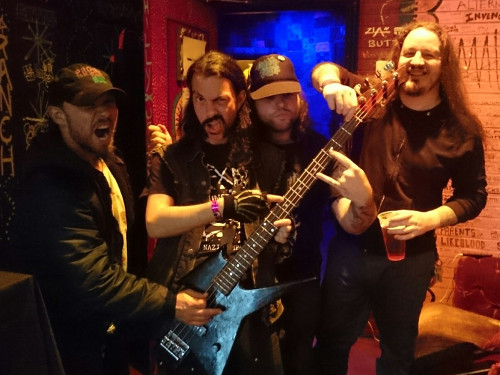 The crowded back stage worked out well for Tony from Iron Reagan who decided that taking up pole-vaulting while on stage was a good idea. I love this dude and his complete lack of caution. Well, he ended up hurting his ankle and had no less than six girls tending to him… including my wife.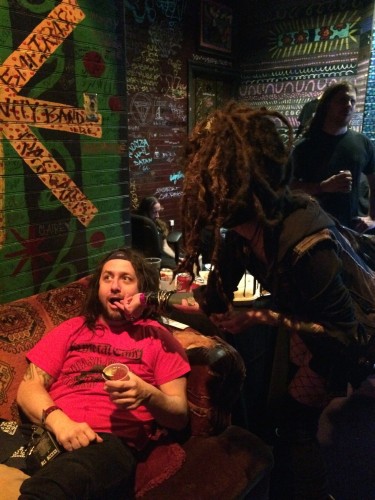 Los Angeles, I am sorry. I really felt like shit before going on stage. I am not the partier of the metal scene. I am the guy who loads up the trailer and then passes out as soon as we get to a place to stay. Not having to load anything, not having to drive after the show, and not having to put a bag on my head every night really took its toll as the alcohol just forced its way down my throat. Still, it seemed like you all dug Exhumed whether or not I felt 100%. It was a good last show for my little run playing you all some vintage Exhumed.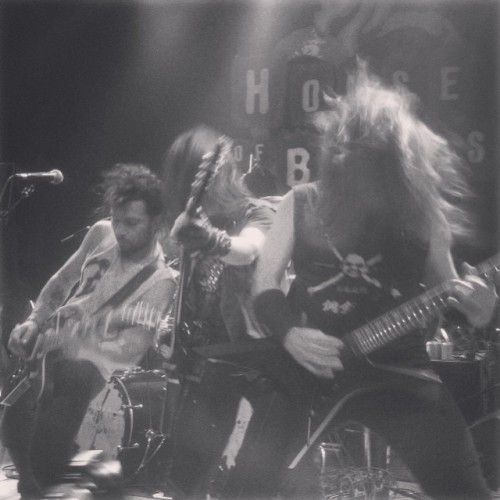 Voivod and Napalm Death rocked the evening to a close for a vigorous crowd. I went back to Leon's for a little pizza, some zombie movies, and a lot of closure. Thanks to the guys in Exhumed for having me, Iron Reagan for being so fucking fun to tour with again, Black Crown Initiate and Napalm Death for the rock, and to Voivod… just for being Voivod. Away even remembered my name when he said goodbye. Cue the school girl giggling.
Oh yeah… go buy Exhumed's Gore Metal: A Necrospective. Now.