While I slept, little baby New Year decided to throw me a few curveballs for 2015. I awoke on January 1 to an email from my old bandmate from Exhumed, Matt Harvey. They recently released the Gore Metal re-recording which I had participated in, redoing all my vocals and not being able to speak for two days after. Now, they were going on tour with the crazy gods of Voivod and Napalm Death in support of Gore Metal 2. Their current bassist, Matt Slime, was leaving the band due to job commitments. Matt asked if I wanted to play the tour. Sonofabitch.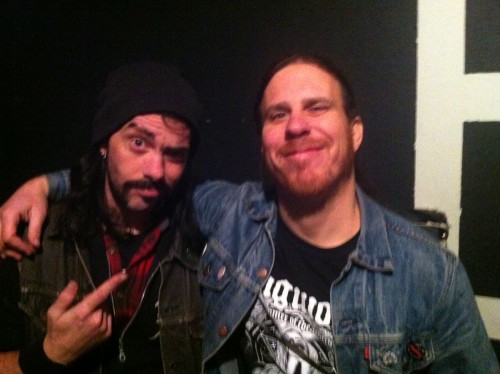 I was kicked out of Exhumed 16 years ago. The feud between me and Exhumed lasted for years afterward, affecting both Impaled and Ludicra to varying degrees. Fisticuffs were almost had at one point. I tried to keep it out of the public eye, well, except for when I didn't (like putting a murdered Exhumed fan on an Impaled 7" cover). Real mature, right? Well, the peace was made long ago and we're all much more mature people. That includes mature life responsibilities, so I had to decline doing the whole tour on such short notice. But I offered to do some West Coast dates, and Matt accepted: five gore metal filled days traipsing down memory lane.
I thought, hey, easy peasy… I'll jump up on stage and "sing" a few songs with the boys. I'd already done that a couple times with Exhumed. Then Matt sends me the tablature. Ah fuck… I gotta play, too? Well, I guess it's more authentic. In what little time I had in between work, a Ghoul show, two poster releases, and house guests, I tried to get these songs down. Despite having played them 16 years ago, it felt like I was learning all new songs…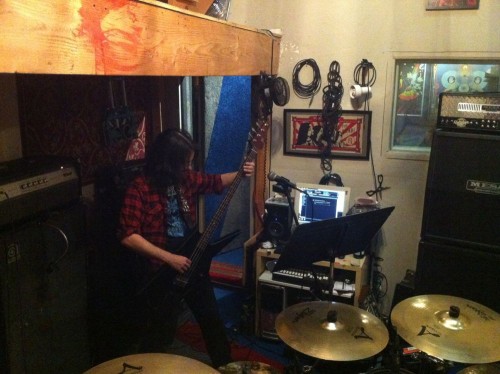 No sooner had the press release come out that I was joining up with Exhumed for a few dates than I was already getting requests for guest list spots. For towns I wasn't playing. I also got messages about how cool it was I would be playing with Phobia again. Honestly, people… read the story, not just the headline. Me and the wife packed up the car to drive all night to meet up with Exhumed in Seattle.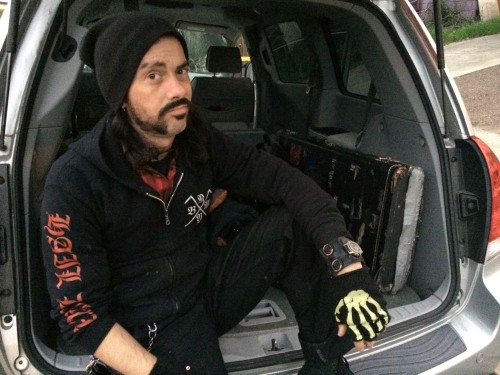 We got from Oakland, CA to Oakland, OR and camped out in a Flying J parking lot. The whole time driving, I'm going over the lyrics in my head. Holy shit, Matt and I wrote some stupid, stupid lyrics. And way too many of them. How the fuck did I used to fit these words over riffs? Oh right… I didn't. No time like the day before jumping on stage with a band without practice to start trying to act professional.
Arriving in Seattle, I was surprised that Exhumed had actually made their load in time and were already there. Looks like everyone is acting a bit more professional these days. We meet up, and then the little fan boy inside me clams up as Away walks in the room. Good god, I love this man. I don't act like a scared little fan boy around most bands, but Voivod is one that I do. I'm a paranoid.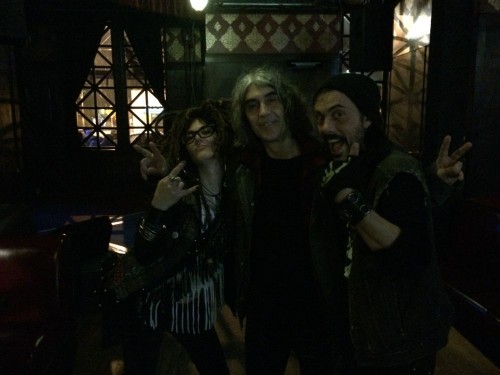 Matt and Bud both went over the songs with me backstage, and yay, there was parts I had learned wrong. Or they changed. Or the tab was wrong. I dunno. But more to think about was not what I needed. Oh crap… was I maybe getting a little nervous? I'd like to say no, but walking around a club and warming up my vocals for half an hour is something I've never, ever done until now.
Iron Reagan finally showed up and it was great surprise hugs all the way round with my buds. Matt really hadn't let anyone know I was showing up until the press release went out two days before. Or maybe he wondered if I would show up at all. My friends in Theories were opening for the tour package that night. It was a treat to see them and get to hang out. They slayed.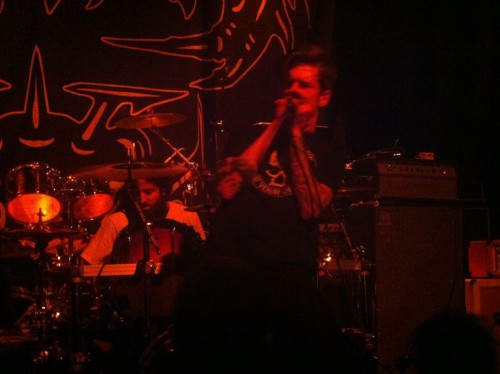 I missed out on most of Iron Reagan, but you know they fucking killed it. They always do. The club was packed, but I was backstage practicing bass and trying to remember if "dissect my festered intellect" was in the second chorus or the third. Ugh…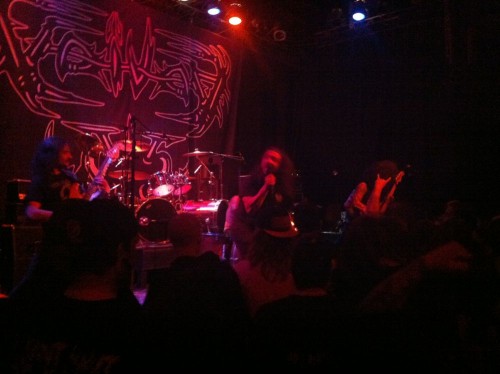 Exhumed went on and played three songs from their more recent catalog with Matt Slime on bass. Then he unplugged and Matt introduced me. Jeebus, I forgot how much distortion they used (I used to use) on the bass. Was I even playing? I don't know, but before I knew it, the set was done. So that was that. Just like a regular ol' show in the end.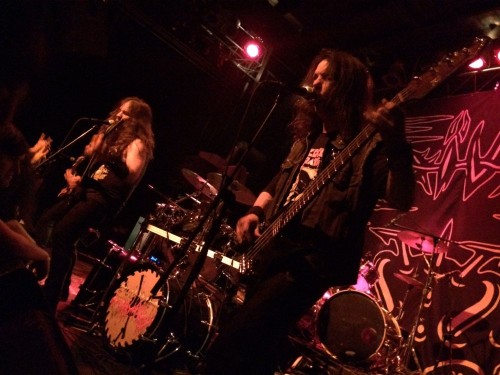 After getting offstage, I went outside for a smoke with Bud. The first thing I was asked by a stranger was, "How come you didn't puke?" Look, folks, let's get this straight. You probably never saw me with Exhumed. I didn't do the Gore Metal tour following the release of the album. That was Bud, the guy who can puke on command, on bass. Now he's on guitar. And we don't exactly look like twinsies.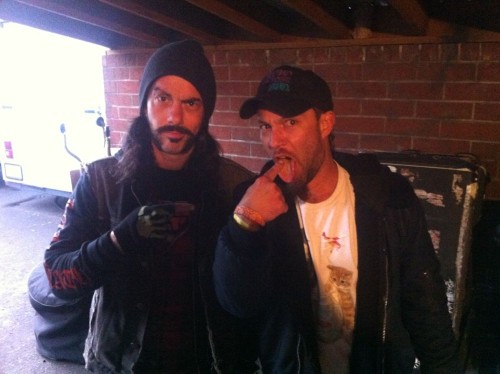 The rest of the night was spent hanging out and drinking. A couple people in the crowd and my wife made sure I never didn't have a beer in my hand. It was super cool hanging with Matt, Bud, and Mike again. I really wish I could've done a whole tour with these knuckle-heads. At one point, Matt pulls me aside, and says, "I got something I've really been meaning to ask you." Okay, this shit is gonna get serious and deep. "Have you been watching Arrow? Or the Flash?" Dude… we're 17 and hanging out in a comic book store talking nerd shit all over again. It's amazing how old friendships can just pick up right where they left off, sometimes.
My wife Jehn and I stayed with some friends and headed to Portland separately from the tour. We met up with our old bud Hopper from Hellshock (and one million other bands) at Hungry Tiger as part of the vegan food tour my wife was on. Both of us had missions on this journey.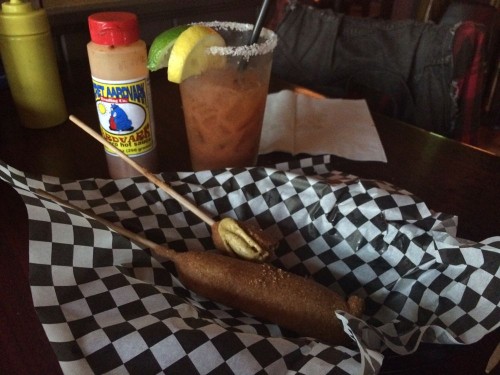 I had Jehn drop me off at Hawthorn Theater. The tour was already set up, gear was good to go… this guesting thing ain't bad. I don't have to lift a thing but people's spirits. I bummed around a bit, and then me and Matt's old friend from San Jose, Tim Goodyear, showed up. One of the old comic book store buds, Tim kept at the comic thing more than Matt or I did. He runs a couple shops in PDX, publishes indie comics, organizes comic conventions, and is featured regularly in Sean Aaberg's Pork Magazine as a contributor and star of the fumetti comic, Tim and Tim. He is an aficionado of the medium worthy of respect.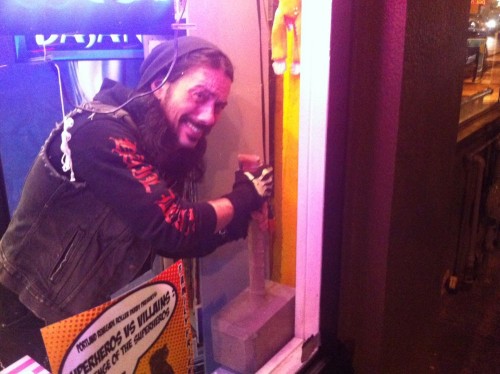 Tim took me and Matt to one of his stores where we shot the shit about everything. I come to realize that Matt is starving for comics and comics talk. Bud and Mike are great dudes, but they give shit all about men in tights fighting. So, I'm putting out a call to all Exhumed fans: don't bring Matt Harvey weed, drugs, demos of your band, or any other kind of traditional band gift. Make this the new thing: bring him comic books. Lots of comic books.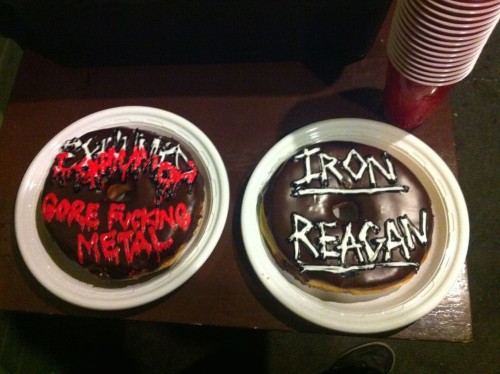 The Portland show went smashingly, better than Seattle. Loads of stage divers came up and definitely made me feel more at home while playing. Even more fun: watching Voivod. They have three different sets and I'm getting to see them perform shit like "The Prow," which I never thought I'd get to see. A gang of us eventually found each other in the packed, sold out show and raised our tall cans high, chatting, singing, yelling. Have I mentioned I love Voivod?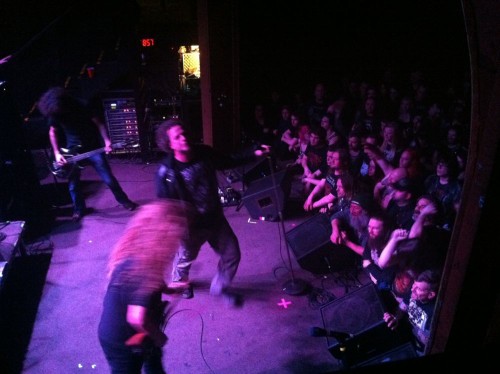 I also have to give props to here to Orion Landau, with whom I spoke at the Portland gig. Initially, knowing my distaste for the original, Matt asked if I wanted to redo the cover for Gore Metal. Of course, I said yes, and gave him a budget. I wanted to make an awesome horror movie spectacle of a cover, transcending the original. I guess Relapse balked, or just didn't like my art. I don't know. They handed the job over to Orion. I was more than dubious. Then I saw it. Dude did a better job than I could have. I love it. In PDX, I finally got to really meet him and extend my kudos.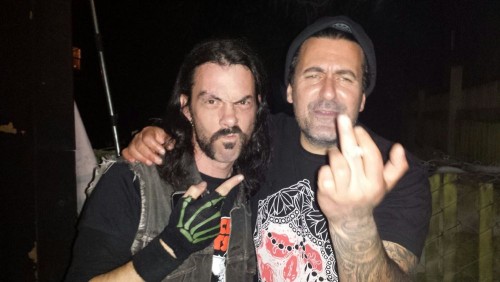 Napalm Death then ripped it up. Afterwards, a lot of us adjourned to the adjoining bar. The show was like a PDX class reunion, with Iron Reagan dudes, Joel from Toxic Holocaust, Ryan and Lucas from Engorged, Joel and Hopper from Hellshock, Branden from Night Nurse, Casey from Murderess, Exhumed, loads more I don't remember, and me. I drank till I couldn't, because me and the wife had a long drive ahead of us from Portland to Oakland the next day. I wanna rock 'n' roll all night… and drive every day.