On Friday, February 13th, Tankcrimes head honcho Scotty Karate took his magic touch to grace the historic 924 Gilman punk club. Scotty put on an epic show featuring bands with releases on Tankcrimes. It's the first time in my own recent memory that Gilman hosted a sold out show. And I made a poster for it.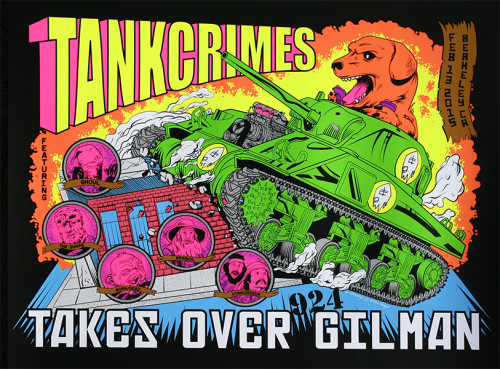 To say the show was a success is an understatement. Punks ages 8-80 (literally) came out to be a part of the festivities. Connoisseur, Brainoil, Born/Dead, The Shrine, and of courpse, Ghoul… it was a line-up so heavy, it had its own orbit.
If only that was hyperbole. Oh, sure, the venue was packed. So were the streets.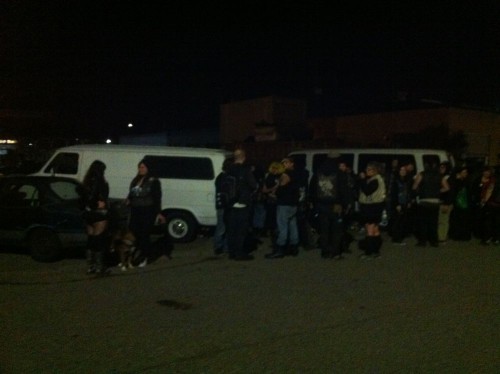 At one point, two police SUVs came by, swung around a few times, and thought better of it. Throngs of people lined up and down Gilman, presumably breaking the law with some public drinking and smoking of bowls. But the crowd was peaceful and the Gilman staff were tight on picking up litter.
The Gilman crew was also super helpful to us, as stage manager Obadiah opened the venue up early so we could build a back stage. So, of course we showed up late. We borrowed a stage extension from our awesome jam spot, Soundwave Studios. Our crew consisting of Scott Bryan, "Tennessee" Dave, and Dustin "Beerserker" worked hard to make a curtain and stage extension. We needed a place to change and they needed a way onto stage in giant robot and monkey costumes that wouldn't break their necks.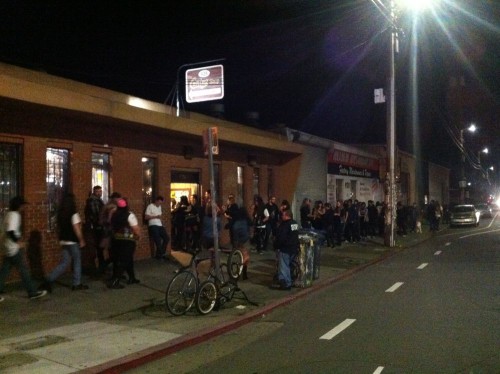 The queue was long before the doors opened and lasted through several bands. Don't feel sorry for the openers, though… Connoisseur had a huge crowd enjoying their baked goods right from the get go.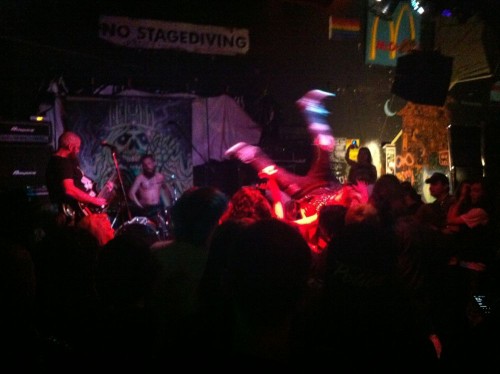 Guitarist Dan Hashthrash of Connoisseur espoused a super posi-message about smoking weed, remembering your dead friends, and appreciating places like the Gilman that informed our punk upbringing. And the crowd positively responding by absolutely destroying each other. This is power violence redux, tinged with the same neck-breaking speed and tons of humor.
Brainoil was up next and slayed with their sludge. Greg borrowed my bass cab, not because he needed one, oh no… he needed two. They're known for having some of the heaviest tone around. Greg, Nate, and Ira nearly broke the handy decibel meter that Gilman has hanging up on display.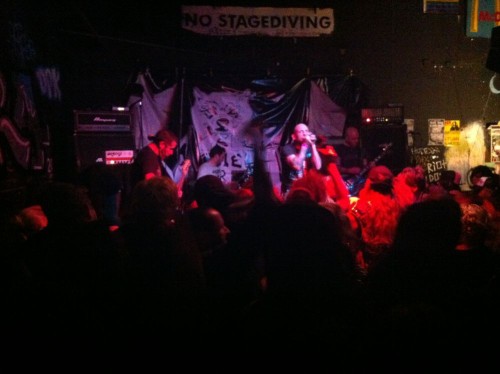 Having been a three-piece for 15 years, Born/Dead decided to mix it up by adding vocalist Gumby for this round of punk pummeling. Guitarist Will Kinser moved to Germany some years ago, so Born/Dead local gigs are a special treat these days. They delivered a ton of new, blistering material, showing that being bi-continental hasn't affected their punk-rock chops in the slightest.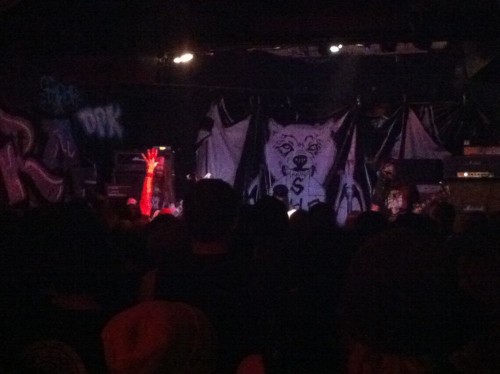 The Shrine were next as direct support for us. This psychedelic violence band from Venice was maybe the odd man out at the gig, but their sludgy rock-n-roll had just the right amount of punk thrown in to keep the crowd raging. For some reason, I think of Annihilation Time mixed with Eyehategod. They capped their set by reuniting with a member from one of their previous bands, Rabies, and churned out a great version of one of their old jams.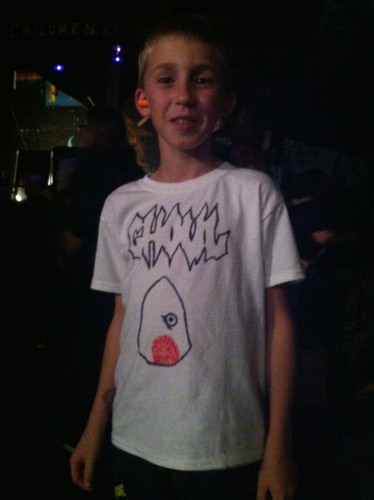 We were up last and the crowd was amazing. I can't say the same about our performance… someone else has to say it. We had a great time playing for the Ghoulunatics at Gilman. I was especially pleased at all the homemade Ghoul shirts. Hand-crafted items are even cuter when done by metal heads. I also have to really compliment the rowdy and boisterous audience for, at least this one time, listening to me when I asked them to stay off the stage for a couple songs. We'll fight the robot, thank you very much.
It seems a rarity these days, but after our set we had to come up for an actually unplanned encore due to crowd demand. Realizing we'd blazed through all our own material, we rushed through a cover of Agnostic Front's "Victim in Pain."
What a fucking great night. But it wasn't over for us. Ugh… the stage tear down. We had to take apart the back stage we built Gilman and throw away our newly made, but poorly engineered, curtain contraption. Some wonderful lass actually had to help us hold the damn thing up all night while it was continuously abused by an ever-moving pack of moshers. Back to the drawing board on that one.
It's been awhile since we played the Gilman, and it's always great to get back to the most historic and seemingly victimized venue in the Bay Area. Despite always being threatened with closure, it's going on 29 years of continued existence as an alternative performance space. It's run by a staff of awesome volunteers as a non-profit. You can support the venue by donating at its website, http://www.924gilman.org, or just by attending some shows there.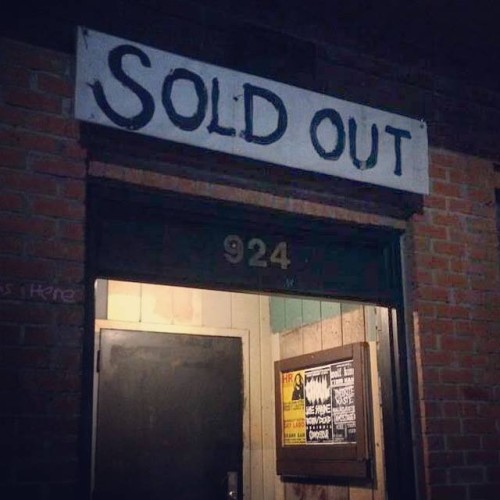 It may have "sold out" on February 13th, but the Gilman will never "sell out."