We stepped out of the van into the Albuquerque sun behind the aptly named Sunshine Theater. Instantly, I could feel the carcinogens forming in my skin. This place was dastardly hot. The only place to unload our gear was currently baking in the open sunlight, so we opted to leave loading until we could find shade for our multitude of meltable props. Sean and I headed in an Uber to Home Depot and picked up more crap to fix all our broken hardware. We came, we played, we got paid, we were on our way for a two-day drive to Memphis. Until…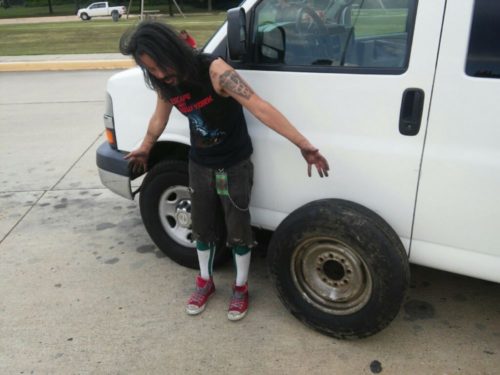 We were flagged down on the road by a woman pointing at our front left tire. I pulled off to the next rest stop and had a look. The rubber had quite literally been baked off the steel-belt of the tire, likely by the amazing New Mexico heat the day before. We avoided a blow out, but we did't avoid being flummoxed by the lack of a tire iron in our rented van.
#8 for the new checklist: tire-change kit.
AAA was called and arrived two hours after we'd been left baking in the humid heat and just as a good samaritan had begun to help us through our predicament. It was then that we found out, 4 miles down the Interstate, there was a tire shop. 4 miles we could have limped instead of two hours sitting in miserable heat. FML.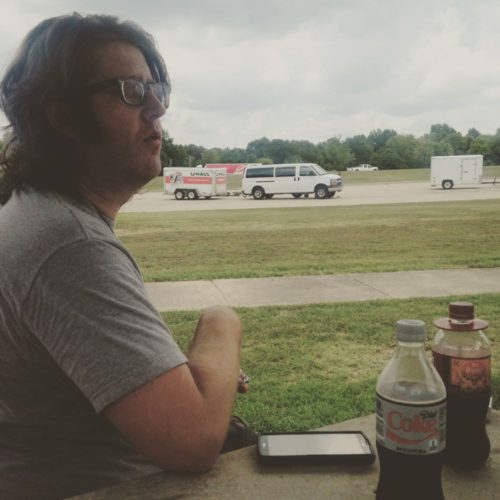 Our plan had been to take the drive day long and knock out most of it right outside of Memphis and get a good, enjoyable day at a Motel with all the amenities. It was side-tracked a few hours by the necessity of a new tire, but hey, the tire shop was some Arkansas good ol' boys into metal who happened to sell switch blades and tazers on the side. I'm not saying who purchased what.
Patience was wearing thin within the van after the long drive and detour, so I pulled up a little short of our goal to a Super 8 in Arkansas that didn't have the desired IHOP next door for a family breakfast. Whatever. Some of our more genteel posse would have to settle for Waffle House. In its favor, the Super 8 had a pool and a desk clerk who really didn't trust Hillary Clinton. Surprise. I had a swim, we got some grub, grab some drank, and watched horror movies till we passed out.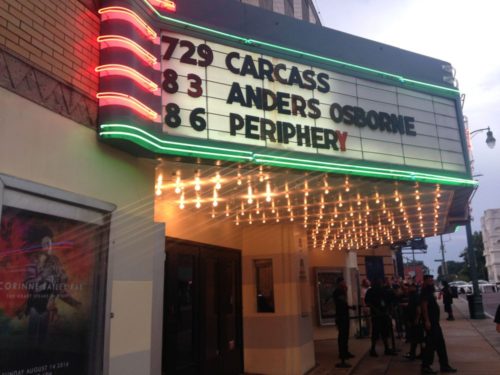 After a nice sleep, we got to Memphis to the New Daisy Theater. We'd been told they didn't want us to do our usual blood spew, so we sic'ed our own Tennessee Dave on him. And by sic, I mean we had him use his southern charm to talk the stage manager into it. We just had to be "more careful." I once again missed going the Gibson Factory tour (by fifteen minutes), but it was a good show and I ate some fried green tomatoes. A highlight of the evening was listening to Night Demon soundcheck with "Black Sabbath" while a thunderstorm rained down on Beale St.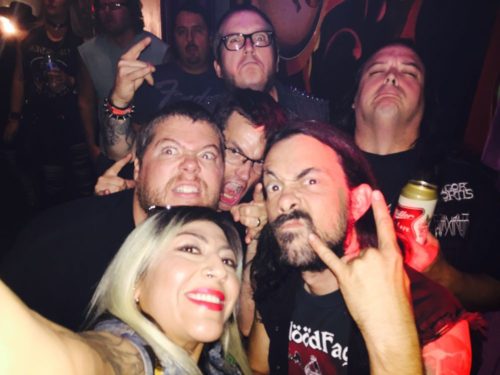 Things were finally thankfully, starting to become somewhat uneventful. The Mercury Ballroom in Louisville is a very nice club in the theater district with easy parking in a large garage and a nice green room. I hung my stage clothes in a corner far away from everyone, as the stench is something to behold. I haven't washed any of it in two years for that authentic cannibal look. The show was really fun. In the green room, I managed to negate any good will I'd earned from Jeff Walker when I tried my hand at organizing a little prank, getting a group to whistle the theme from Bridge Over the River Kwai as the Brits marched onstage. Apparently, he was asking me if I wanted to sing "Keep on Rotting" on stage with him that night and I sat there whistling like an idiot. I literally blew it. Totally worthwhile.
We slept at Adam from the Hooker's house. Well, first we partied. I got to meet and have a nice chat with Stevo from Impetigo, probably one of the first guys, along with Bill Steer, that I ever started emulating when I was a 16-year-old twerp trying to learn to gurgle death metal vocals. Cookie Monster heroes. I passed out on the floor, drunk, and curled up to sleep most uncomfortably. The next morning I woke up and started walking down the stairs with my bag and had to ask Sean to basically catch me as a pinched sciatic nerve left me all but crippled. What pain. I could barely walk. I've never felt pain like that. I nearly cried as I hobbled into a CVS for some Icy/Hot patches. I gulped a muscle relaxer and some ibuprofen and prayed it would get better. Regardless, my heavy loading days were done for awhile.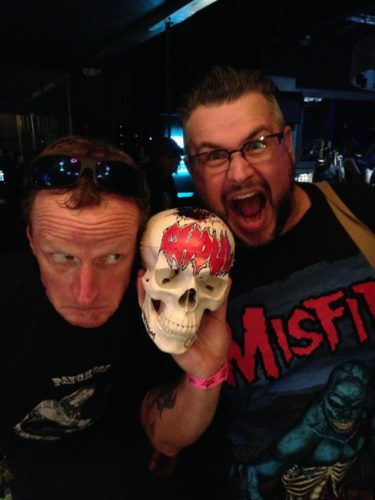 I managed to hobble my way through the set at the Park Street Saloon in Columbus. It was not fun for me, but the show went alright, overall. I loaded up on pain killers and we drove all night for a long haul to Baltimore. We got there early, around 8AM, and Ben managed to find a motel for us to check-in early at. We slept, hard, then headed to play the Baltimore Soundstage. As we were already in town, this was one of the few shows where we actually arrived on time. The crew at Soundstage are always awesome, led by the amazing Jess, and they have put up with our shit on more than one occasion. The show was awesome and my back was a dull thud instead of an intense sharp pain. Our good friend Cara showed up right before we went on to travel with us a for few days, but she was gonna have to work it off. And she did great as a henchwoman for our big bad.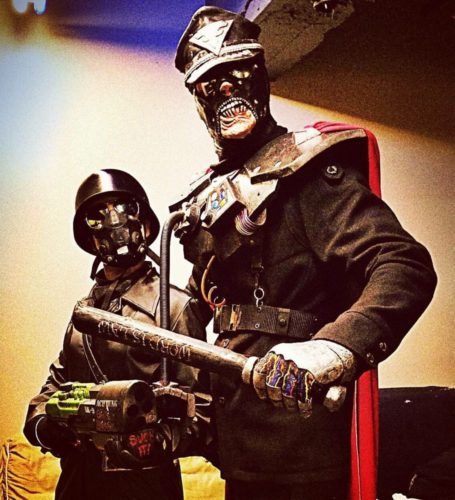 Some whiskeys later, I was hopping on top of the merch table and dancing during Carcass while Jeff called from onstage, "nice moves, Ross." Not loading heavy gear leaves me with way too much pent up energy. And I would repeat that same sordid affair the next night in Richmond.
The Broadberry Theater in Richmond is a nice club with WAAAAAY too small a stage. This night, we started sharing Crowbar's cabs, and it was a big help to get our stage show to fit on the postage stamp stage. Before that, though, I stopped by the nearby GWAR Slave Pit to see my good friends/heroes and act the Bohab, checking out all the cool shit they are working on. I'll never not be amazed by the crew of Bob, Matt, Margaret, and all the other people who make that project happen. Then our piddly little crew comes to town and it's nice they pretend we don't stink. We partied hard after the show at the GWARBar, and I blew a lot of money (and maybe some spew).
Our good friends Jim and Renee Stremel made sure we were comfortable that night in Richmond, even as I left a present of regurgitated giblets on their driveway. I thought I was okay in the morning, but the hangover hit and hit hard as we pulled into Philadelphia's Underground Arts. My back was starting to feel better, but now my left calf muscle was tightening up and would continue to plague me till after tour. WTF. I'm falling apart.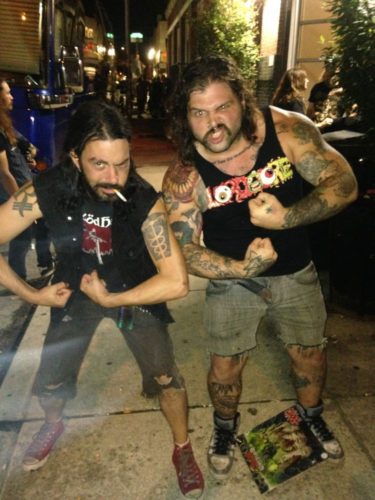 But fuck it, the show must go on, and what a show it was. Philly, third to last show of this tour, is probably the first time we all felt 100% about our performance and the crowd reaction. All the while, the tour was also becoming a nicer, closer knit affair as people from the different band camps started hanging out more, chatting, joking… Well, except for Jeff embarrassing his guitar tech onstage saying he couldn't speak english and then publicly firing his monitor tech because she wouldn't come on stage to sing "Keep on Rotting." Yo, that's not cool. It's alright though, she said… she gets fired every other day.
To my chagrin, we drove all night again to New York City, where Ben stated, "Look at it, man's finest achievement," and played Rhapsody in Blue on his iPod. Gimme a break…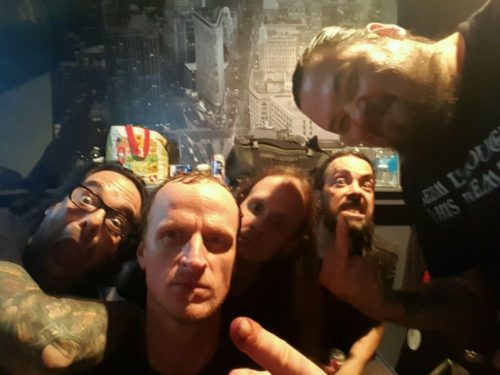 Our former tour buds in Black Anvil opened their doors for us at 3AM, when I was awoken and told to park the van and trailer somewhere in Brooklyn. I was pissed. There is almost nowhere to park in Brooklyn as I criss crossed streets for 30 minutes. I made the 15 minute walk back from where I finally found parking on desolate, dark steets near the Mercy projects carrying my belongings and a pillow. I was called "Rowdy Roddy Piper" by some dudes drinking on their stoop for some reason, and a deli gave me a hero at a discount because I guess I looked homeless. I got some shut eye and we headed out for the big one the next day, the sold-out show at the Gramercy Theater in Manhattan.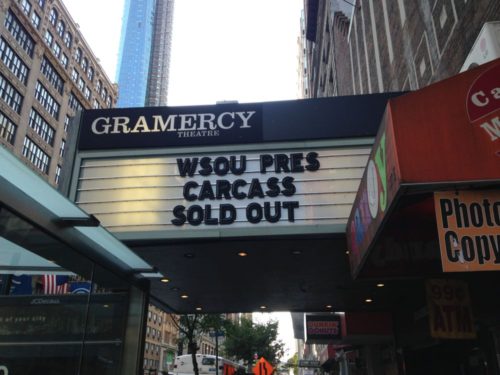 Driving in New York makes me fucking crazy. The pedestrians are stupid and the drivers are dicks. I associate New York with pain. I'm sure it's lovely, just don't drive there. That said, it wasn't too bad as we blocked a bunch of traffic parking, which made me feel good because fuck those people. Our show was fun, though a bit weird as the security gate for the crowd seemed so far away, while the pit was filled with photographers that Dave and Scott made scurry like rats as they aimed their spew guns directly at them. Some of us stayed and partied late, while Sean and I took the van away from the jaws of New York and to nearby Kearny, New Jersey, to have a nice stay with his wife and in-laws. I slept like a god damned baby in a real bed.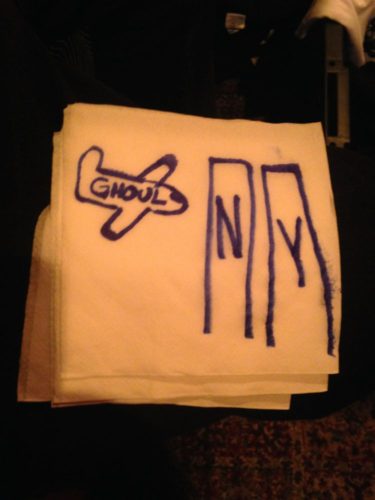 We picked everyone up in Manhattan the next day and headed to the final show with Carcass and Crowbar in New Haven, Connecticut at Toads Place. It was Sean's 40th birthday, so Ben took care of my gear while I hobbled my way to a nearby grocery store and got a cake that said, "Happy Birthday Digestor". When we played, I stopped the show during the second song and made the crowd sing Digestor happy birthday while Zack, Night Demon's lighting and merch dude, came out dressed as their mascot Rocky to represent the specter of oncoming death for Sean. It was a good time. We also managed to thank the entire road crew of the tour during our set by name, and had one fucking mad hell of a show.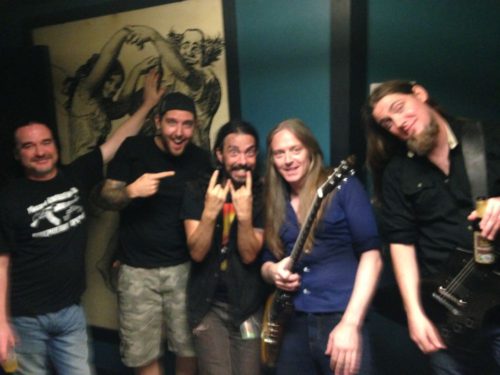 To round out Sean's birthday celebration, Jeff invited him onto stage to sing "Keep on Rotting" whereupon Sean killed it, and then Jeff revealed his true beef with us for our work in Impaled when he challenged Sean to a dance off. Onstage. During the song. Sean killed it. And by killed, I mean he killed any idea in anyone's head that he knew how to dance. But Jeff was even worse. Carcass may have killed it in this world making original metal and influencing an entire genre, but Impaled killed it in the dance off. Take that, Jeff.
Lots of hugs were had as the evening closed out, but eventually Carcass had to leave for one more show in Montreal, Crowbar had to make their shows home to (where?) Louisiana, while we and Night Demon had to play our way back to Cali. Our travels through Carcass Country were over, but we still had Ghoulection 2016 to look forward to.