The Battle Bus is dead. Long live the Battle Bus.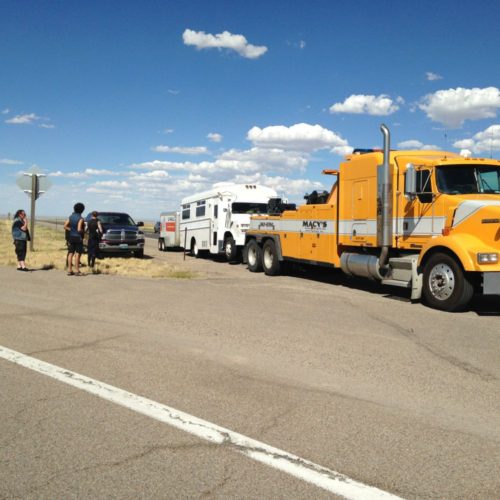 I mean, seriously, where to even begin? I'd say it was the worst start of a tour ever, but then again, I had one tour start where our guitarist and friend was near death with a burst appendix. Perspective, ya know? Losing a bus and all the money invested is really nothing so long as nobody is hurt. It costs a bunch, but that's what credit cards are for.
First, let's write up a checklist we should've had when we took our bus into the mechanic to check out before we hit the road. Just saying, "check it out" hardly suffices, as we found out.
THINGS TO GET CHECKED:
1. wear and tear on drivetrain and u-joints
2. pressure check for oil, transmission, and coolant leaks
3. steering linkage
4. axle stress
5. fuel tank lines and pump integrity
6. air conditioning and heat working
7. is the engine big enough to haul a giant bus and a 1,000 lbs. trailer
The answer to number seven was a big, fat, fucking no. We ended picking up what looked like a decent deal with the surplus we'd made on our last headlining tour. It was time to replace our van that was somewhat falling apart at the seams. We got a '96 GMC short bus… with a 350 gasoline engine. This was the first red flag I noted. Diesel is king in the land of hauling shit around and this engine seemed to be weak just trying to push the empty bus onto a freeway ramp. On a normal weight cargo or passenger van, a 350 engine is plenty. On a short bus weighing in around 4-5,000 lbs., not so much. It had really low mileage at around 26,000, but being 20 years old, this was almost a curse as part after part began to fail from sitting around.
Members of the band had worked hard on prepping that van, adding benches and bunks and a tow package. It was an effort to increase comfort for a large posse and save money by It was a gamble we lost, and experiment that failed. So be it.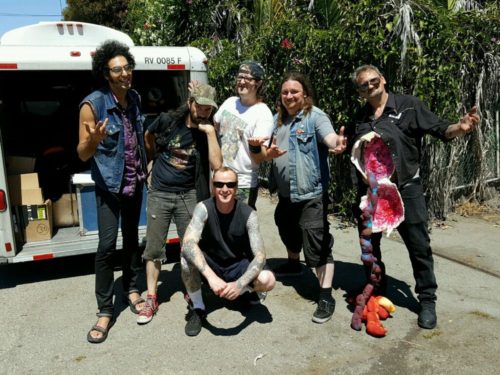 We were headed out to meet up with Carcass, Crowbar, and Night Demon in Kansas to start a pretty wicked sick tour. We opted to take the "easy" way through the south instead of heading over the Sierra-Nevada and Rockies. Well, Sean noticed the drivetrain squeaking, so we stopped in hell-on-earth, Needles, California. It was 123° by the time we found a mechanic. It would be an all-night stay as the required parts had to be ordered, so we got a motel and made the best of it by swimming in the intense heat and pounding some beers.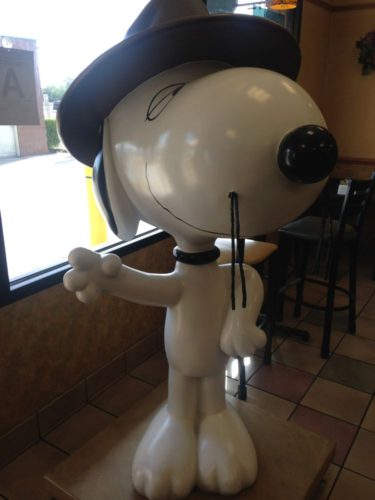 With the set back, we had to drive all night the next day to get to our first show on time in Lawrence, Kansas. It wasn't so bad, seeing as how the bus itself was comfortable. Good job, Scott and Sean! It was hot as blazes in Lawrence and unloading inside the trailer while sorting new merch was like being in a sweat lodge. Our tour coincided with the midwest heat dome, so, great time to go on tour. Our first show was a bit of clusterfuck, as we hadn't had the time to do a dress rehearsal or run through samples in a live context. Well, we'll make it up near the end of tour when we headline a mere 40 or so miles away in Kansas City, MO. Good planning on that routing. Sorry all the other cities that get mad we "skipped" them, as if we have much of a choice.
Our next show was in Omaha, Nebraska at a little bar in a strip mall. Carcass was not on this show, so Crowbar headlined. Somehow, as direct support, we still just had 30 minutes to play. Maybe it was the God damn four locals the promoter swindled into a pay-to-play deal on a Monday night? Utter bullshit in my mind, but whatever works for the local scene.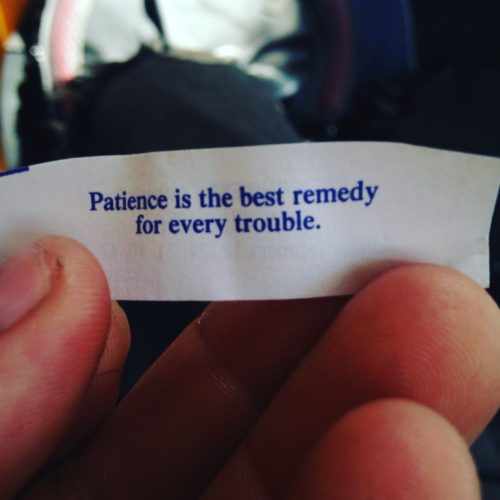 We honed in the narrative of our samples a bit and rejiggered a few things about the show. Things seemed to going okay. The bus was still moving at this point, however slow. And man, was it slow. It was also still creaking bad, and we'd discovered gas was leaking out a line going to the fuel tank. Oh goody.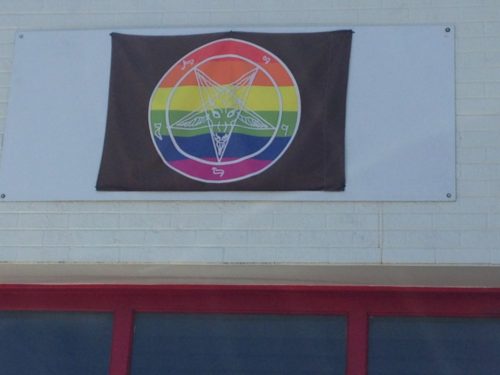 Our friends in Nekrofilth recommended a mechanic in Denver, our next stop. Here we met Sam, the Satanic Mechanic. He flies a big satanic rainbow flag outside his shop and told us that metal bands, illegal immigrants, and gays get a discount. He really went to bat for us, and worked until 3AM to get us on the road. He even lent us his own van so we could get to the show without a hassle. The Denver show was fun, too, meeting up with lots of old mile-high friends and knocking out a solid show. We left Denver at 4AM and I got to see my second sunrise after driving all night.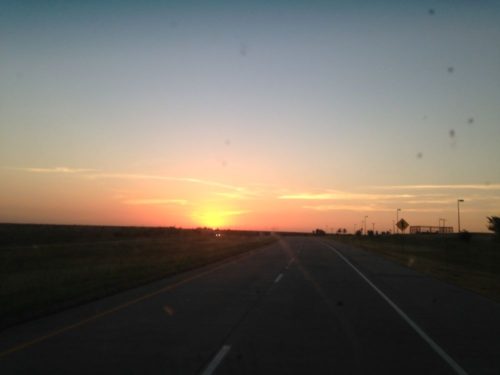 The next day was supposed to be Salt Lake City, but our bus decided it hated mormons and would never again leave Wyoming. Coolant was leaking out somewhere between the water pump and the engine block. Not. Good. We were stuck on the side of the road for awhile with AAA giving us the run-around about the size of our vehicle. Eventually, a big hauler showed up, said "fuck AAA, you pay premiums, and I'm not going to leave you out here if you don't got cash." These boys were alright. They took us back to Rock Springs, WY, to a shop that would work on our bus into the night and early the next day. They joked with us, had a good time, and took us right to a motel where I ate the best Tex-Mex meal of my life and got hammered on cheap, delicious margaritas. It was unfortunate we had to miss our SLC show, but I thought maybe this was going to be alright.
NOPE! After the nice lady running the yard let us know how surprised she was by the nature of our band after searching us out on the Internet, we were on our way with a new water pump and hoses. At this point, we were certain abandoning the bus back in the Bay and renting a van was the best course of action. In the meantime, we rented a Uhaul cargo van in town to alleviate the weight on the bus that obviously just couldn't handle what we were doing. We made it 40 miles before that fucker overheated again and spilled coolant everywhere.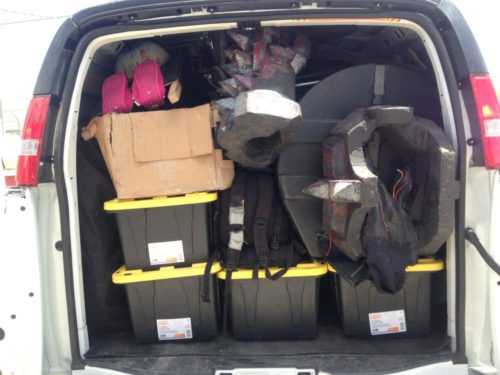 FUUUUUCK. We were still 100 miles away from Salt Lake City, but that was the closes place we could rent anything that could transport our crew. So, the crew waited for a tow truck to finally abandon our beleaguered battle bus back in Rock Springs while Ben and I plowed forward with the cargo van to SLC and picked up a one-way rental mini-van. Then we headed back the 100 miles, packed up to the gills with everything necessary for the show, and headed out all night, again, towards Sacramento. All told, nearly $2000 in two car rentals just to get us back to California.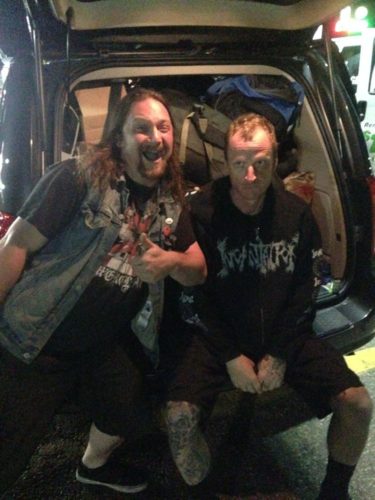 We did make it to Sacramento, though, and had an amazing show at the Ace of Spades. It was the morale booster we really, really needed. A fair share of significant others were able to come out and comfort us in a time of distress and some old friends and even awesome cousins made the night a blast. We were tired as fuck, but we'd managed to secure a new van rental to be picked up in the Bay and felt like we'd finally gotten past the worst of it.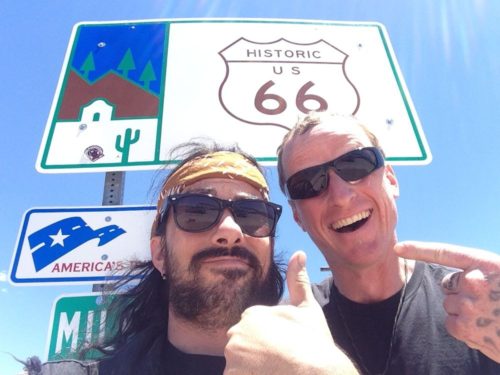 And we had gotten past the worst of it. After a morning of furious driving around, returning, renting, unpacking, repacking, we were on our way to Santa Ana to play the wonderful Observatory again. The new set up, a standard Chevy Express and 6×10′ trailer, were all we really ever needed. The frantic morning set us behind quite a bit, but we still arrived 30 minutes before doors opened. John, the tour manager for Carcass, was every bit understanding and brought us back down to Earth with the mention that much worse has happened on tours.
Santa Ana was a blast as always. We were able to conscript our good friend Muddy, too, who added another element to the show playing the part of a henchman menacing the crowd. I love having that kind of chaos on stage. At the end of the night, I finally got a chance to have a quick chat with Bill Steer, and he was very complimentary on what were doing. I thought it was just small talk until he mentioned specifics about songs, and I'm like, wow, he actually watched us. Okay, total fanboy moment… this is the band that got me into death metal when Col Jones first handed me a Carcass cassette. And he liked what we were up to. Wow.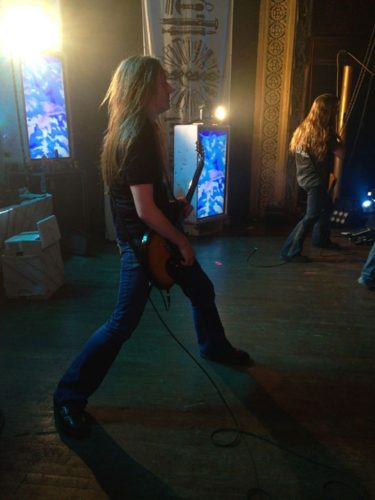 While leaving, it was clear that some of our troupe had maybe a had a bit too much drink and thought it was funny to throw gear at me into the trailer while I was trying to make a sensible pack. And it may have happened that I finally really snapped after being so tired and weary that I chewed the fucker out. Adding in a kick to some very necessary purchases on the ground, and I finally just threw shit back. Shit happens, ya know? There was a lot of quick yelling, and then it was over. Well, there was attempts at talks and shit, but really, I just need time to cool down and stated thusly. Next day, a quick chat about what went down, apologies all the way round, and that's how we do "adult."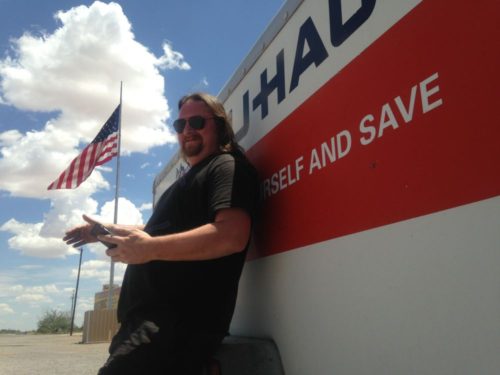 We stayed at Muddy's in L.A. and then headed to play the Roxy. Part of me loves the Roxy, the part that enjoys the precious time we have on stage playing for the most eager crowd around. Every other part of me hates the Roxy. No parking, the blocking a busy thoroughfare to load, confused stage-hands, having to load out and repack immediately after, the shit-headed parking valets who own the property around the Roxy who yell at us, and of course, the L.A. meter maids who gave us a ticket because our trailer is too wide to fit in their too-small, designated street-parking spaces. Well, the show was fun, anyway, and basically went off alright.
We pulled the van and trailer back in for the rest of our shit, almost got hit by Ron Jeremy while doing so (really) and the bulk of us stayed to party at the Rainbow Room next door. They have their own wild stories to tell. After spotting Ron Jeremy entering the Rainbow Room, Scott and I took the van and trailer back to Muddy's to sleep. Somehow, we thought it was a good idea to pick up a bunch of Del Taco from the drive-thru window for everyone for whenever they returned. It was not a good idea. I really, really misjudged the turning radius of the trailer and nearly destroyed the talk-back box in the drive-thru. I sent Scott off to the window on foot to get our food while I backed out of the drive-thru to the furious sounds of yelling and horn-honking from late night drivers pulling in behind me. I managed to destroy all the shrubbery surrounding us by spinning my wheels over it, trying to push back against curbs. But you know what? That quesadilla was delicious.
Thankfully, our drives have become less eventful. We made it to Phoenix just fine. There was a little flap when Carcass' lighting technician thought a few spots of blood had somehow crushed and dented one of his stage lights. We were pretty sure it was not our fake blood, but a foot. In any case, I opened it up and fixed it. It's what I do. While returning it, Jeff Walker quipped, "Oh, is that the broken light filled with your fake blood?" I returned, "No, Jeff, it's the light a stage diver probably smashed and that I've fixed for you." Crisis averted. We're keeping it pretty light and clean at these shows, actually, and lil part of me is itching to get to our headlining gigs so we can really fuck shit up.
We stayed with our friend Laney that night, a wonderful tattoo artist at Mastodon Body Piercing and Tattoo in Phoenix, who offered to tattoo us late into the night. Alas, my drunk ass just passed the fuck out. We had to leave in the early morning for a long drive to Tricky Falls in El Paso, Texas. Again, blessedly uneventful. We parked in an alley behind the club that was apparently filled with rotten shrimp assholes and fetid pigs feet. Carcass was late that day, with their A/C requiring repair, so they did their thing with a two hour lag, and then Crowbar, Night Demon, and us had to move like lightening to get shit set up before doors. The show was a smash, however, exceeding my expectations. We had a really good time bloodying up the locals and got to hang out with a few old friends and Night Demon at the Tap Bar around the corner.
I was pretty adamant we head outta town though, as El Paso is no place you want to park a trailer. That shit will disappear. We got somewhere near Las Cruces and bedded down comfortably at a Super 8. Next up, we take that left turn to Albuquerque.