It's easy to slap an LED onto a pedal. At least, it's easy for me now. I've moved onto bigger and badder. Largely through trial and error, I've managed to make a few sick amps well again. I'm still a novice, but I'm learning and it's fun. The online world is a treasure trove of knowledge and helpful people. Those helpful people told me I was doing some stupid things. I was able to rectify at least one of those things.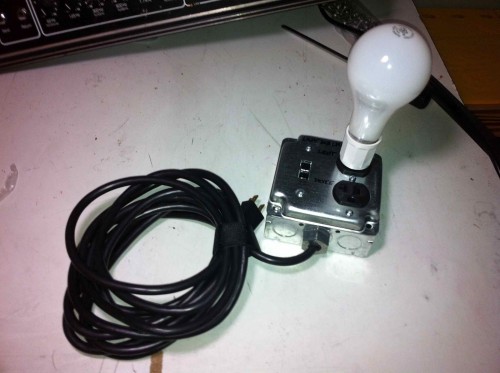 This is a light bulb limiter. You can't buy one and they're all built a little different. It's extremely helpful when dealing with a broken amp. In a previous repair of a Peavey XXX guitar amplifier, I was blowing fuses left and right (maybe center, too). The light bulb limiter is a D.I.Y. device that coulda saved me a lotta pain.
A fuse blows in an amp because there is a problem somewhere. That much is clear. A fuse is not a device to save your amp. It's a safety measure to save your life. If a fuse blows, there's a problem. If it wasn't there, that problem inside your amplifier could burn some components, cause a fire, or even shock you. I know, it's shocking when an amp dies. Just imagine if it was carrying 120V AC to your heart.
Now, say that amplifier is on a workbench (or barely used drafting table) for repairs. Some trouble lookin' parts are replaced and the amp keeps blowing fuses. What a pain in the ass to keep replacing those lil' glass tubes constantly. Instead, with a light bulb limiter, an incandescent light bulb cis used for its conductive properties to act as a visible fuse. If there's a short or broken part throwing current where it shouldn't, the light bulb will light up super bright and say, "Hey, look at me asshole, you haven't fixed SHIT yet."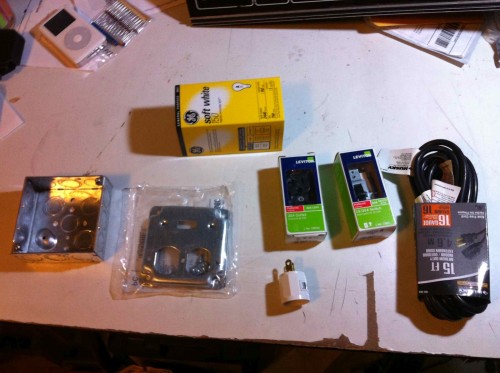 The parts are cheap. My total was around 32 simoleons, the largest expense being an extension cord with a grounded plug. A cheaper light bulb limiter could be built, but I wanted just a few bells and whistles for mine. Home Depot being my parts source, the bells and whistles were unsurprisingly few.
The parts:
1. junction box
2. box face (with slots for toggle switch and duplex outlet)
3. incandescent light bulb (fluorescent won't work, fuck hippies, anyway), 100W or so
4. plug in light bulb socket
5. duplex outlet
6. toggle light switch
7. extension cord
8. cord strain relief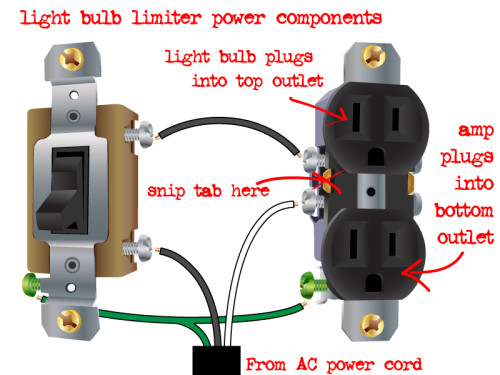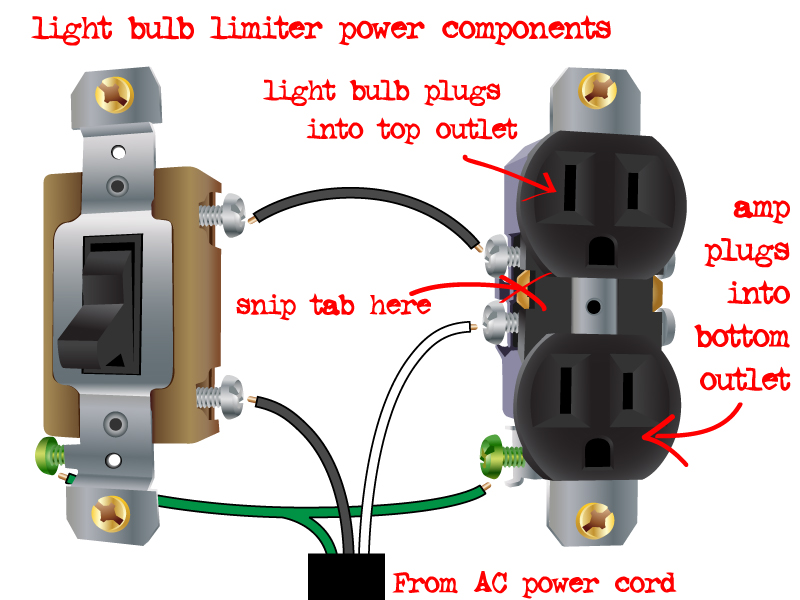 This was my plan. I wanted a switch to quickly disable power in case of emergency. I would strip the outlet part of the extension cord and attach the black (hot) wire on the switch. It carries over to the top of the duplex outlet. The light bulb and socket will act as a junction to carry the hot wire over to the short slot on the outlet, where it belongs. It's very important to snip the conductive tab that normally connects the taller outlet inputs.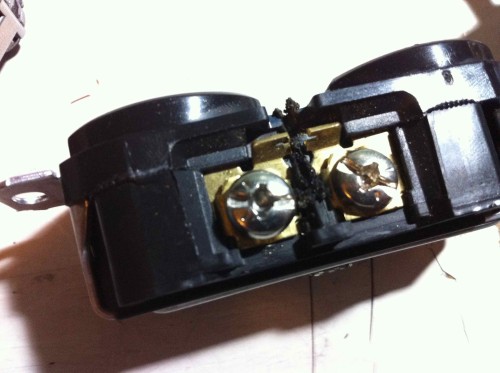 The white wire (neutral) is wired to the bottom of the duplex outlet at it's normal place, on the taller input of the outlet. The green wire (ground) connects to the light switch and the outlet as a matter of course. It needs to be on the outlet, but not really on the switch. Hey, I'm thorough.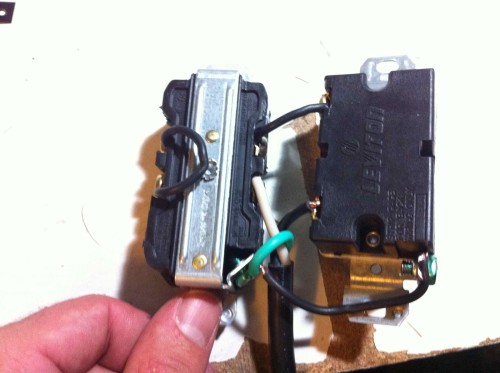 Never mind the black wire connecting the grounds, it's all I had. And never mind that black wire connecting the hot input terminals on the duplex outlet. That's because I'm dumb and snipped the tabs on both sides of the outlet. Measure twice, cut in the wrong place, that's my motto.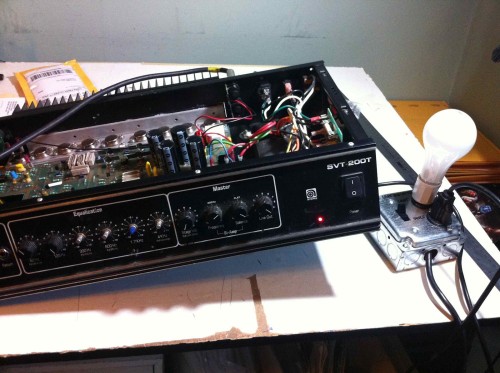 I assemble it all in the junction box and it's ready to go. The plug-in light outlet is in the top outlet and the amp is plugged into the bottom one. The limiter is plugged into a normal wall outlet. Once I fire it up, I will check the symptoms the light bulb limiter displays and NOT blow fuses.
If the amp is not shorting somewhere, the light bulb will light up quickly and then dim. The amp is receiving power normally through the bulb and is in no danger of blowing a fuse. If the amp is still not working properly, you're gonna have to get up to your elbows in some diodes, transistors and shit.
If the amp is fired up and the light bulb glows bright and doesn't dim… well, you better start having some bright ideas on what the fuck is wrong with your amp. At least fuses aren't blowing, parts sparking, and everything going crazy and what not.
You're still gonna have to get up to your elbows in some diodes, transistors, and shit. You won't have to buy more fuses, however, and you won't cause more damage… in theory. Anything is possible when you have a bass-playing monkey like me mucking about with things he only barely understands.
(Note: big props to the electronics techs that guide idiots like me on quests for knowledge. There's more about the light bulb limiter they bade me to build linked here.)