During the months we traveled with GWAR, Sean "Bloodbath" McGrath's Peavey XXX performed robustly. It's modeled after a Mesa Boogie Triple Rectifier, but minus the almost baffling amounts of bells and whistles and the outrageous price tag. Sean likes his stuff simple and cheap. Other than the embarrassing faceplate I replaced previously and the goofy knob names, it's been a champ and sounded awesome.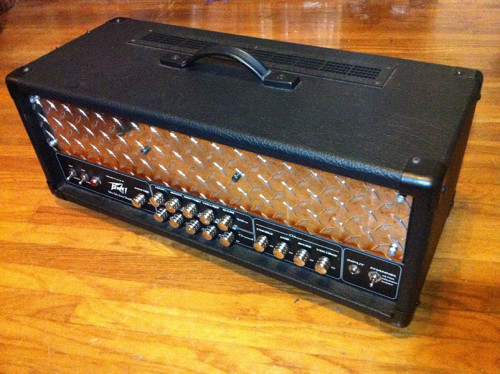 And then the XXX crapped out. It stopped working two minutes before stage time at one of the last dates on our headlining tour. Sean was supposed to take his head into the shop upon our return, but was aghast to find it under a dog pile of costumes in our practice place. He said, "Nah." Well, I dug it out to see what I could accomplish.
I was buoyed by the recent repair I'd accomplished on my own Ampeg V4B. I was sure I could suss this out using some online guide to tube amp repair. Never mind I've had no formal training, or that this amp carries voltage inside of it that could kill me: I had moxie.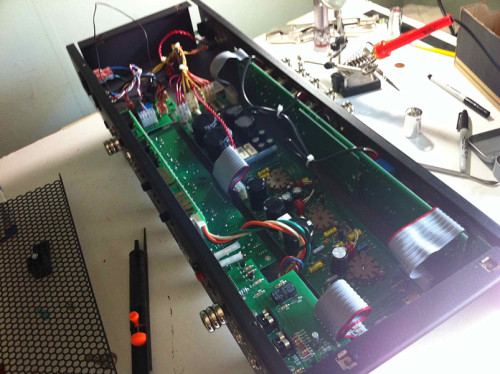 I also made sure the deadly voltage was dissipated by checking with my multimeter between the grounded chassis and pin 3 of the power tubes. In all seriousness. And I always unplugged it before touching any parts. And I never forgot to do that and never once got shocked… and that's my story.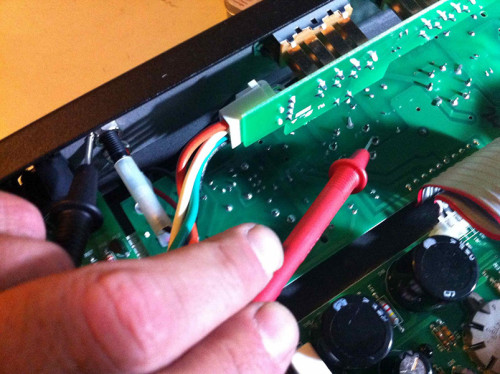 I replaced the external 5A and internal 2A fuses that were obviously blown and hoped that was it. Powered it up, and the 5A external fuse blew. I replaced that. Then the internal fuse blew, but the preamp powered on. Every time I put the 2A fuse in, shit fucked up. Once sparks shot out and the inrush limiting thermistor blew up, I decided to stop swapping in new fuses. I learned there's seriously wrong here and that I need to buy stock in a fuse company.
The power tubes checked out fine at the local old timey electronics store with a tube tester. The transformers tested fine. The power filter caps tested fine. All the obvious breaking points seemed fine. I went searching through the Peavey forums looking for someone who had a similar fail. I didn't find the same problem, but I did find a great forum user who informed my methodology: look at where the problem is and start searching outward.
My problem centered around that pesky 2A internal fuse. On one side of it was the secondary windings of the power transformer. Next to it was an array of diodes that balance something or other voltage. If the transformer was fine, it was time to check the diodes. (EDIT 7/2/2012: Yeah, I'm a n00b and learning all the time. This array is the diode rectifier, converting AC voltage from the power transformer into DC voltage)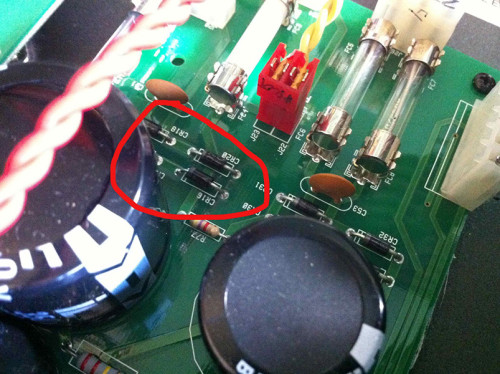 When I ran my multimeter over them, three of diodes tested a-okay. The last one was shorted. Little CR16 was my bug. Why did it fail? I don't know. Apparently diodes can and do fail for no discernible reason. Luckily, I'd bought a grip of this same diode, a 1N4007, when fixing my V4B amp. I replaced all four in the array for good measure and the amp stopped blowing fuses.
I also had to replace the "inrush limiting thermistor" I'd exploded. It does something… important? To do with current. Whatever, the amp runs with or without it. I ordered the part directly from Peavey's friendly parts department and put it in a couple days later.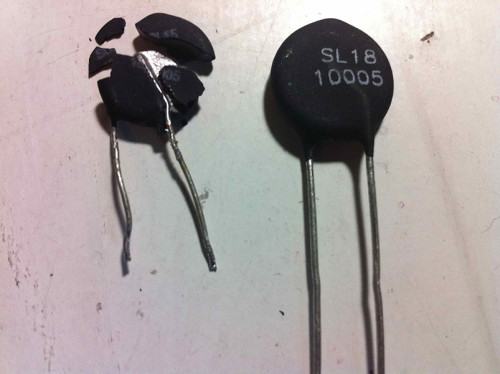 Now that it was working again, I wanted to reset the bias on the power tubes. The Peavey XXX has an easy to use bias adjustment. There's a switch for changing between two kinds of tubes (6L6 and EL34) and a knob for more precise adjustment. The first time Sean bought new tubes, he wondered why they sounded bad… turned out he'd changed from 6L6 to EL34s without flipping the switch. N00b. I biased the tubes by measuring the voltage at the convenient test point and set the knob to read 42.5 volts for EL34 tubes, Peavey's factory setting.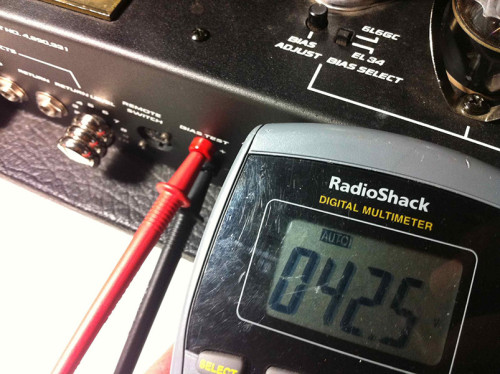 While I was in there, I opted to do a little bit of upgrading. On all my old Ampegs, they have a parallel power jack for plugging in accessories. It was convenient for me to plug in my wireless unit directly to my head during our last tour. Poor Sean had to find another outlet.
I got a U.S. style snap-in power jack. I cut a square in the back of the amp with my Dremel. I had little space to work, as I wanted to make sure the adapter would fit and not block the line-out that we use sometimes to go directly into a mixer.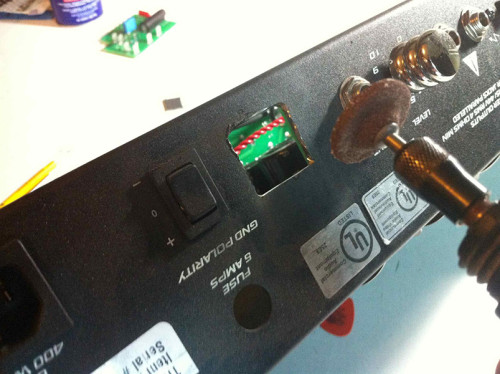 I wired the jack in parallel to the 120V power input plug. I also probably voided any kind of warranty this thing might've had from its previous owner.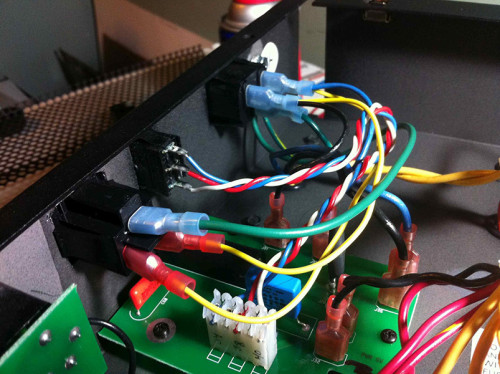 No more asking a confused, tweaker sound dude for another "quad on stage left." Now, Sean has an external power outlet for his wireless directly on his amplifier.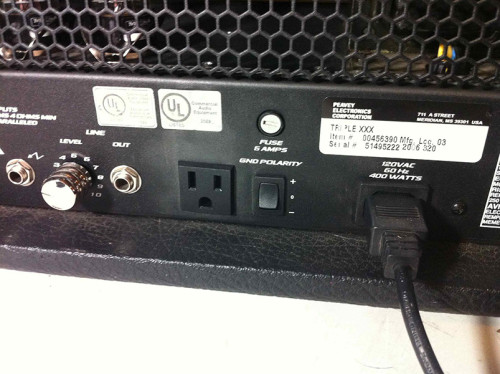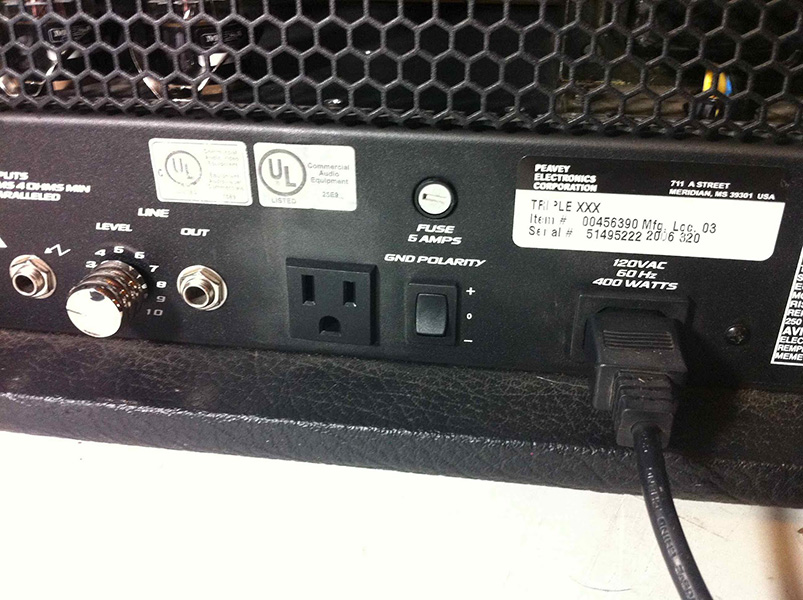 Sean's Peavey XXX is ready to deliver filth again and I get to lord it over him that I'm a whiz. I call that a win-win.