On Swans most recent tour, I was able to do contribute art for their show in Berlin. I decided to pay tribute to the time Swans was most influential on me.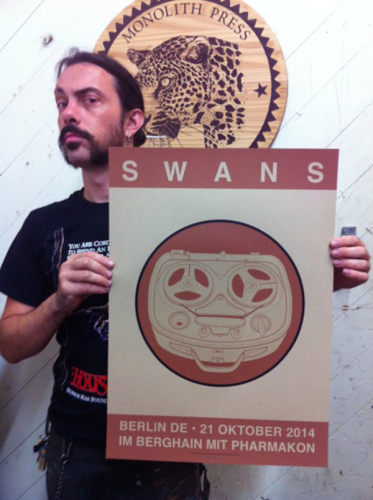 In 1997 I saw the final tour of Swans in San Francisco and was floored. Their mid-90s death knell is still my favorite period of Swans, employing bombastic rhythms juxtaposed with eerie and unsettling quiet passages. They also had a minimalist aesthetic to their art that stuck out next to the early Photoshop boon of horrid album covers in the '90s. I had to figure out how to reflect this vision and celebrate Berlin, one of my favorite cities in the world.
Berlin was a town divided. Hell, it still is. Walk from one side to the other, and you will find that the ghostly remnants of the Cold War still reign, even as modern developers try their best to cover it up with modern amenities. During the period of the separation of East and West, espionage and mistrust were the norm. I could think of no better symbol of that than the tape recorder, the electronic ear that listened at all times to would be dissenters to the Party.
I did my research on the Stasi and tape recording devices in Germany. The first I came across was the Nagra-SN miniature reel-to-reel. This was developed in the 1960s in Switzerland by a Polish expatriate. It's micronized size made it perfect for the secret police in the East and West. Cool though it may have been, it wasn't going to translate well into art.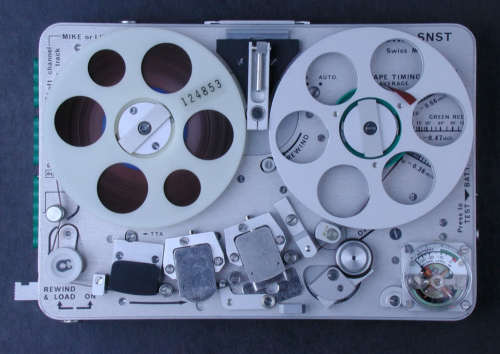 I opted to render a different reel-to-reel recorder. I found the German-made Magnetophon KL-15 to suit my purposes of illustrated exposition. It was simple, had a more antiquated look, and the handle on the case showed its portability. It made a great representation of the kind of spy-vs-spy gear that was used during the days of the DDR.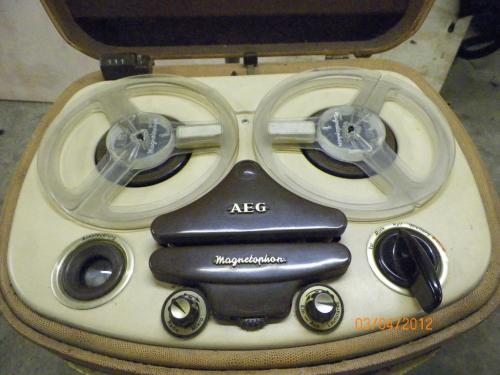 The tape recorder as a visual also held significance to me for Swans. Some of the creepiest moments on Swans recordings are the tape samples of people. M. Gira explained that some of these were from his father, some from Jarboe's mother, and some from F.B.I. tapes held by Jarboe's father (http://swans.pair.com/PRESS/int_stomp.html). The surveillance state is exploited as art. Again.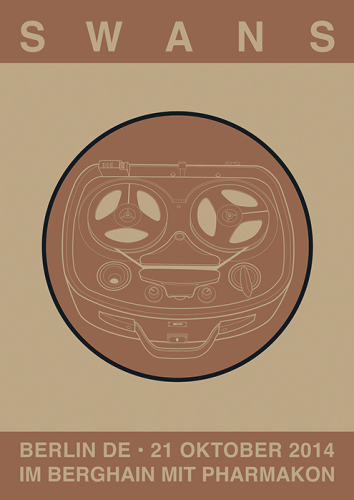 I replicated Swans' album layouts using Helvetica font and a similar kind of Kraft paper for my substrate. At first I thought to make it an outline, like a blueprint. I thought the reel-to-reel recorder didn't read visually, however, so I opted to invert it for the final print.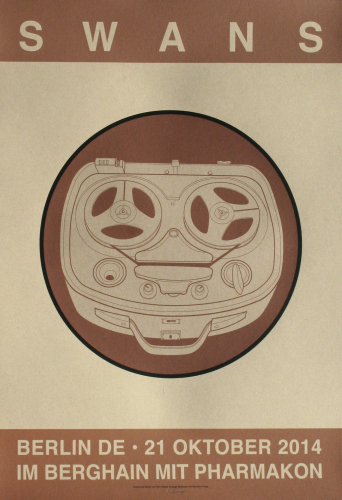 The final print was done with three inks: black, rusty brown, and a slightly darkened transparent gloss. I opted to make it size A2 by the international standards (ISO 216), which roughly translates to 16.5 x 23.4 inches. When in Berlin, do as the Berliners, eh? That's why I also opted to have the text on the poster in German. I will never understand why English must be the lingua franca of music touring, so I refuse.
Now that the show is over, I have copies of this poster for sale. I had to give 35 out of 60 copies of the edition to Swans for their show, so I have a very limited number. They can be purchased here: https://www.doktorsewage.com/?p=1590