[Originally published in the August 2014 issue of Bulldozer Magazine]
Back in the '90s, I went to a Good Guy's Electronics store. I was looking for a new record player as my old one had broken. I couldn't find any, so I asked the salesman for help. "You want a what?" We found a floor model and it was literally the last record player they had. I tried to explain that some people still listened to records. If I didn't have a record player, how could I listen to "Welcome to my Bone Yard" by Impetigo over and over? The salesman didn't care. He thought I was an idiot for wanting to hold onto my vinyl. I thought he was an idiot for never having known the majesty of Ultimo Mondo Cannibale.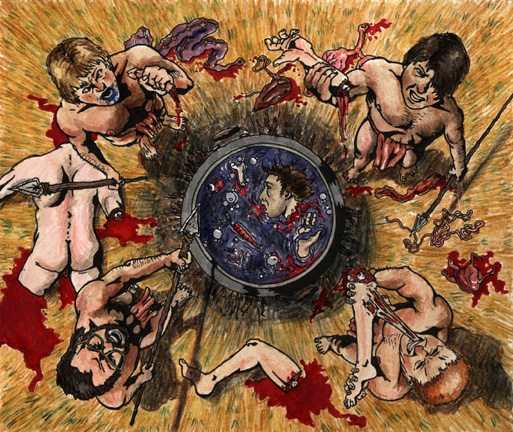 Believe it or not, there was a time when you had to explain what a vinyl record was at a show. "Are you guys selling calendars or something?" No, little one, this gigantic thing plays music. But now records are back. I watched as they climbed back into the awareness of folks' minds as a collectible item while the ubiquity of iPods and digital files collapsed the music industry into a whimpering baby without its binky.
Records could never replace the popularity of the CD, but there is a viable place for slabs of vinyl on a band's merch table again. Instead of easily reproduced 100010010101s, vinyl represents something material while digital music flies through the ephemera and deposits itself easily, and largely pirated, on your computer. The journey is the destination, so they say, and vinyl is the more difficult path to walk. It is more expensive, heavy to move, and slices the wayfarer's legs like so much bramble with its hisses and pops. You have to suffer to prove your devotion.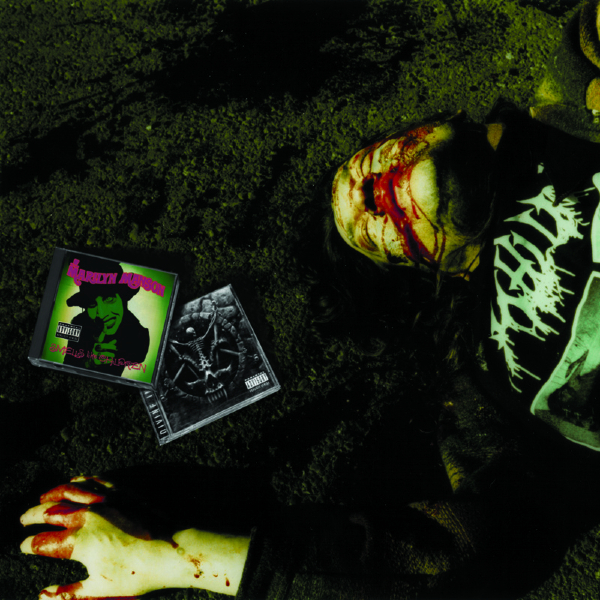 This journey is not new. Impressionist painters of the late 19th century, with their broad and painterly strokes, were partially reacting to the bland realism inherent in that new fangled invention, the photograph. Fast forward 150 years to now, and real Polaroid photography (with film no longer even made by Polaroid) is the voguish and painterly counterpoint to the sterile, accurate, and cheap digital photo that a pedant's smart phone shits out. Analog is the old new for the trendiest of every generation.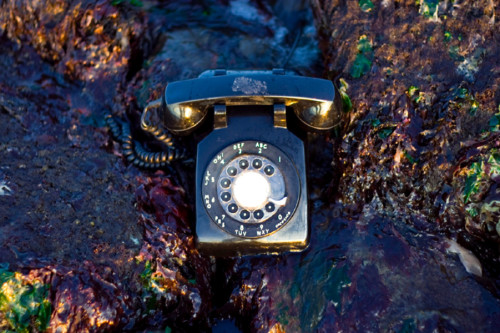 My own gainful employment is based on this. I screen print posters in an age where desktop publishing makes it cheap and easy for anyone to print almost anything… digitally. Whereas our old client base was a few select artists who made gig posters for some arty farty jam band, now we screen print posters for some of the largest corporations in the world. And by largest, I really do mean the LARGEST. With reams of technology and digital perfection at their fingertips, these corporate warriors come to our little two-man shop to employ a completely antiquated and flawed medium demanding perfection. Why? Because it's better? Hell no, it's because it's cool and they can afford to be cool.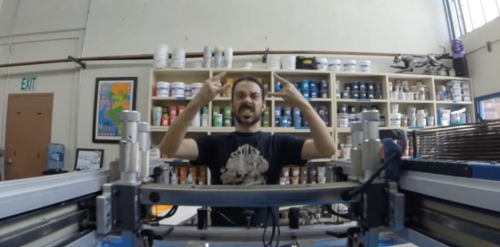 Populist technology adds a de facto cool factor to more expensive vintage items that achieve the same ends, albeit with more difficulty. This story plays out on a personal level in the world of music gear.
Through the '80s and '90s, music gear became markedly cheaper through technological innovation. Innovative companies like Roland were bringing the height of consumer electronics micronization to the world of music gear. It became cheaper and easier for anyone to get reliable stuff. The market loved it. As digital amp modeling racks became the norm, however, the antiquated vacuum tube nearly went extinct. All those Marshall JMPs used by the discerning few who found imperfection preferable were about to become as useless as the reams of demo tapes they'd recorded.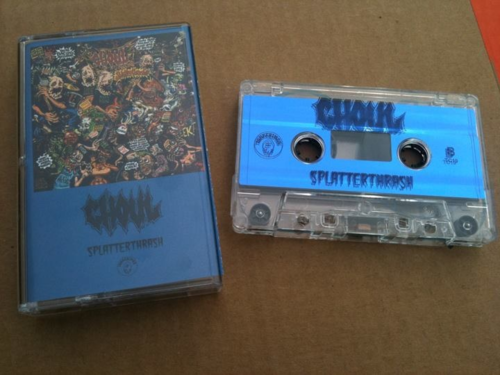 Thank the vacuum tube gods for Russia. While American and Japanese companies reaped the rewards of dropping the old tubes for the newer ICs, poor old Russia was stuck in economic stagnation thanks to its short-lived romance with communism. Tube factories still existed in Russia because they were still needed. Thanks largely to the entrepreneurial spirit of Electro-Harmonix's Mike Matthews, Russian tube making continued after the fall of communism driven by the desire of guitarists who needed "that tone." Now, tubes that once drove the common man's consumer electronics cheaply are the high end audio dynamite the blows holes in the choosy musician's wallet.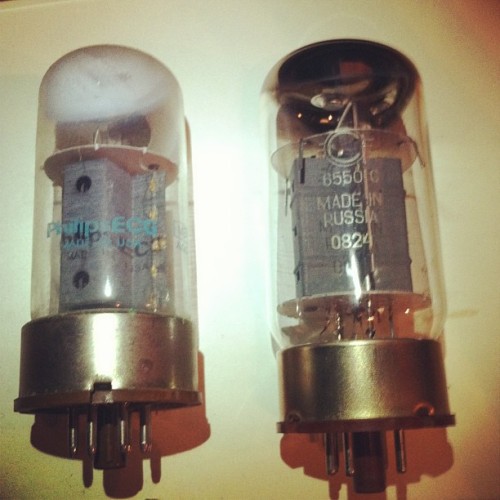 I have a very, very cool amp. It's older than me. It's got tubes. It's elitist as fuck. It also makes my bandmates angry to help me carry it while on tour. Sure, I could get a solid state or digital amp that fits in a brief case and dial it in to sound exactly the same, but I'm a slave to looking cool on stage. Say what you want about the music being more important, but if our band first came out wearing polo shirts and hemmed shorts, we would be ostracized by the metal-public at large and rightly so. I fucking hate hemmed shorts.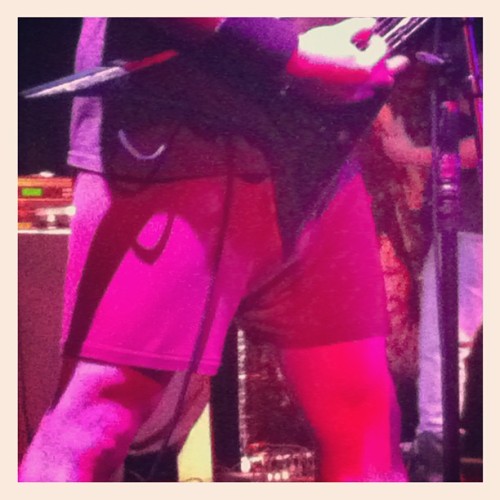 So, you like to use a manual typewriter instead of a laptop, looking on eBay for old ribbons of typewriter tape. You spend $120 on a new stylus to listen to 22 minutes per side of a pollution laden vinyl record instead of plugging in your 160GB iPod. You want your movie to be projected on costly film shipped from a distributor instead of effortlessly downloaded to a theater's server. I get it. You hate the Earth. I do, too. It's fucking cool.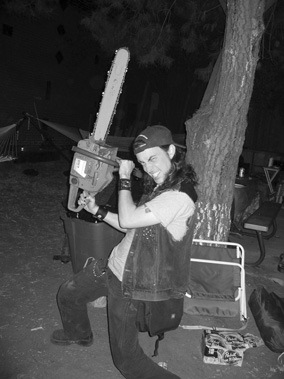 There are dreamers and visionaries compiling new technology that make it easy for common people of the world to digitally create, catalog, and enjoy all the myriad entertainment that explodes around us at an astonishing rate. We, the analog elite, want to roll that shit back. We want shit to be hard and chaotic so the struggle means something. We want to be the creators and taste makers while the common man bows down to our analog largesse… because, frankly, a future where everyone is considered as cool as me is scary as fuck.