So you think you're analog, eh? You always use physical faders for your volume swells, you only record to tape, and you have that nifty vibrato guitar pedal with a BBD IC chip. I call bullshit. That's not analog enough! An IC chip? Well, domo arigato, Mr. Roboto, but no arigato. If you want that pedal to be even more analog, you need to send your guitar signal through an aluminum disc covered in oil to rubber pickups. WTF? Here's one of the biggest stomp boxes you're likely to ever see, the Tel-Ray Morley RWV Rotating Wah.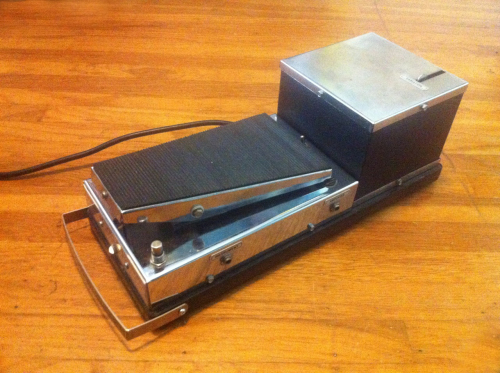 Raymond Lubow invented the oil can echo in the 1960s for his company, Tel-Ray Electronics, to be a more reliable device than the tape-based echoes of the time. Smaller than a tape echo, it was also able to be added by amplifier manufacturers to their products. It uses an aluminum disc rotating in an electrostatic oil which brushes against conductive rubber pickups to carry the sound. Raymond used the same technology to create the Morley rotating speaker simulator and shove it into a pedal. The name was a pun on the Leslie (less-lee) rotating cabinet speaker. Thus a company was born and we all got ever-so confused. Now imagine you have a broken one. Fuck.
I was given this obsession with Morley by a former bandmate. He also had a Morley RWV and I wanted one. Culling eBay, I finally got one, but it had some issues. The previous owner had actually cleaned up the insides nicely, but had used his wife's hairband for the belt-drive and it wouldn't start right. Luckily, when I manually spun it, it sounded clean. One problem with these old oil can devices is that if the anodized aluminum disc inside the can gets scratched, it creates an annoying tick and there are NO replacements available. That wasn't a problem here, but opening the case just to nudge the motor into working was. I was going nuts… or rather, I'd lost a nut.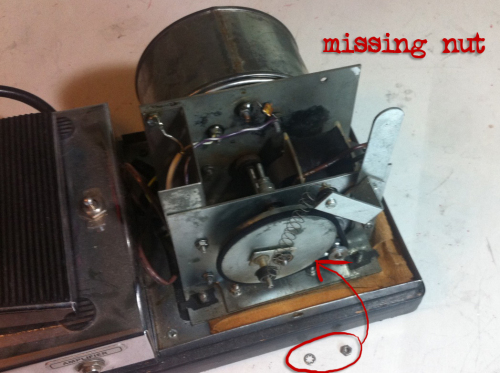 I opened the box containing the oil can and motor and found a loose nut and its washer. I found it had come loose from the motor mooring and was impeded the motors spin. Oh-so-conveniently, this nut belonged behind the band wheel that spun the disc inside the oil can. The band wheel did not come off separately, so for one fucking measly little loose nut, I had to disassemble the entire device.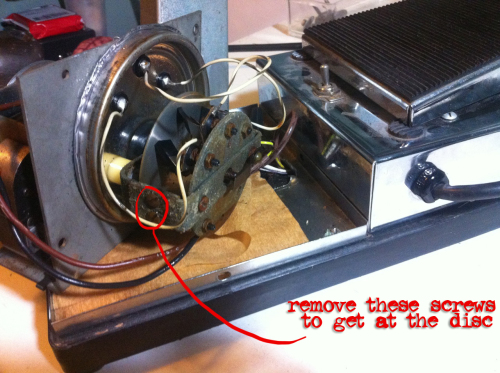 The oil can itself has two removable lids. One is fastened to the motor housing, so I took the whole can off. I should also mention, I carefully saved the oil. It's one of a kind and necessary for the effect. In the above photo, you can see the disc and the rubber pickups. The pickups come apart in one piece. Getting the axle free is a little more complicated.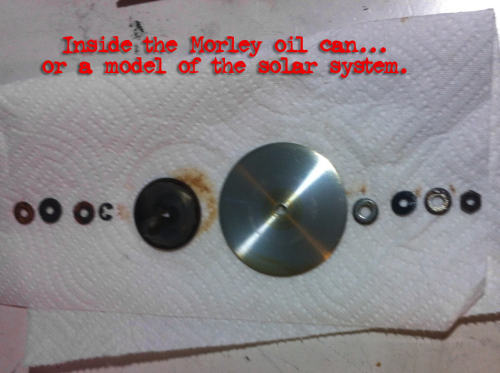 I took the parts of the axle and laid them out in order so I wouldn't fuck up putting them back on. I also carefully swabbed the aluminum disc with a cotton swab and a soft towel to get off the various bits of metal decay that came with some 40 odd years of existence for this pedal.

This is the inside of the oil can the axle and pickups removed. It's not really an important photo, but it's fucking cool to see.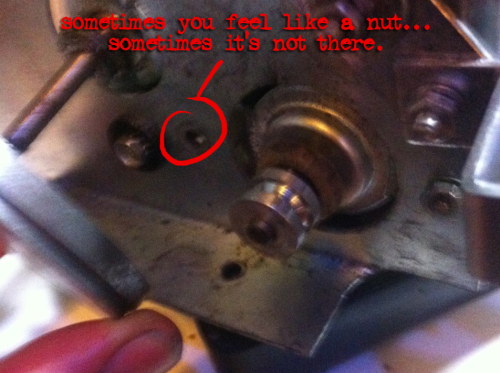 With the axle and band wheel removed (and a couple other bolts that keep the housing together) I was able to get at the motor and secure it. Now when it powers up, the electromagnetic motor spins like it was brand new. I replaced the previous owner's wife's hairband with a much more appropriate square-rubber belt from Russell Industries, part # 1407-47. It's available here.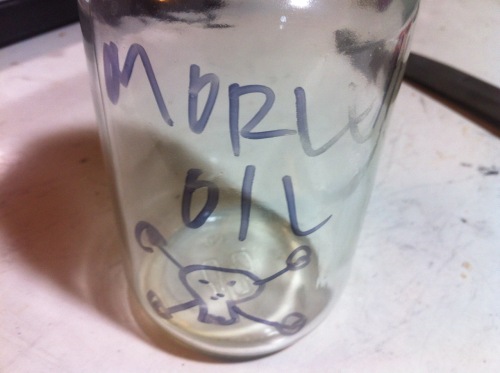 I'd saved the oil from this and a previous oil can repair. It's called UCON LB-65 and it's electrostatic properties make it the only oil that works in these things. It's also super hard to get. There have been various people selling it on eBay, but last I checked, it's going for almost $90 for four ounces! Shysters! Luckily, these oil can devices only require a tablespoon of the stuff and I had just enough. Just like Mary Poppins said, "a spoonful of UCON LB-65 electrostatic oil makes the medicine go something something."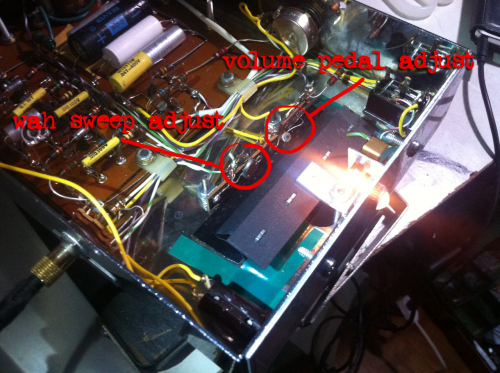 While I was in there, I decided to conduct a full diagnostic. The curtain shielding the LDR that controls the wah and volume was a bit loose, so I fixed it as I have on every Morley so many times before. I also fixed the LDRs that control the wah and volume circuit. They were carefully bent and moved until the curtain attached to the foot treadle sweeps them into the shade with a graceful movement.
Now, the moment of truth: does it god-damn work? Well, true believers, see for yourself and WITNESS the glory of TRUE ANALOG!!!! (and a shitty guitar solo… but hey, that's why I play bass)