This monster, the Morley Power Wah Fuzz, came to me via Sir John Cadbury Cobbett.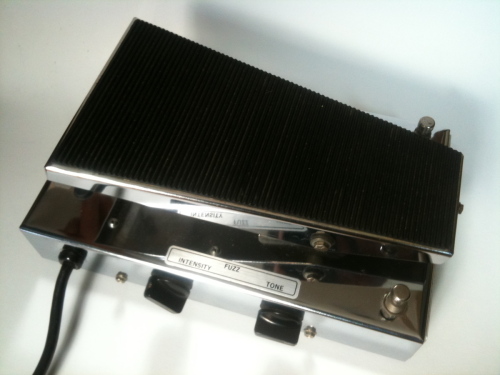 On his former quest to have the largest pedal board in the world, partially I think to mock me and my increasing effects collection, John decided to collect some old Tel-Ray Morley pedals. I knew they had a wah and volume pedal, but I really had no idea how many effects this company produced in the '70s. Rotating Wahs and echos utilizing oil cans, flangers and phasers whose sweep could be automatic or controlled by one's foot, some weird shit called a pik-a-wah that used a metal pick to wah while you played? And they all came in the same gigantic big chrome box that just says, "America, fuck yeah."
This era ended in the '80s, thanks to the big evil Japanese overlord Roland and their BOSS compact pedal line. Electronic switching and cheaper priced parts led to the destruction of stupidly oversized and bulletproof pedals with rich sounds, and instead led the way to huge pedal boards full of piles of middle-of-the-road disposable doodoo for the middling shredder of the '80s who needed to hit a different pedal for each solo. For some more on the history of Tel-Ray Morley and their line of colossal chrome pedals, check this excellent link:
http://www.wingspreadrecords.com/morley_page.html
A quick note… I despise when folks refer to anything well made as "built like a tank" because tanks break down a lot. They're big, eat gas and spit out freedom, but they fall apart constantly. "Bulletproof" is a tad more accurate if you're describing something as well made.
John gave me the PWF in a non-functional condition. Or so it seemed… you see, Morley's are unique foot pedals in that Ray of Tel-Ray invented an optical system to replace the traditional potentiometer in a wah or volume pedal. There's no gears moving, instead, the foot pedal moves a curtain that opens up or blocks light from the power indicator. These are old school bulbs, so they burn out after awhile, and a lot of people think their Morleys are toast, like the fool John bought this pedal from. They won't make any sound at all if that light doesn't turn on. This part is an easy fix.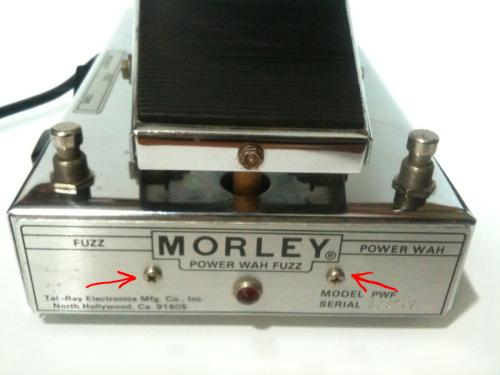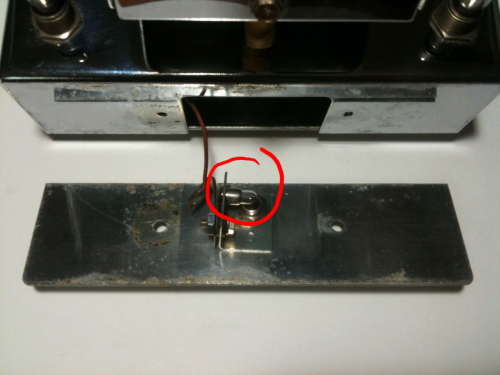 Replace this bulb, a model 387, with the replacement you bought from the weird old couple that won't look you in the eye and who run your local electronics shop that smells of mothballs and cat pee. Alternatively, you can find replacements on eBay from third parties or from the current owners of the Morley brand name here.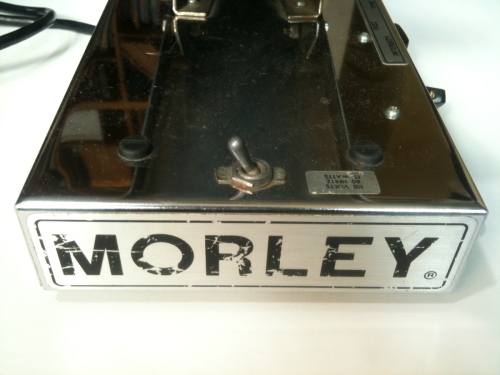 Plug directly into an AC outlet (gotta love the full 110v action) and flip the gigantic, clunky switch to "on" (gotta love a pedal with an "on" switch)…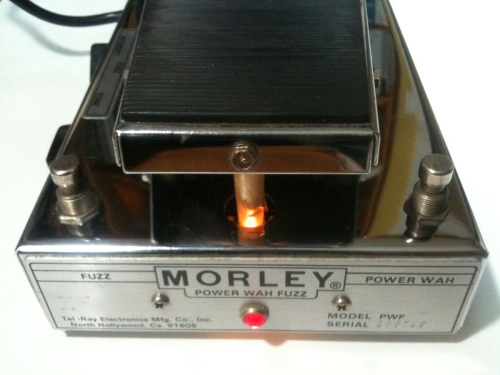 Unfortunately, in this case, the Morley might not have been dead, but it was very sick. This is a Power Wah Fuzz… except there was no power to that damn fuzz. And the wah sounded stupid and moved in reverse. There was a few more problems for the doktor to tend to…
First off, the wah. These things, when working properly, have a HUGE wah sweep that sounds pretty incredible. Less like a traditional Crybaby, more like V'ger in Star Trek: The Motion Picture (an absolutely horrible film, but the bald chick is hot and V'ger sounds cool). The optical sensor as an end is so cool and futuristic in these effects, but the means to get there is as primitive as it gets. It's a curtain. And sometimes the curtain gets loose and flops around inside, because it's held by black masking tape. Fucking. Tape.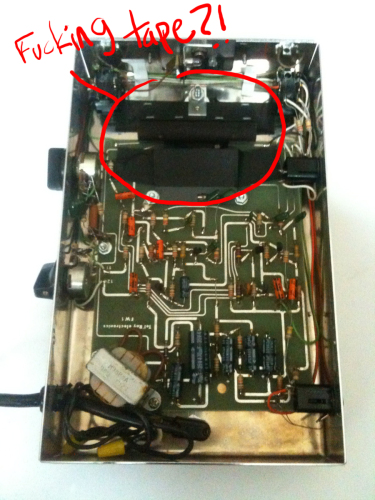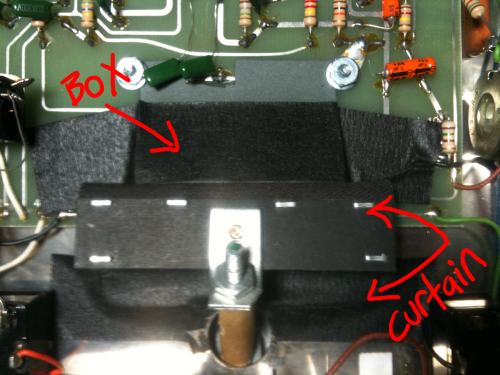 Unfortunately, I already fixed this, so there's no before and after. But here you can see the box that covers the light sensors and the curtain as it appears when the footpedal is rocked all the way back. It completely covers the light sensors, with one end attached to the bolt that comes from the footpedal, and the other end curled around and secured to the top of pedal with… tape.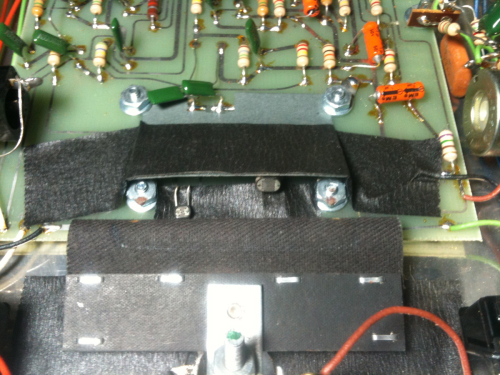 Here it is with the footpedal rocked forward. The curtain rolls back from the box and exposes the sensors to the light from the power indicator. The box that is secured to the circuit board with… tape.
I dimmed the lights, and turned the pedal on. Being very careful to not electrocute myself with 110v, I adjusted the light sensors height (gently, as to not break the legs) so that I would get a full sweep of light over it along with a full sweep of the pedal.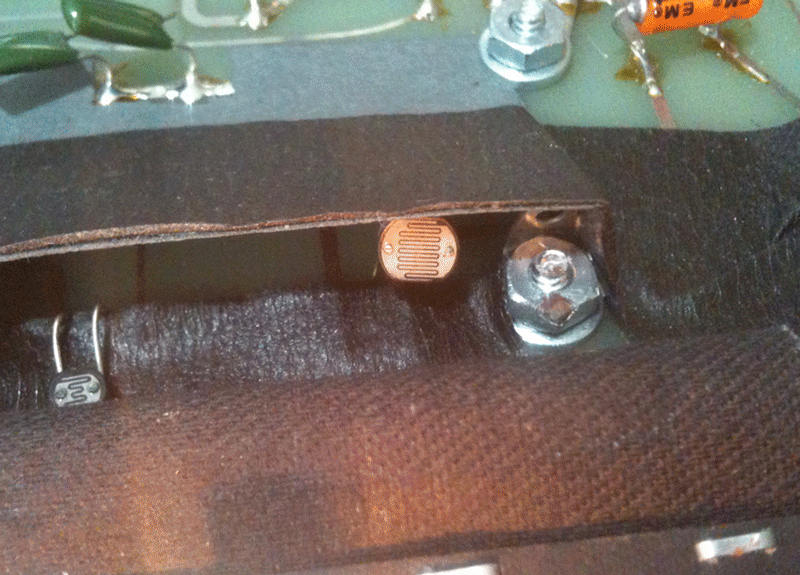 Now, the wah was working fine. Better than fine, it's wicked. But the fuzz was less like a Big Muff and more like an Italian ass. It distorted, but it sounded weak and had no bite. I heard a bunch of demos on YouTube that sounded the same as this, so I thought maybe it was fixed and this model pedal just sucked. No way, though, this was a model pedal that Cliff Burton had rocked on! There's no way the major rager on the four string mother fucker would've chosen a pedal that sounded like an Italian ass.
I downloaded the schematic for the PWF from the Tel-Ray Morley support page. I'm no engineer, and I can barely read this stuff. I'm just a poor DIY guy who tried his best not to pay someone smarter than me if I can go ahead and break something more first. Long story short, I poked and prodded. For days. Finally, I had the notion that maybe something was wrong with the clipping stage, the part that makes the amplified signal distort. Duh, I mean, it was the fuzz that wasn't fuzzing, right? I tried and tried to find the clipping diodes as indicated in the schematic by following the circuit board, but they weren't where they were supposed to be, parallel to R28 on the schematic.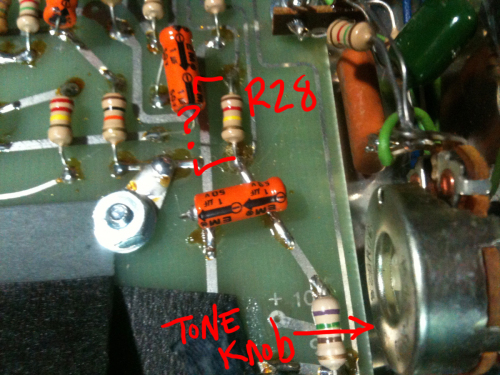 And herein lies the mystery… because I never took the whole thing apart. I didn't have to. Is this board two-sided with the diodes on the other side? I'll never know, because I just prodded the area with a typical N4148 diode where I thought one should be, and voila, I had a bad ass fuzz coming out. There must've been a blown diode somewhere, and this one was filling it's space in the circuit path. So I soldered that little shit right on top there and was good to go.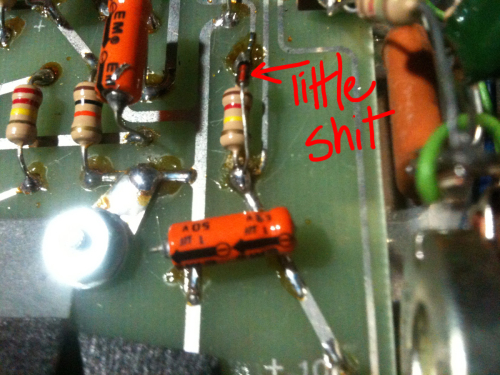 The sound is a great fuzz, very similar to a Big Muff Pi with a little less bass response. The magic, though, happens when you hit the fuzz and the wah together. It's like a rocket taking off and landing on a disco ball.
Finally, to polish the body, I took a low grade steel wool from the hardware store, grade #0000, and scrubbed down the chrome until it shone like C-3PO during a racist awards ceremony where Wookies are treated like second class citizens. 3/5th a vote in the galactic senate, so I hear. And then John didn't want the pedal anymore because he was broke. So he sold it to me. Woo hoo! Time to play Anesthesia (Pulling Teeth), one of the most obnoxious uses of a bass and wah and fuzz in the history of rock 'n' roll!
Before I bought this one, though, I almost bought another PWF at a used store. The guys told me it worked great, and it had EVERY PROBLEM John's had had. I tried to explain it to them, and they didn't seem to care much. Actually, like a lot of people I talk to, I watched their faces glaze over in apathy. Hopefully, though, my experience is a "teachable moment" (God damned patronizing term) to someone else who thinks they have a bummer pedal their ex-rocker dad gave them just sitting in their closet collecting dust. It's could be the same, easy-to-solve issues. Then you can rock like this dude on the sticker I found on the bottom of my PWF…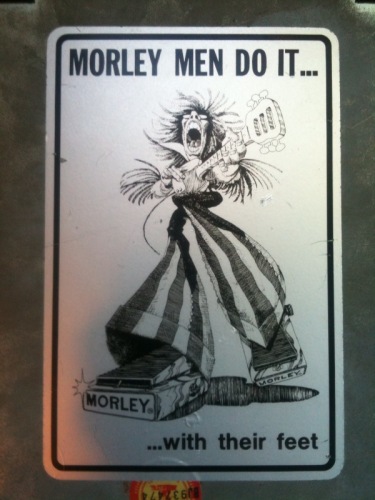 EDIT 18/5/2018: Here's the schematic.