Last year, Ludicra, the rock band that forgot it was a black metal band, reunited. It was at the North West Terror Fest in Seattle Washington. Later in the year, we played an emotional set reuniting in our Bay Area home playing Great American Music Hall in San Francisco, CA. Now, this past summer, we've managed to squeeze a little more life out of the husk by playing Saint Vitus in New York and the Oblivion Access Festival in Austin Texas. And we have at least three more shows left. Then, we're done.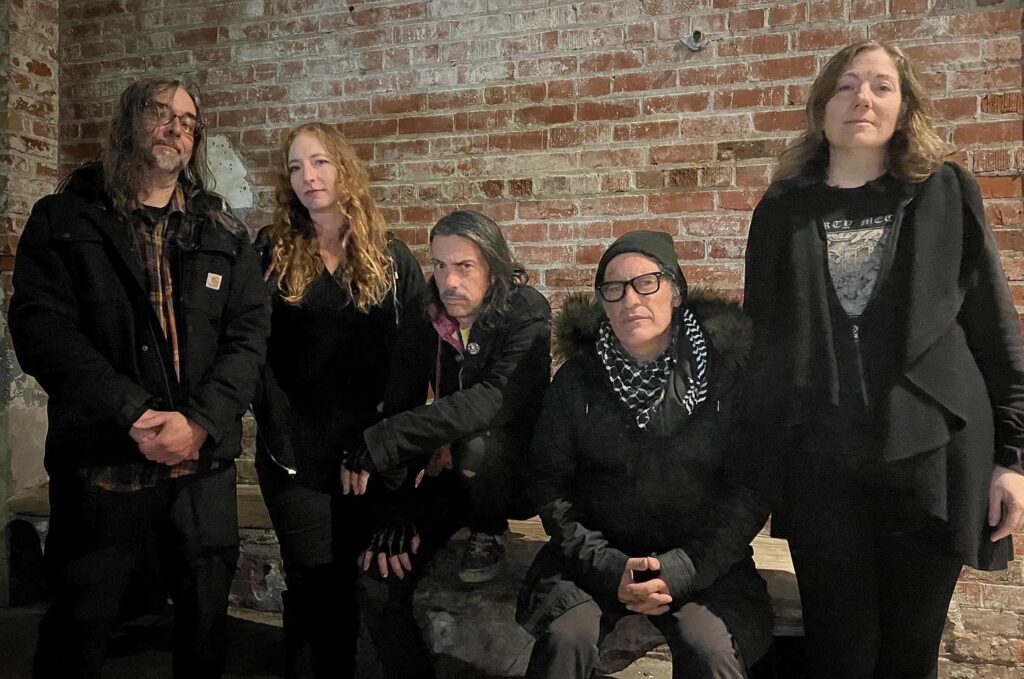 Some members are ready for the band to be over again. Others are not. But we're agreeing to an end so that Ludicra can shuffle off this mortal coil in a more celebratory way than it did in the past. It was an ugly death full of acrimony and accusations that got drug out over the course of years. My previously close friendships with John and Aesop shattered and took years to recover. The way we ended in 2011, right after enjoying our first successful European tour with no goodbye never sat well with me.
The seeds of a reunion began in 2019. Our former booker, Nate Carson, asked if we would want to play Psycho Vegas because a slot had opened. We would have two weeks to get our set together. He sold it as them wanting us, but I'm pretty sure he was just pitching us. John, to my biggest surprise, wrote everyone and was gung-ho to do it. He'd always told me he never liked going backward. Laurie was for it, Christy was considering git, but from the get go, Aesop and I were against it… for whatever other misgivings Aesop may have had, I just felt it was completely unrealistic to put together a Ludicra set in two weeks. The point was moot; Psycho Vegas made other plans.
But then North West Terror Fest made an offer. In a much more realistic time frame, we could get the band back together for on big cascadian style bash. We talked it out, we were ready to do it… in summer of 2020. I'm not sure you remember what happened in summer of 2020? I tend to try and forget.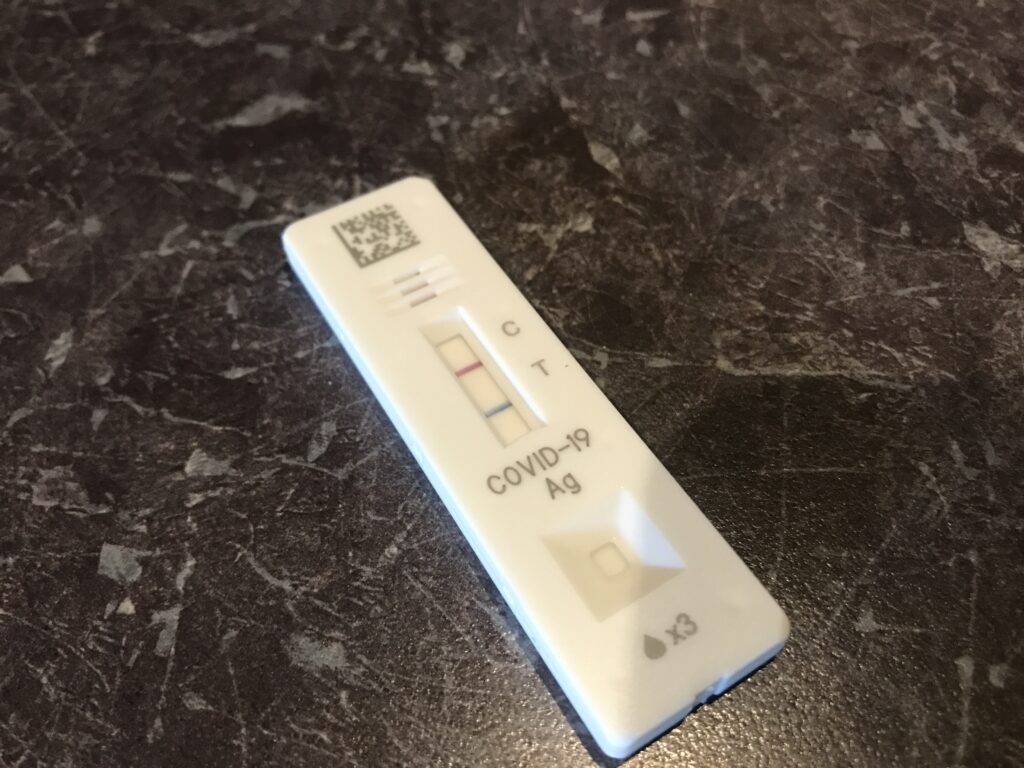 Anyway, fast forward to summer of 2022. We had agreed to the NWTF offer to reunite Ludicra. John had long since moved away from the Bay Area to Montana. Christy had recently left California for Oregon. That left it up to me and Aesop to get the rhythm core of the band back up to speed by ourselves. We jammed for months to get up to speed then Laurie joined us for bare bones drum / bass vocal sessions to prepare to meet our former band mates in the Pacific Northwest.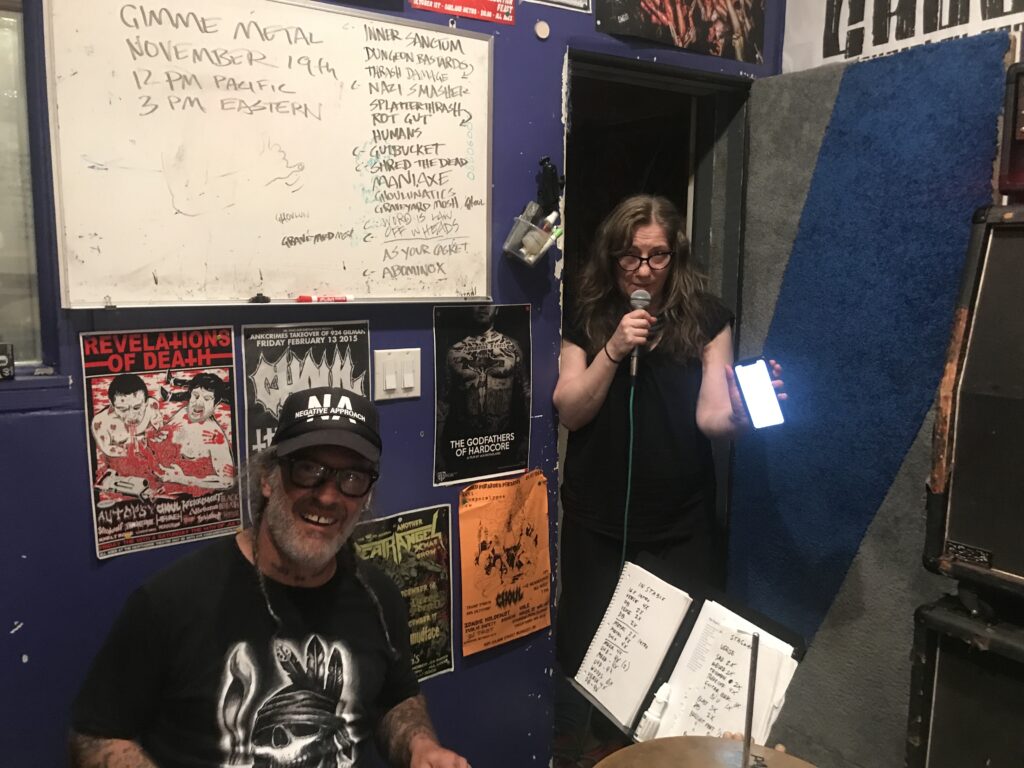 We ended up scheduling our rehearsals at the studios of Tad, an old friend of John's. Four of us ended up in Airbnb together (John brought his partner and child, so needed other accommodations) and for three days we jammed our set together and it was FUN. We were joking together, reminiscing, going over parts, enjoying each other's company almost as if we hadn't ever been apart. We did a day on the lake, ate lunch, hung out with Tad and his partner, everyone met my girlfriend when she arrived… it was truly magical and wonderful.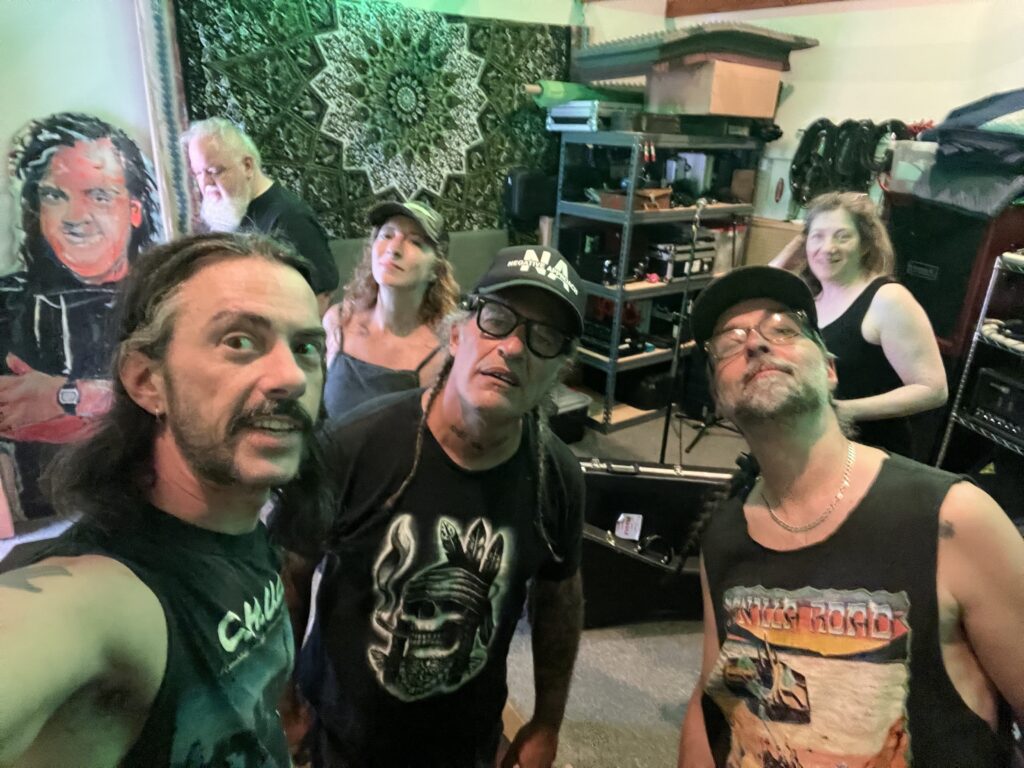 North West Terror Fest was a rousing success itself. So many close friends were in attendance, either by chance or because Ludicra was doing this reunion gig. I don't know, I like to try and remain a little humble. The point being it was fun to be seeing all these other bands in friendly company. And then we built up to the Ludicra set. And it was fucking fire. Ludicra, though amazingly creative, could be a little loose live on occasion… most of the time that looseness was charming, not like, catastrophic. But we slayed in Seattle. An hour and a half of us at our best. The crowd swayed, the crowd cried, the crowd danced, we were with the crowd and they were with us.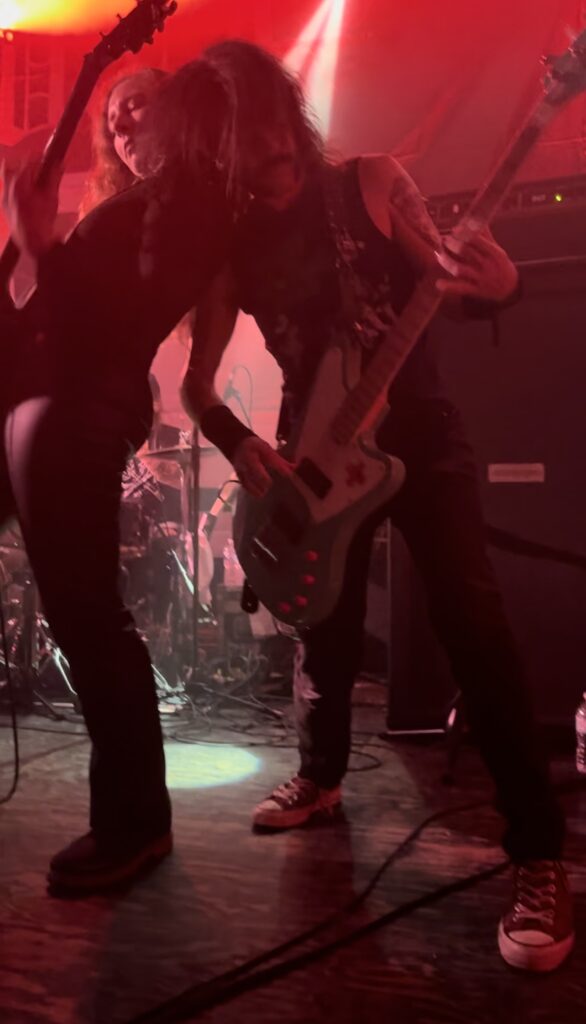 I'm not going to lie… I was fine wrapping things up, taking care of everyone, hugs, late night drinks and goodbyes, but when I got back to the place my girlfriend and I were staying at, I was emotionally wrecked. I cried. I'm so glad she was there to take care of me because I was a wreck.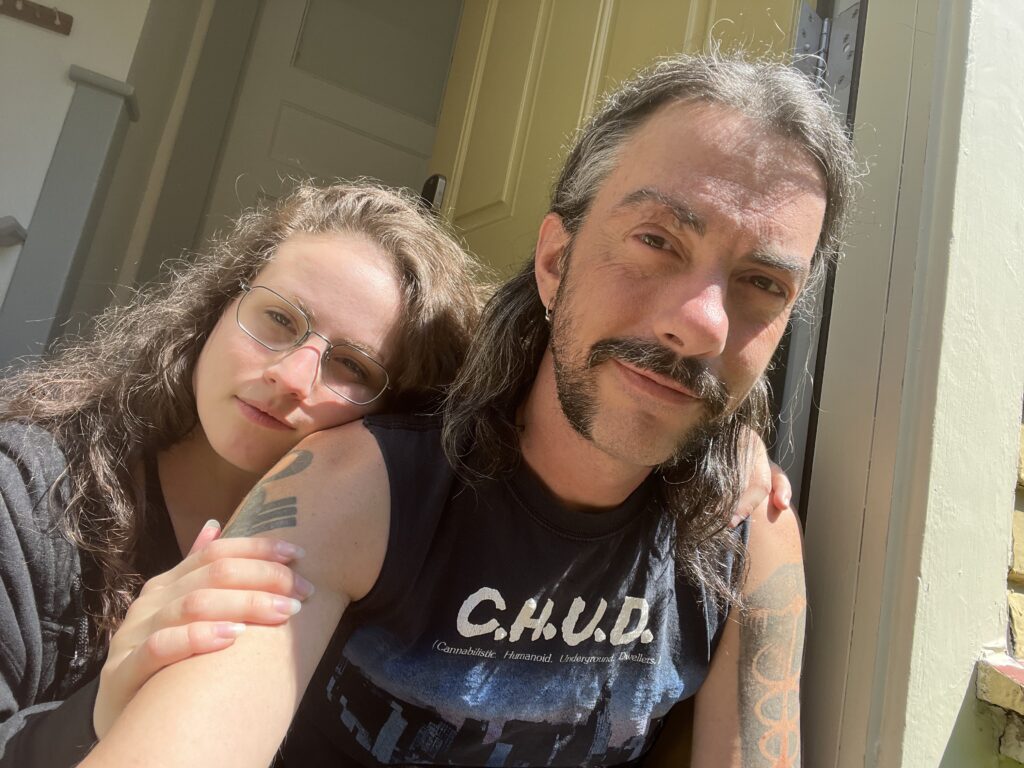 We weren't quite done though… well, I wasn't. Even before NWTF, lots of discussions were being had about what we should do after that. Should we do anything? Should we keep continuing? The one thing I was adamant about was that we were not going to become a functioning band again. That's how I sold it to a dubious Christy Cather. She thought it was insulting to her active band, Ails, but I explained this reunion would have an end. It was not restarting, it was revisiting.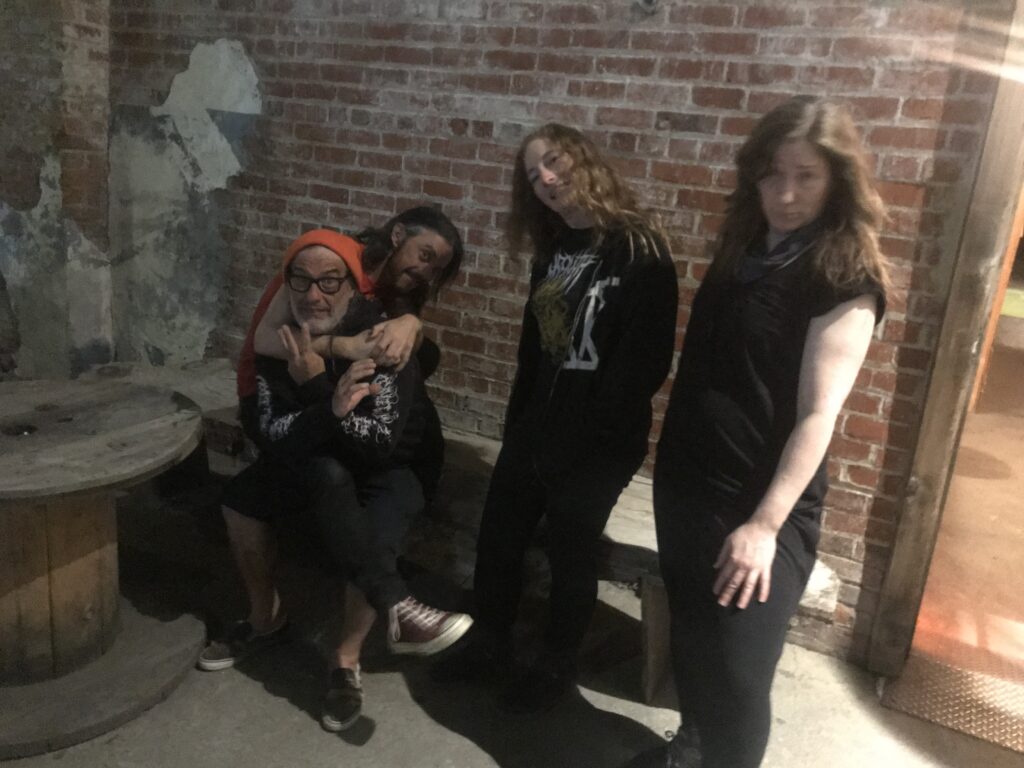 So the plan came together to maybe play a few other cities. The main city had to be San Francisco, the birthplace of Ludicra. We booked a night at the Great American Music Hall actually near a year in advance, previous to our actual first reunion. Hell, if it hadn't had worked out we could just call it off. November we would come back to play San Francisco one last time and say good bye to that toddling town.
The Ludicra show was booked so far in advance that I forgot about the date and agreed to an Exhumed tour. To be fair, I had given Matt the Ludicra date, and he forgot, too. Oopsie doodle! I realized it months later, but by the time the ball was rolling, neither the tour nor the show could be moved. So I just missed like four days of tour while Leon del Muerte filled in for me. No big deal in the end.
The Great America Music Hall show was tricky. At North West Terror Fest, we just agreed to play. For the GAMH, we had agree on bands to book. What a pain in the ass, ha! Someone had a problem with this person, someone else didn't like this band, that person, that band, etc. We eventually found a line-up everyone was okay with, booking Funeral Chant and Deathgrave. I was concerned about Deathgrave, old friends, great band, but they booked a lot of shows and I was concerned they would book other local shows too close to ours. They were asked not to. And then they did anyway, opening for Autopsy a week before our very special heartfelt reunion gig that we'd personally asked them to be direct support on. They're my very close friends, but this still leaves me salty. Don't ever do this to your friends. I'm glad I'm old though, because I can let shit go in a better way now. We didn't kick them off the bill.
The Great American Music Hall show was preceded by a few days of rehearsal in the Impaled room at Soundwave Studios in Oakland, California. It was a ruddy small space we'd been in for like 25 years at that point. Jackie Perez-Gratz came in for some rehearsals to recreate her cello part in one of our old songs. With the whole band there I'd run out of amps to run here through, so I ran her cello through our p.a. A speaker caught fire as the cello rumbled through its 10″ cone. Turns out, I should've have done that. Two times in my history I've seen p.a. or monitors just catch fire from heavy music, and bother times were with Ludicra. I jumped up, unhooked the speaker from its mooring on the ceiling, and quickly exited outside with it. It went out and no one was hurt, thank god.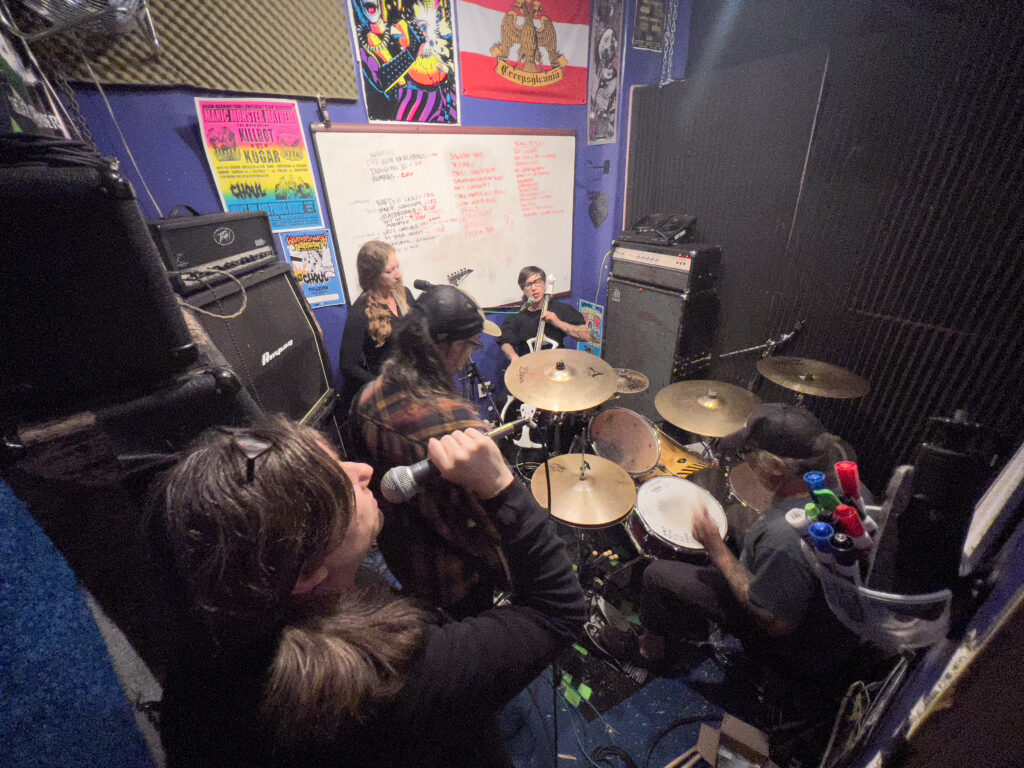 Finally the day of the show came. One of my best friends Justin Ennis was instrumental in making it work, driving our gear and lending things I didn't have to get our complete backline up to the exact specs we wanted. He also did sound for Ludicra here and NWTF and nailed it.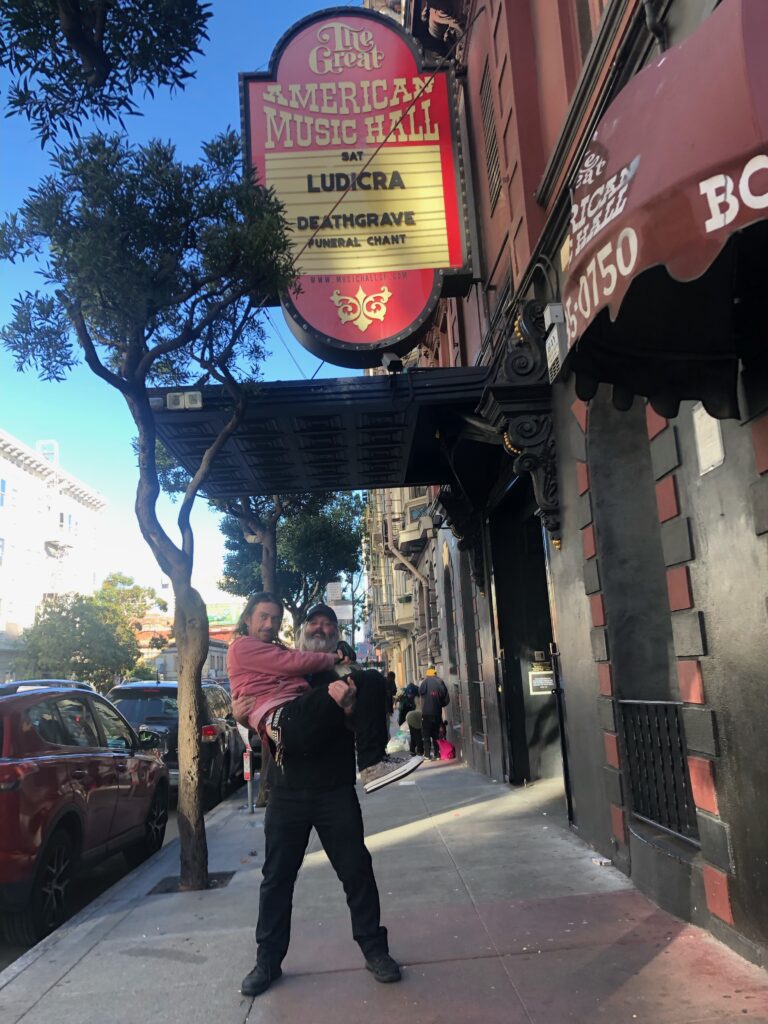 It was almost like a class reunion to be honest. Faces I hadn't seen in years and years at shows turned up. People flew in from out of state. Jello Biafra, head of one of our former labels, graced us with his jovial presence. It was another magical night.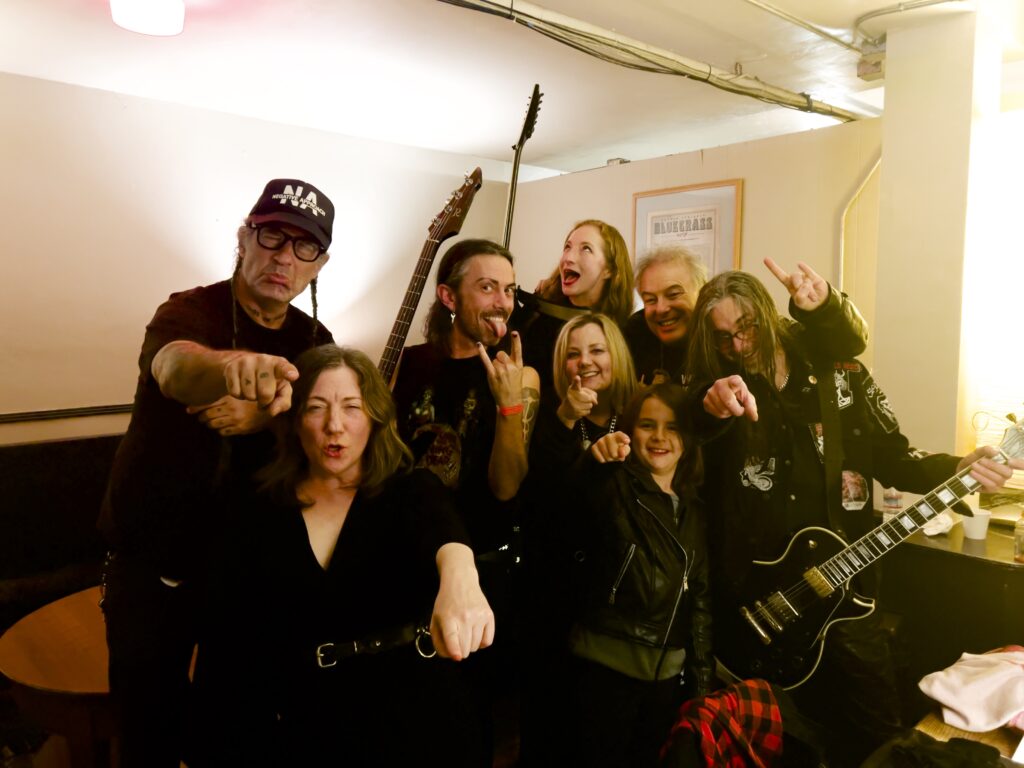 I thought I would cry, but I was much more composed this time around, probably by din of having to run most everything to get the show together, posters done, merch printed, backline organized, etc. It all worked out though and I got to feel an immense pride as we sold-out my favorite venue in San Francisco and have my family in attendance in reserved box seats.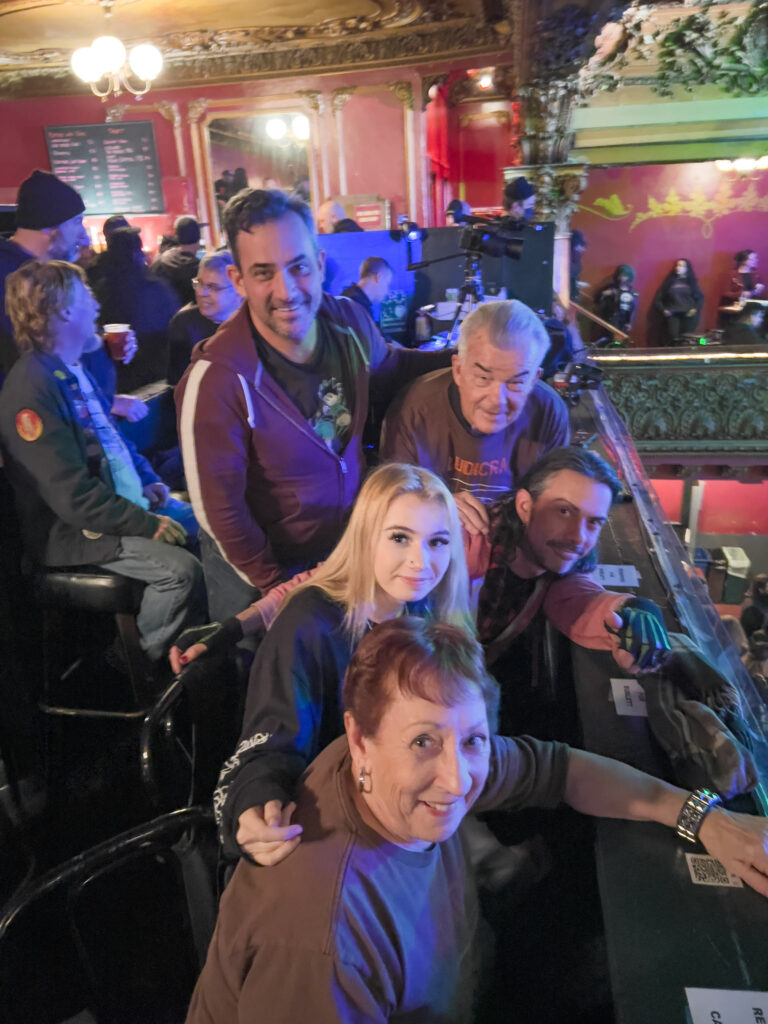 I wanted to celebrate, relax, alas, it was not to be as I flew out a day later to catch up with the Exhumed winter tour. But that's another story.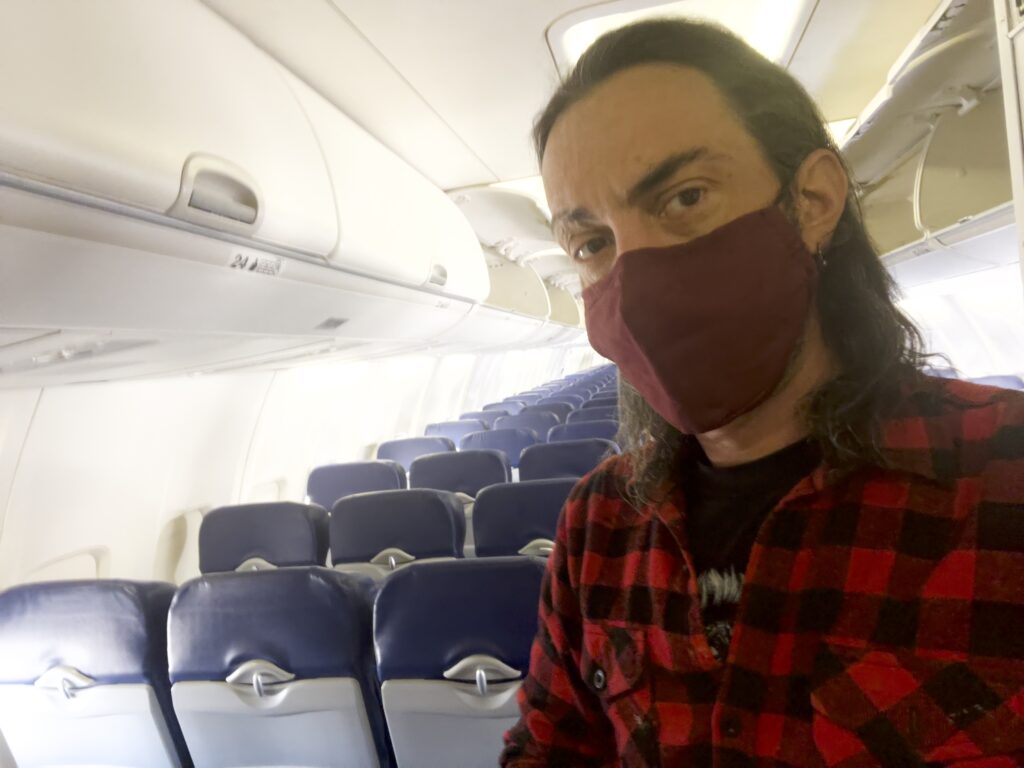 Next up, chapter 2 of Ludicra's triumphant revisiting…