Travel tip #2: Do not be a vegetarian in Japan. I thought it was hard to get something to eat in Spain, but at least they had cheese. Here, I have to find the rice, usually served up in some kind of ball form, and then find the one that doesn't have a fishy surprise inside. It's not like I care about the fish's feelings or want to pet them, I just don't care to have it in my stomach. Wasn't Buddah a vegetarian? Apparently he was the kind that was a vegetarian but ate fish. To the people who say that: you are not a vegetarian. As an aside, apparently there is available, somewhere in Japan, squid ink pizza. If I ate that, would I be vegetarian? Technically it's like milking a cow, but I bet they don't keep them alive on farms to milk.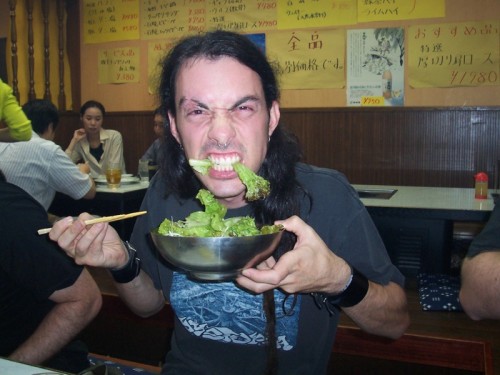 We left Nagoya, the most boring city in all the world to head to Osaka… eventually. All those stories about the hustle and bustle here? Lies.
In the Rusmfeld van we added another person, because it wasn't cramped enough with the 6 inches of leg room. Jason is an expert at folding himself up into insect like positions, but Sean, all 6'1″ of him had a much harder time. Watching him unfold and the look on his face was almost as unpleasant as the actual way my own back felt. I think this van might be an import from Munchkinland.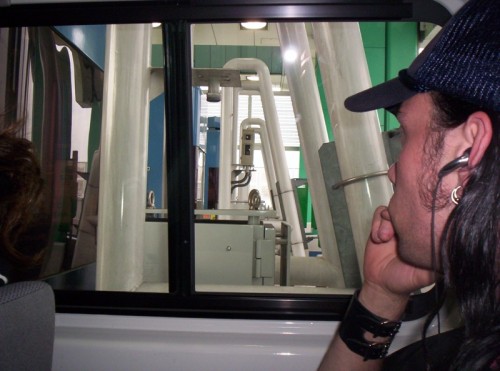 Osaka seemed pretty cool actually, though we didn't get to see much of it. I found a five story electronics store with a toy section and I finally saw some fucking robots. There was lots of Gundam, Ultraman, and some other things I didn't recognize, but get this: no Transformers. I don't get it. They were birthed in this country but apparently are hard to find. According to Naru, they're only in vintage shops, despite Ryan from Engorged constantly sending me photos of new Japanese Transformers. It's sad really. There weren't even generic Transformers. Nothing! Japan has forgotten it's rich history of malleable robots. They do, however, sell pellet guns that look like real guns. They're even as heavy as real guns. They're kind of scary, actually. If a cop saw you with one in the States, he'd shoot you on the spot. They're in the toy store right next to the model trains. Go figure.
The club in Osaka was quite tiny. Just like everything else here. In that way we can honestly say the show was fucking packed. YEEEAH DUDE! The clubs here also provide cabinets and drums. This is brilliant. I wish American clubs would get on this. With gas prices rising, how cool would it be to tour across the country and not have to drag around giant fucking cabinets everywhere you went? Maybe drums, too? Dammit, the time has come. These pieces of equipment are freakin' cheap, comparatively speaking. That said, it would be nice for these Japanese clubs to invest in a drum set with a kick drum larger than a soccer ball and possibly ditch the combo amp that Jason had to go through.
Butcher ABC was first and they were really good. Pretty much the epitome of groovy gore grind, with a few more Japanese inflections. I really like the fact that they have butcher aprons with their logo screened on them for sale, too. There was a black metal band up second, Cataplexy. They had lots of spikes and make up. I wondered if they had songs about the Norwegian wood and Asatru. That kind of multi-culutralism is always a bit odd, but terribly cute.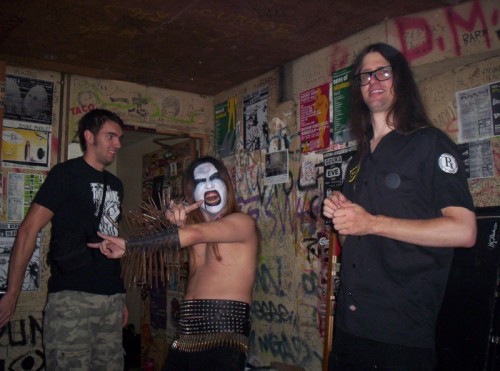 We went on third and had a really fun and really grueling set. The club was as hot as a Japanese school girl outfit. The kids seemed into it, so long as you yelled between songs. I'm not sure how much they actually understood, but they were down for the cause nonetheless. Grant from General Surgery told us when we were done "After watching you, I remembered I have to pace myself during our set." What does that mean? Did we suck towards the end? Or did he mean we went so crazy he couldn't believe it? I prefer the latter, but he probably meant the former. I'll tell him that after seeing him, I remembered to have a big penis instead of a small one. Take that, ya Scottish Swede transplant! Feck arse!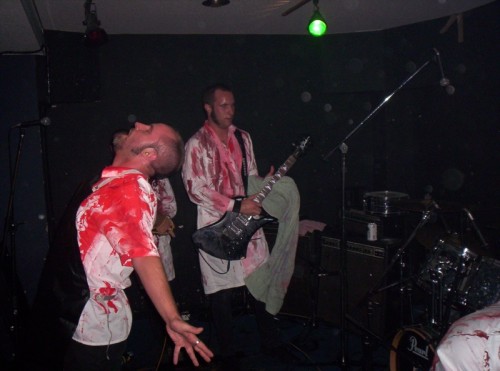 General Surgery were great, blazing through a bunch of new songs and enough older ones to keep everyone happy. Also, they did a pretty sweet Carnage cover. All in all, a good night… until the drive back home. Abu Ghraib's got nothing on this fucking van. Back to Nagoya and back to complete fucking dullsville!