A couple months back shortly after returning from tour with Ludicra, I was watching the Melvins sound check after I'd delivered the posters I'd done for their show that night hastily over the past week. I mentioned to Justin from Secret Serpents standing next to me, "When I hear Jared sing and play bass, I really crave me some Big Business." Justin replied, "They're touring in August, you want in on the poster series?" Right… after… the Impaled tour. So, from one job that followed a Euro tour for me uncomfortably close, to another one that would follow the next Euro tour uncomfortably close. I couldn't refuse the challenge!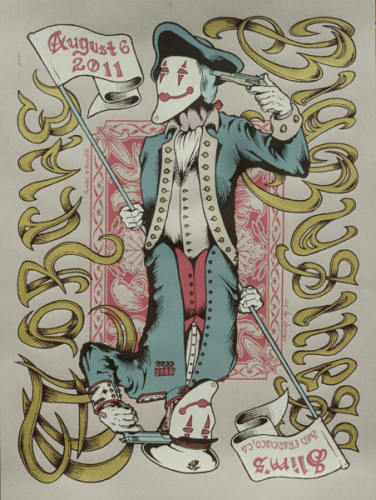 Couple that challenge with the plane booking… Raul asked if I wanted to stay a few extra days in Europe, I said yes. That translated to him as nine extra days. That's three times a few, by my reckoning. So, after the Impaled tour, being broke and strapped for time, I opted to stay with my friend Conny at her flat and get in some days drawing my poster. She set me up with some paper and an old German doctor's desk (very fitting, I might say) and I got to work.
My initial idea was very, very different, but after some sketching, I realized I had no idea who was first on the bill. See, Torche and Big Business were supposed to be switching headlining status, and the poster was required to reflect that. There was no information about the San Francisco show I could find at the time, and I needed to work. I thought how nice it would be to easily switch the logos. I would do a poster that had no up or down, that way I couldn't be wrong.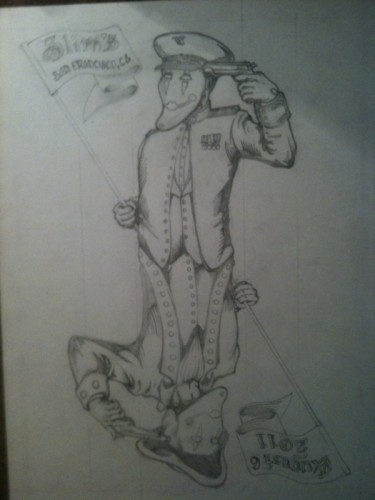 I opted to do the suicide kings card with a twist. Sticking with my martial nouveau, I put General Washington on one side, and a more modern marine on the other. I chose the marines because the colors would work better with the colonial general. With some initial work out of the way, I continued getting drunk with my German friends. Then, back home, it was time to work some more. I wanted to do the logos very calligraphic, because nothing says class like two dudes with guns to their heads.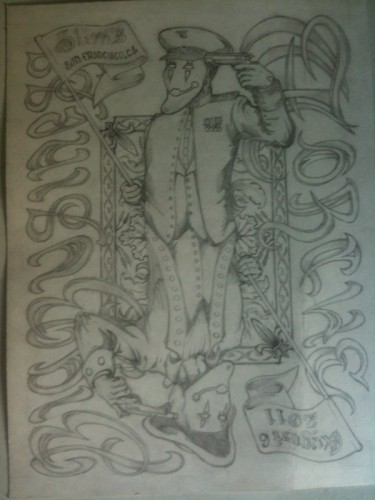 After inking with some Higgins Black Magic india ink, my favorite for now, I inputted the image into Adobe Photoshop for coloring. First, I mess with the curves to get the image crisp and black and white, and then I can just color it in using my Wacom Intuos 4 tablet. It's nice on the arms. I use spot channels for coloring, adding each color I want and just painting it right under the black line.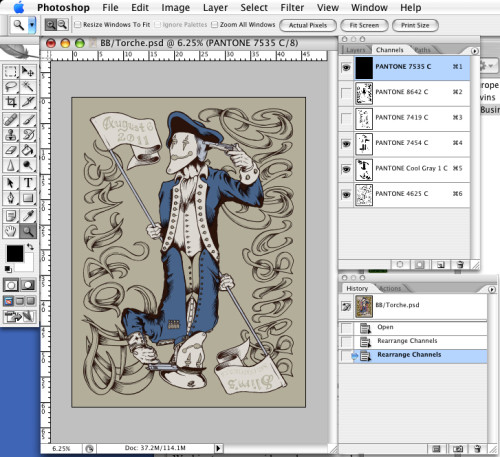 Using spot channels instead of layers makes it a lot easier to color and a lot easier to output to films for screen printing. After that, comes the actual printing at Monolith Press… done during my own off hours, of course. I opted to do a five color poster. Mauz, my boss, said I was crazy. I agreed.
1. Check the films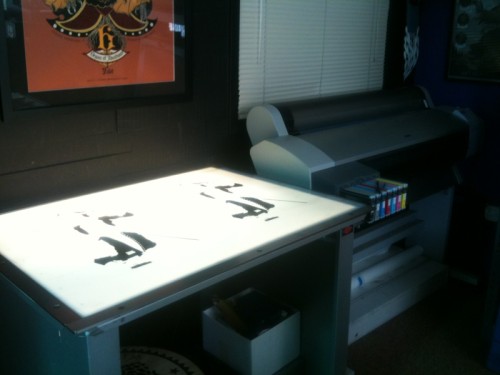 2. Burn the screens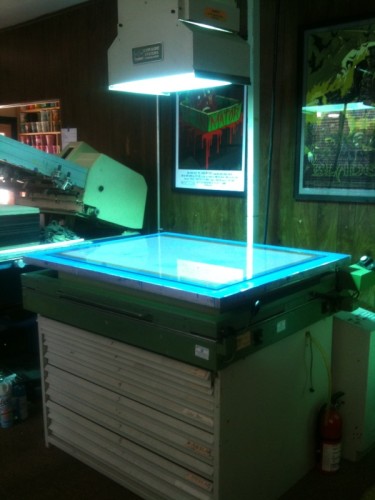 3. Wash 'em out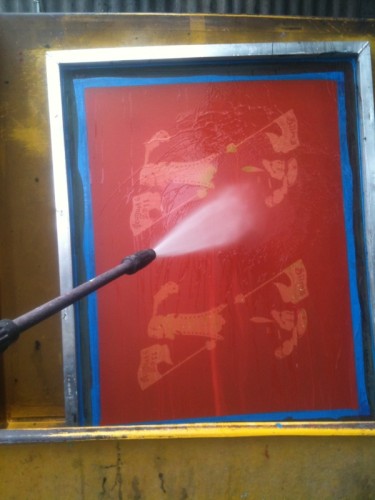 4. Print the colors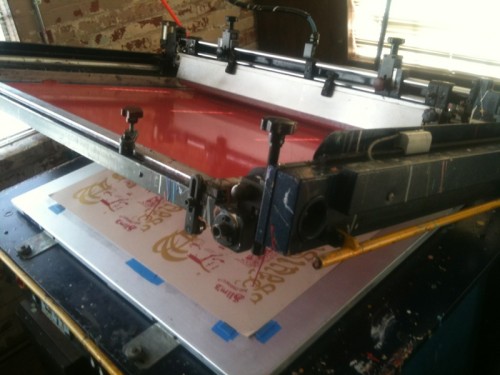 5. Cut the posters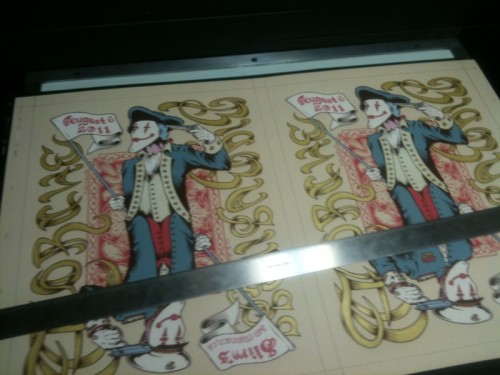 I dropped the posters off at Slim's the day of the show, around 4:30 when the bands were supposed to show up, but alas, they were late. I don't like leaving stuff around, and I was hoping for a photo with the boys, but ce la vie. As I walked out of the venue, I saw my van's driver side mirror get smashed by an asshole in a Budget Rental Truck. GAH!!! I definitely should've come later with the posters. Curse my punctuality.
And then voila, there's the poster for the Torche / Big Business show, at the show! Except… I forgot to add Thrones as the opener. FUCK! No one told me! Oh well, nothing to do about it, but enjoy me some Big Business.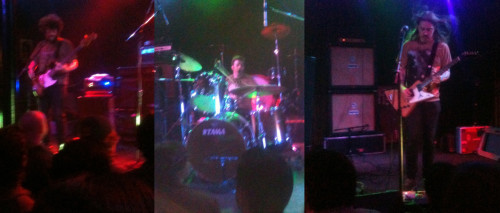 I'd like to say I enjoyed Torche, but frankly I was far too drunk at the show at that point to remember much of anything. I did remember to get some pics of Big Business's pedals, because I am fascinated by their lovely tones.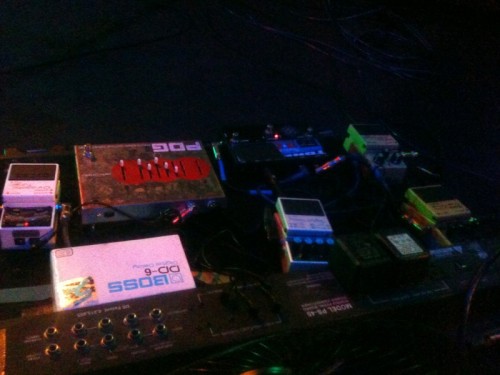 On Jared's side, I spotted me a BOSS ODB-3, a standard in low priced bass distortion, some older style three knob BOSS overdrive or distortion, a BOSS DD6 digital delay, the kind that has trails, a BOSS tuner, and an EHX POG Polyphonic Octave Generator, which surely must thicken some parts up like a corpus cavernosum. He also appears to be a fan of Sunn amps, running a Beta Bass Lead and something else I can't remember… hey, I said I was drunk.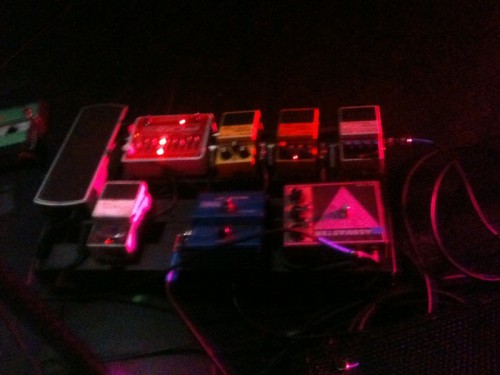 On Scott Martin's side, I spotted what I think was an old style BOSS OD3, a BOSS tuner, a BOSS digital delay of some sort, and an Ernie Ball volume. The rest I can't recognize from my grainy ass iPhone photo, except for another EHX which I think is the POG 2, ANOTHER Polyphonic Octave Generator. These guys can't enough octaves! No wonder their tones are sick as thoup.
It was another awesome break and a great experience to do this poster for these two amazing bands. And now… I hope to sell my own copies of the posters! Check 'em out in my web shop, and buy one if you like me. If you don't, I'll be crushed.