Chris Oxford, an old friend and guitarist for Depressor, contacted me and Sean McGrath about doing an art show at a local bar. I'd wanted to do an art show with Sean for some time. What gallery would have our gorenography? Chris got the date together for a February art show at Eli's Mile High Club and that was the kick in the pants we needed.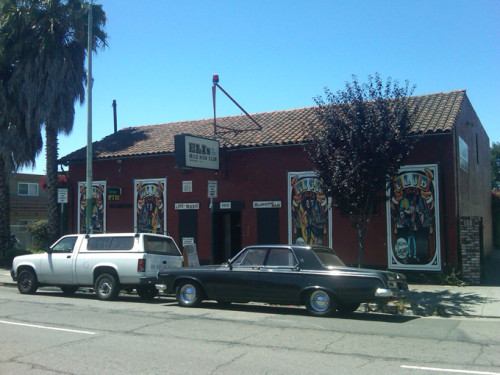 Eli's Mile High Club has become a beacon for crusties, punks, and metal heads looking to get their drink on in North Oakland. They have a show space and a wall for displaying art. Last night we took all our framed pieces (and some unframed) to Eli's. Amidst the din of barking dogs on ropes and metal from the DJ booth, we got to work.
The first thing we did was have a beer. Next, we ordered some delicious jalapeño poppers and tater tots.
After the important business was finished, I got started taking down the screws and nails from previous shows. In an ideal world, this wall would've had the holes filled and been painted by the participants in the previous show. C'est la vie, we would have to deal with the drawn-directly-on-the-wall-with-Sharpie numbering system and various stickers they left behind for us. Thanks, guys. I'll make sure we leave the wall in better shape when our show comes down at the end of February.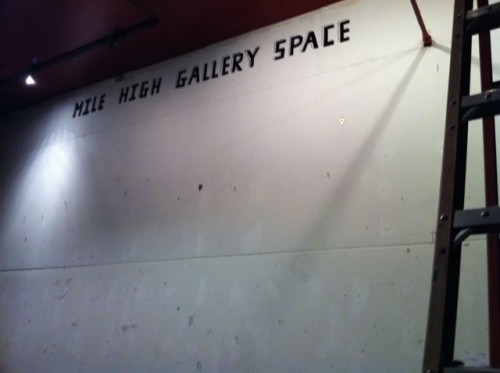 We had three artists involved in this show. It would've been easy to have it look like a cluster fuck. The art is chaotic enough. To bring order into the show, we laid out the pieces on the ground. We decided on real estate for each artist based on their work. Chris checks his various size pieces and actually makes a coherent layout from his maddeningly small and intricate art.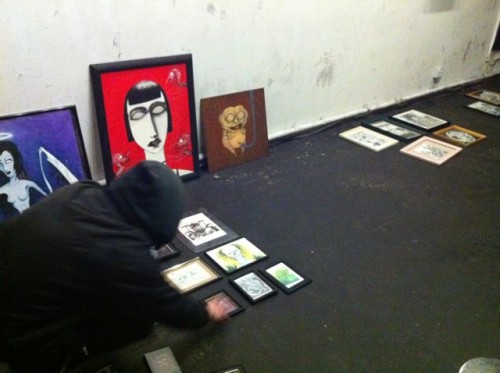 Both Chris and Sean opted for the very punk rock and inexpensive route of finding used frames at my favorite local recycle center (aka dump), Urban Ore. They got some good scores. I'll admit, I was a little jealous when thinking about the bill I'd racked up framing my stuff… even if it was on sale at Michael's. You know, the same perpetual sale they're always having that's actually the real price. In any case, we had to head to the hardware store to make up for some of Chris's salvaged frames lacking hangers.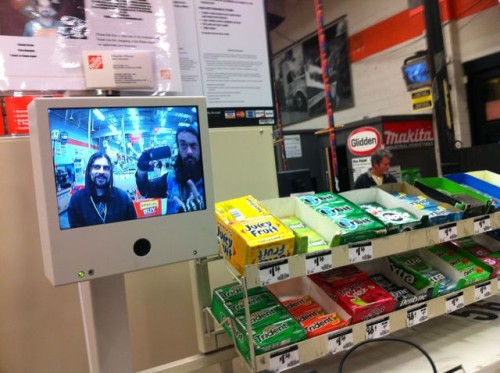 Home Depot self-checkout says "Fuck you, Orwell!" right in your face. We got some sawtooth hangers for the frames and mirror clips for Chris's pieces that had no frames at all. My fault really… I made him bring some pieces I liked that he hadn't prepared.
Sean and Chris got busy hanging their art. The gallery space is made of drywall and easy to nail into. Fortunately, nobody's piece was so heavy that we would need drywall anchors.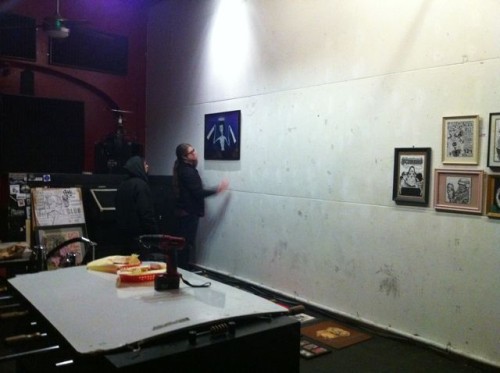 After a couple more beers, we got Chris and Sean's art squared away. Literally, they had two squares of real estate. That's when I got out my giganto frames that would take the top of the wall in a horizontal line to fill out the display.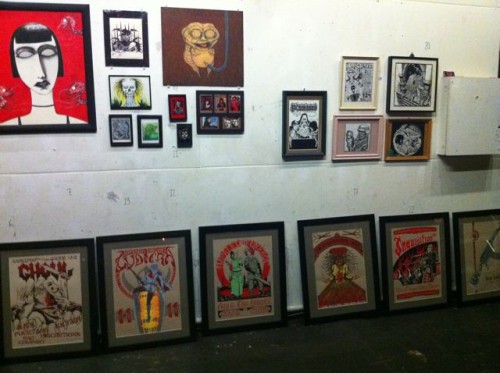 Chris and I worked on these, me on the ladder and him as a spotter. We started on the right of the wall and I randomly chose a distance of 3″ between frames. I could've been a right bastard and got out the chalk line to get measurements, but we eyeballed it using the drywall panels. Punk! With a lot of luck, my pieces lined up quite well above Sean and Chris's areas.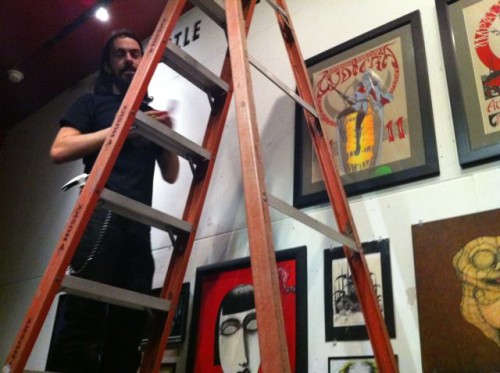 The whole set up took roughly four hours, not including lots of drink and jalapeño popper breaks. Not too shabby for so much art. With just a little bit of prep and forethought, I think we took a punk rock art space up a notch. It's nice to look at and done on a pretty meager budget.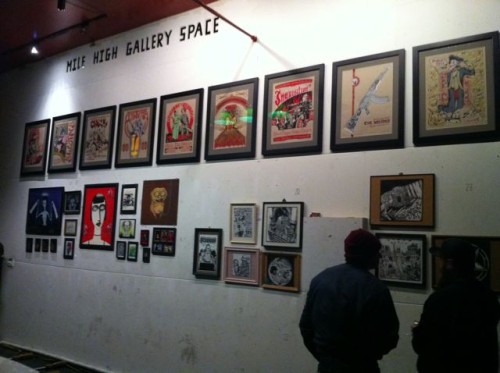 The opening party is planned for tonight. Jason from Eli's generously gave us a Friday without a rock show blaring in the back ground. I zipped up some screen printed flyers at the shop after hours and we've been passing these out for weeks.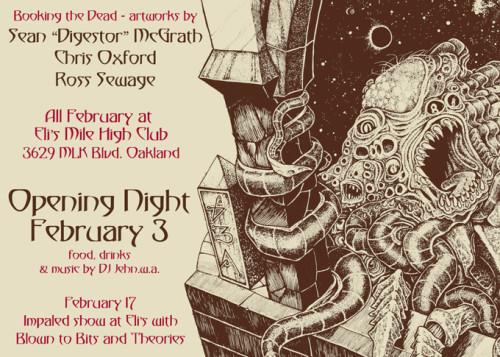 If you're in the area, come on out tonight! We'll be hanging out and drinking. If all goes well with the rest of my day, we'll be feeding folks as well.
The first Friday of the month in Oakland is always art night with the downtown Oakland Art Murmur gallery walk going on. Those pussies close up shop at 9PM, though. We'll keep the metal, the punk, the drinking, and the party going for the rest of the dregs until 1… or until we pass out.