To get ready for the group art show we're having all February at Eli's Mile High Club, I had to frame a grip of posters I'd done. There's three ways to do this:
1. Take it into a place and have them framed by a wage slave. That has the benefit of making one feel like part of the elite that drives around in a Prius.
2. Look around salvage stores and just throw that shit into any frame that it kind of fits into. Now one is sticking it to those fucking elitists who drive around in a Prius.
3. Do it yourself.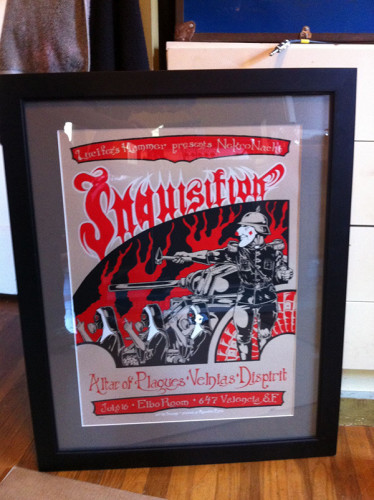 I like art under glass. I like it with a nice, cut mat. I like it uniform. I like to have my cake and eat it as cheaply as fucking possible… aka a doughnut. Look how nice that poster looks framed properly. It doesn't look anything like the poster that didn't sell at all at the show, or that I was told I should be killed for having designed. Now, it's not a mockery, it's corpse-fucking ART. And it ain't that hard to do it yourself.