To get ready for the group art show we're having all February at Eli's Mile High Club, I had to frame a grip of posters I'd done. There's three ways to do this:
1. Take it into a place and have them framed by a wage slave. That has the benefit of making one feel like part of the elite that drives around in a Prius.
2. Look around salvage stores and just throw that shit into any frame that it kind of fits into. Now one is sticking it to those fucking elitists who drive around in a Prius.
3. Do it yourself.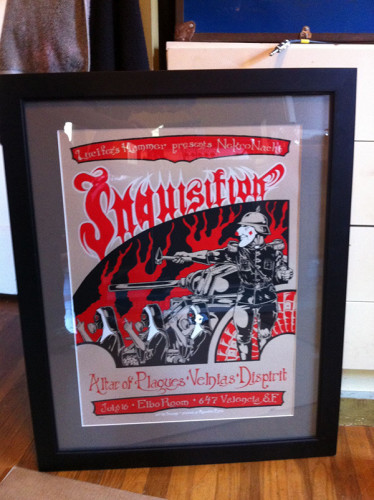 I like art under glass. I like it with a nice, cut mat. I like it uniform. I like to have my cake and eat it as cheaply as fucking possible… aka a doughnut. Look how nice that poster looks framed properly. It doesn't look anything like the poster that didn't sell at all at the show, or that I was told I should be killed for having designed. Now, it's not a mockery, it's corpse-fucking ART. And it ain't that hard to do it yourself.
I get all my frames from Michael's. I'm always getting notices, "Michael's is having a frame sale!" I say always, because their frames are perpetually on sale. In fact, I believe the sale price is the actual price. The rest is smoke and mirrors. The frames are not great, but decent and uniform. I also get my mats from there, specifically #8515, dover grey. That's the beauty of using one kind of paper for my posters: the mats are all the same.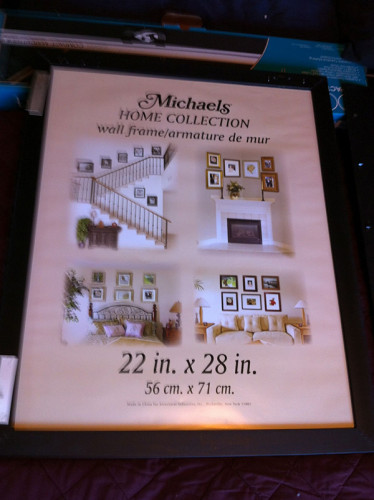 The first cut I have to do requires a straight edge and a sharp X-Acto blade, because of the large size of an uncut mat. Always measure and cut on the back of the mat. I make the cut on the outside edge of the ruler on the material I'm going to use, just in case I fuck up. I'm clumsy and prone to fall down the stairs and bump into doors. At least, that's what I tell the family counselor.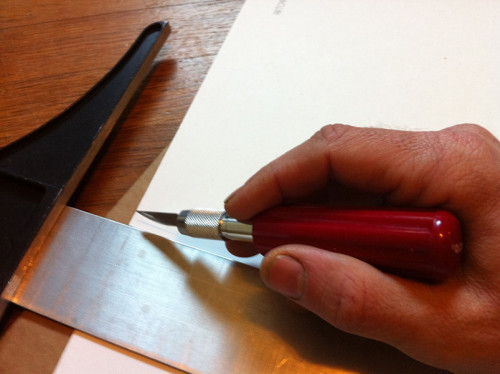 Now that the mat is sized down, I can bust out my Logan compact mat cutter. This thing is a dream. It's not an essential tool to cut mats, unless you plan on having a fancy dancer 45° interior frame. In any case, it's handy as hell even for straight cuts.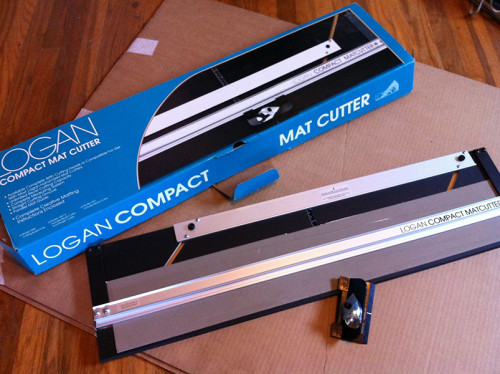 I use the straight cutter and cut the mat down to 22″x28″ square.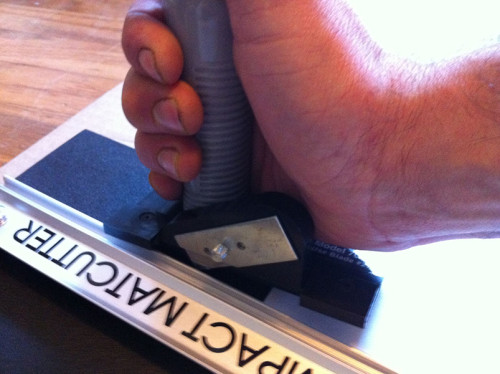 I measure the interior of the picture window by squaring the print to a corner of the mat and adding a double amount of margin that I'll need to mount the print. Fucking math. Halve that, and that's how far into the mat I'll be cutting.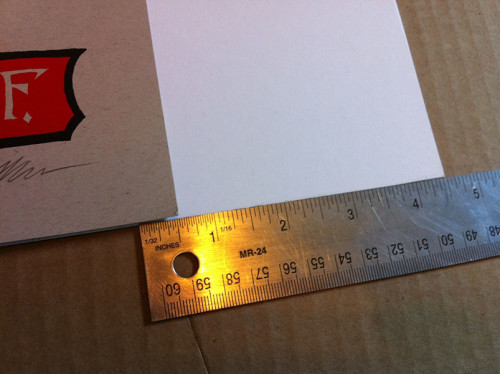 Measure twice and cut once. I check the margins. Measure twice, cut once, curse a lot when you should've measured three times.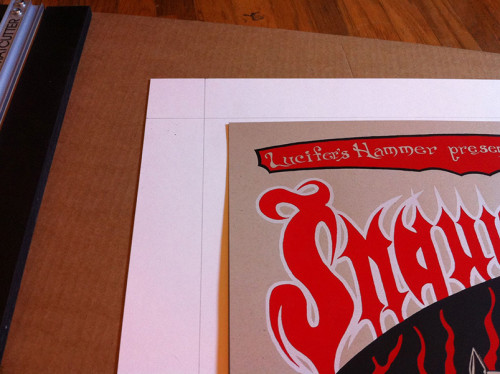 I use the straight edge guide on the Logan mat cutter to set where my cut will go. The mat will butt up against the straight edge and ensure a straight cut.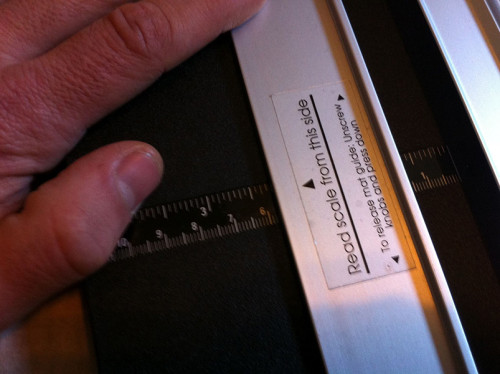 The angle cutter is made to cut on the backside of the mat. I line up the guide to my pencil line and then pull it back a c-hair. I also finish the cut just a c-hair past the finish line. That'll leave me a clean corner cut. Done just right, the overcut heals itself because it's as small as c-hair. Luckily, I don't need an actual c-hair to measure with. The "c" stands for "cunt," I'm pretty sure.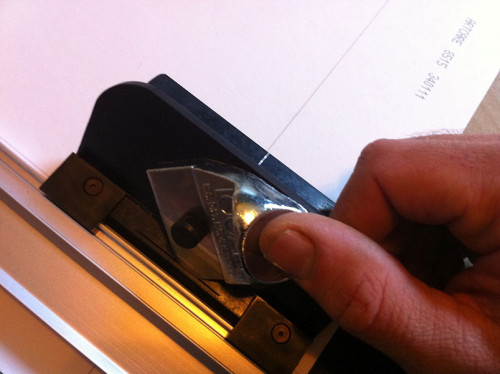 The mat is finished with nice angle cuts, easy peasy nice and squeezy. If I really wanted to be fancy, I could keep adding mats multiple times outwards. But let's be real… I'm too cheap and too much of a slob.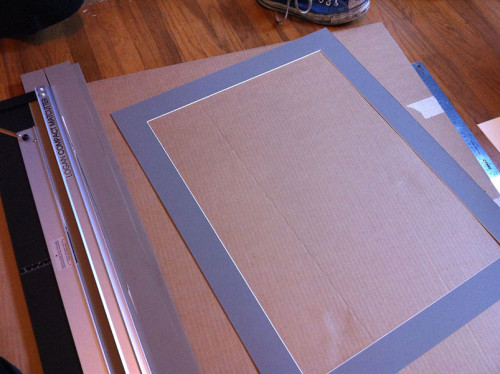 I use some art tape and place a strip on the back of the poster, top and bottom.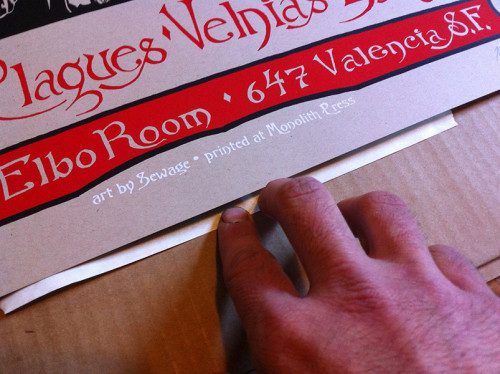 I place the mat over the poster and press down on the taped area once I have it centered. I flip it over and tape all the way around.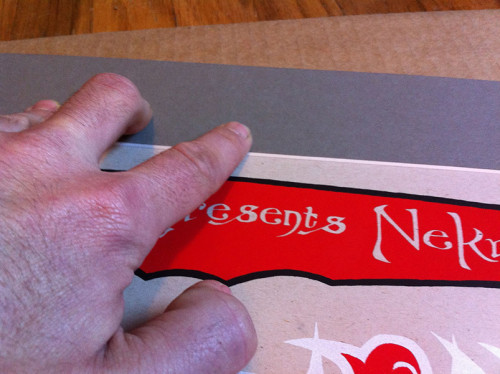 Wash the glass before you put the art in, and yer done. Okay, this isn't archival, technically, but who's going to care about an Inquisition poster in 80 fucking years? No one even cared about it at the show. So, I don't use frame spacers or corner mounts, but that kinda shit is an option… usually for fancier frames (and art). I just care it looks nice and haunts my roommates nightmares.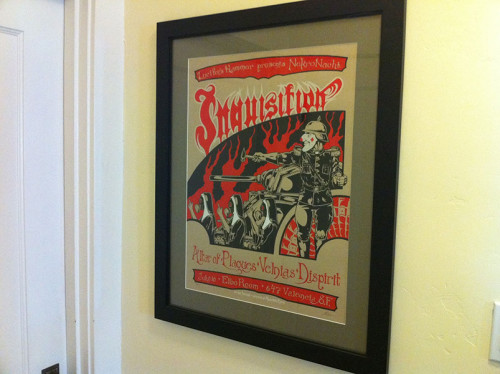 This piece and many others were hung at Eli's the day before the art show featuring Sean McGrath, Chris Oxford, and me opened. The next night was a lot of fun and what I would deem a success. Lots of friends came out along with a fair amount of strangers. There was a crap ton of food, because my lady and I love to cook. It was the first time anyone had brought food to an art opening at Eli's, but hopefully not the last, you lazy turds.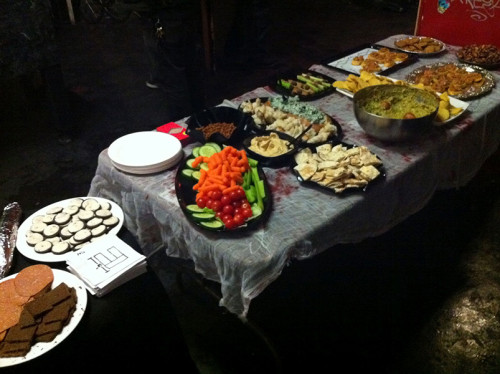 The special surprise for me was my lady's Spinal Tap table, complete with limited Stonehenge napkin drawings…all numbered "11."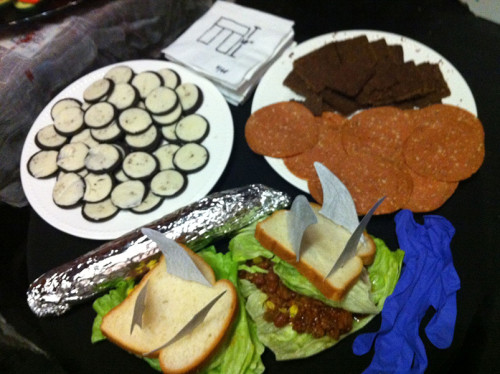 "Look, this. This miniature bread, it's like… I've been working with this now for about half an hour and I can't figure out… let's say I wanted a bite, right. You got this…"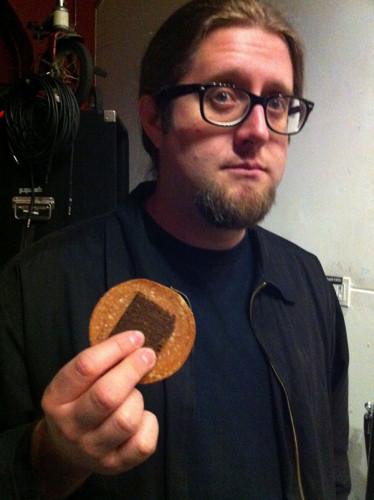 And of course, my folks came. They love to celebrate all that dough they spent on art college for me by coming and watching me get drunk in a punk bar with my friends. Thanks, parental units. You're the best.