I would like to congratulate Marshall Amps on their big anniversary, defining the sound and look of rock for 50 fucking years. Yup, they've been rolling along for awhile now. That is, until their really shitty casters broke and then them shits weren't rolling nowhere. One sentence we will never hear another company say is, "Those Marshall casters are so well designed, we should copy them!"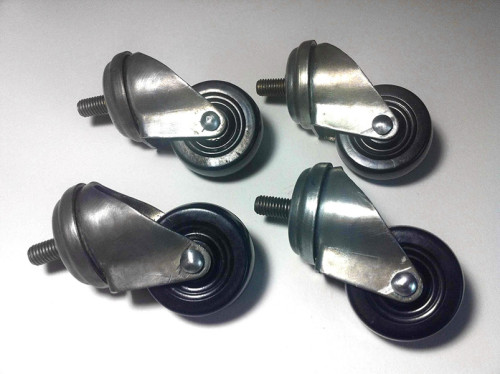 Alas, the Marshall 1960A and B are such standard and well made guitar cabinets in every other way, the minor defaults with the casters must be forgiven and dealt with. The shitty plastic sockets strip out, the poorly mounted bolts come undone, and the riveted-in wheels bust. Loading in and out of venues every night doesn't help their longevity, either. At an unreasonable $20 a pop each for genuine Marshall replacement casters, what else can be done?
The obvious solution is to rip out the old ones and bolt on some new, fixed casters. I don't like this solution because it causes so many problems with making a full stack. You can't take the wheels off. They must either fit into the bottom cab's caster cups (if you're cool enough to own a proper Marshall bottom cab) or go sideways… making one look like a rank amateur.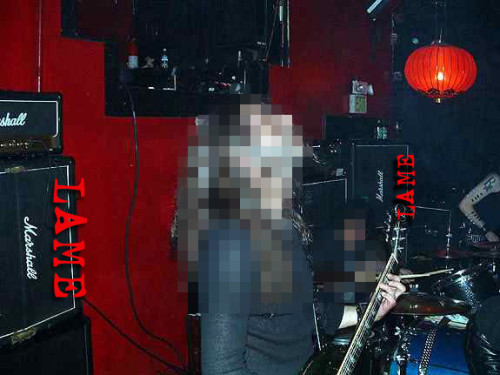 A decent and cheap solution is to replace the caster assembly with pop-out swivel casters. These are standard on Ernie Ball and Ampeg cabinets. They can be installed with some easy modification to a Marshall cab. Done correctly, the pop-out swivel casters can fit into caster cups or (duh) pop out for full stackage mayhem.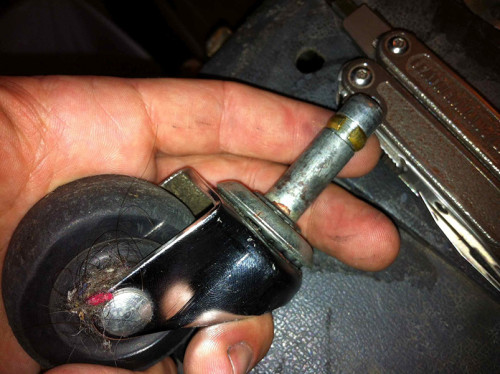 In the case I took on for our guitar player Sean, we had one broken wheel and three others that looked ready to bust, along with loose bolts that made it difficult to unscrew the casters. Luckily, his caster sockets were in good shape, so I took on the challenge of refurbishing and improving the original casters.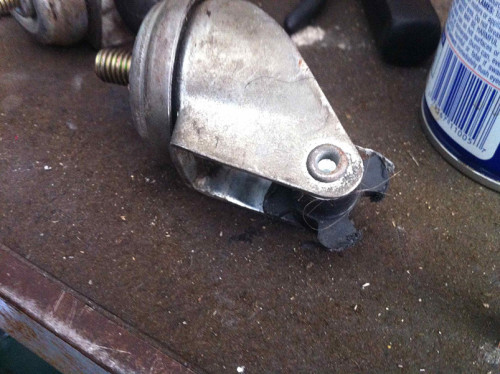 We were on tour when this wheel busted apart. Because the wheels on Marshall casters are riveted on, we couldn't just replace it. On my work bench, however, I was able to bust off those rivets quick-like with my DeWalt angle grinder. You're not a man unless you have an angle grinder to grind the fuck out of shit.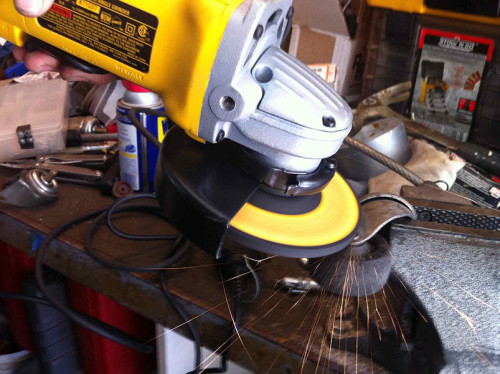 I took on the loose bolts first. I tried epoxy, but it didn't hold onto the bolt through the drop test. The drop test is conducted by dropping the caster onto the ground bolt first, watching the bolt pop loose, then hurling the caster even harder on the ground because you had to wait 24 fucking hours for the epoxy to cure and find out it didn't work.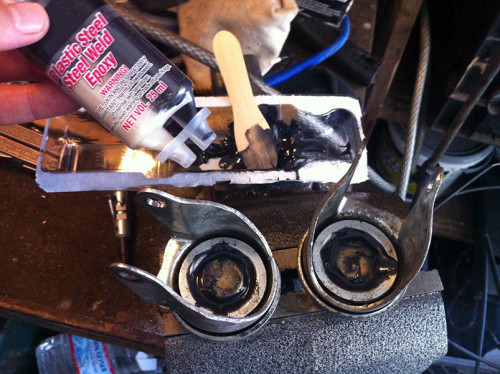 My second attempt went much better. I got a Bernzomatic propane torch, flux, and acid-core solder to weld that bitchy little bolt to the caster. I'm sure an arc weld would've been even stronger, but I ain't gots the time nor the dinero to pick up that hobby right now. This non-electrical solder was cheaper and easier. Don't know how to do it? It's easy. Watch my video with the inappropriately dramatic music I wrote awhile ago, conveniently available now on my personal Bandcamp site, http://doktorsewage.bandcamp.com. (shameless self-plug)
To make it extra secure, I added an e-clip to the top of each bolt. The bolts on the Marshall casters are metric, M10-1.50 to be exact. Standard measure e-clips were the only thing available at the local Home Dipshit. I found the 3/8″ e-clips fit nicely. This time, the caster passed the drop test.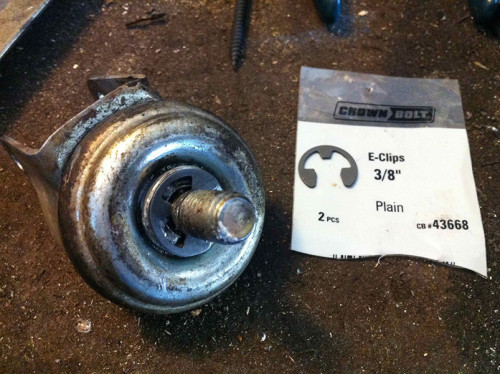 The extreme heat from the soldering did a good job burning away all the grease from the ball bearings in the caster. I lubed them up again with some all-purpose white lithium grease.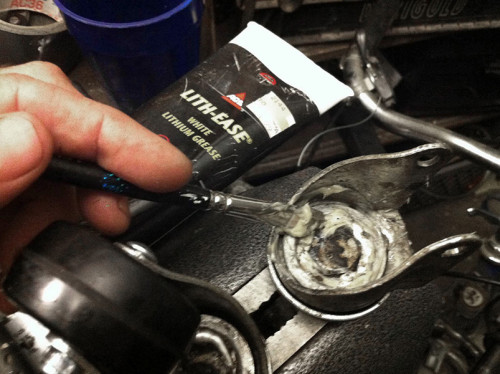 I picked up some cheap, $3 casters from Home Dipshit to part-out. The wheels are actually bolted on with a nut, so they come off easily. The only nasty bit is the bolt doesn't have a slotted head; it hooks onto a corner cut in the caster leg. I needed to use this bolt because it has an axle for the wheel and ya just can't buy 'em like that.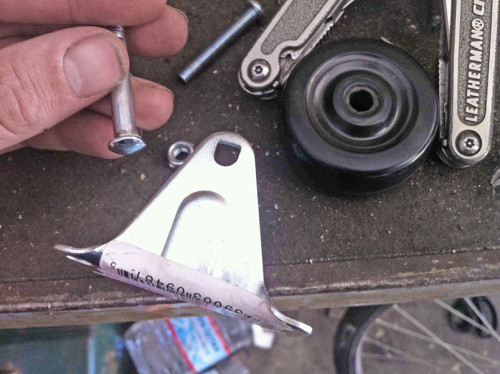 I had to use my Dremel multi-tool to reshape the hole for the bolt on the original Marshall caster.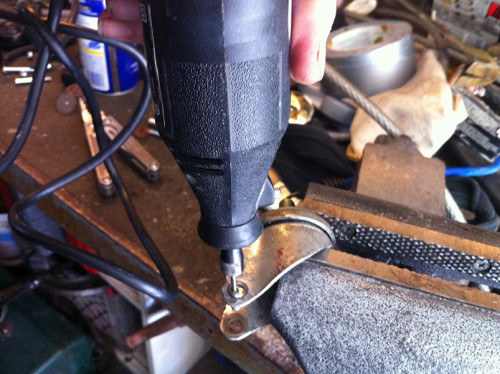 The new wheel was bolted on, fit perfect, and is now easily replaceable. I put it back on the cabinet, making sure to secure it snugly in the caster socket. If it's not snug, you risk a bad bump ripping the caster bolt out of the socket and stripping the really, really shitty plastic threads.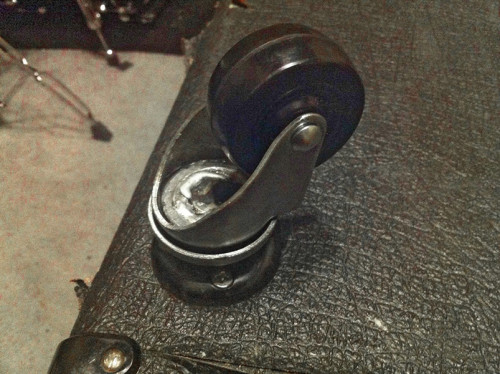 Why plastic caster sockets? Because someone dumb was given a job in management at Marshall. I have ideas on how to fix those stripped out threads, but that post will have to wait until Sean's cabinet takes a nasty bump. For now, this Marshall cabinet is ready to roll, be it to the practice room, the gig, or to the pool so I can drop in and grind some rails.