BUY THIS BOOK! As an international taste-maker, when I talk, people listen. And I'm telling everyone now: Entartete Kunts, curated by Dennis Dread and featuring works from me and 41 other talented artists, is a must have book for lovers of art, the underground, underground art, and books about art from the underground.
Where to buy it? That one is easy; you buy it from the publisher, the Ajna Offensive. You won't find another deal like this, what with 340 full-colour pages for only half a Franklin. Why should you buy it? If you're reading this blog, you should already have your answer; you're a patron of all things excellent. If you don't, well, you're dumb. So let's go back six years and maybe we can get it through your thick noggin.
Dennis Dread is an artist specializing in ballpoint pen art. He's done artwork for Engorged, Abscess, Ghoul, Darkthrone, and many more. If you haven't already, check out his blog, the Battle for Art. Amazingly talented in his own right, Dennis has also made it his goal to support the underground arts. His zine, Destroying Angels, has always featured great interviews, writing, and a finger on the pulse of the underground that makes Juxtapoz look like US Weekly.
Dennis wanted to continue this kind of patronage beyond the written word. In 2007, he decided to have an art show. Making it coincide with the first Goregon Festival, Dennis conceived of the Entartete Kunts exhibition held at Optic Nerve Arts.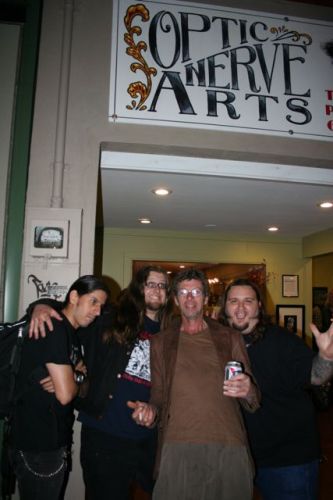 It was a play on words from the old Nazi terminology for "degenerate art," or, "entartete kunst." You can see we're already delving into some borderline material here. Dennis organized me and many others, including luminaries like Ed Repka, to contribute art to his outing as a curator. I was glad to add such highbrow content as a painting of a zombie on a toilet ripping his own dick off.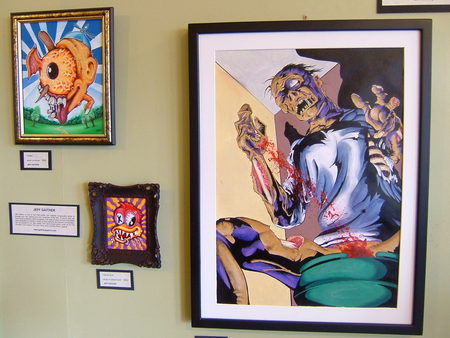 Then there was my other piece… one in a long line of commissioned works, done for free, approved, and then never used because a label went defunct or a band was no more. Sigh… G.G. Allin deserved better than that. No, wait… no he didn't. That guy was an asshole.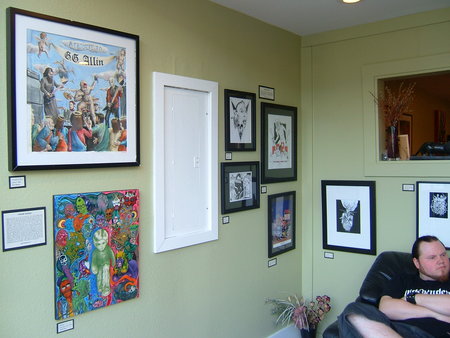 Some bigger pictures of these works are available on my paintings page.
Impaled and Ghoul were both playing the festival, so we headed up early to enjoy the art opening. Afterwards, we enjoyed the beers… Pabst, of course. We were in Portland, after all.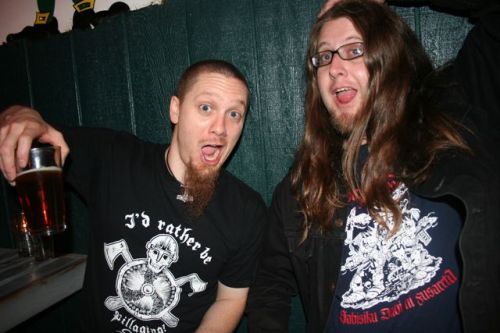 Dennis held an Entartete Kunts exhibition in 2007, 2008, and 2009. It outlived the Goregon Fest. He brought to Portland original art from names like Chris Reifert, Nick Blinko, Conny Pönisch, Sean Taggart, Away, S. Clay Wilson, Digestor, and many more. Such a myriad of misanthropic malfeasants' masterpieces had never been gathered before. After the third year, he refocused his efforts to get all these amazing artists collected in a single book. And thus, after much hard work, he birthed Entartete Kunts: the book. And that must've hurt; not only is it a huge book at 8.5″ x 11″ and 340 pages, but Dennis doesn't even have a vagina.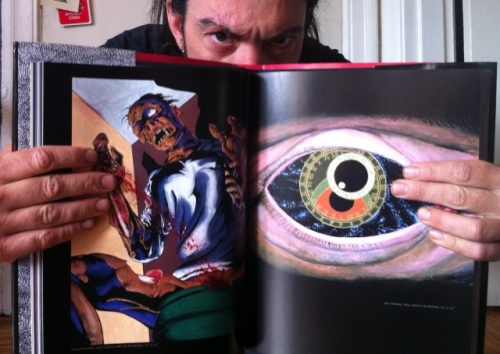 I couldn't be happier to be a part of this book. So go fucking buy it already.
Being that I'd kinda set aside this blog around then, it's a good a time as any to remember how the Entartete Kunts art show and the Goregon fest kicked off our tour with Engorged and Sweden's own F.K.U. in June, 2007. During one F.K.U. set, I dressed as Freddy Krueger and Dennis Dread dressed as Jason Voorhees. We had an epic, live battle in a punk, shit-filled warehouse show in Oakland. It was much, much better than the movie.
httpv://www.youtube.com/watch?v=I02H0NHce_Q&start=1300
Ya gotta love a solid guy like that who'll cosplay with you at a punk show AND include you in his insanely awesome book.
Thanks, Dennis.