King Buzzo of the Melvins has recently released a fucking amazing solo record of acoustic tunes called This Machine Kills Artists. He's gone on tour and I got to do a poster for the gig in Seattle. What kind of gig poster does one design for the man with the most amazing distorted tone on the planet when he goes acoustic? Naturally, you make a poster paying tribute to one of the shittiest distortion pedals ever made.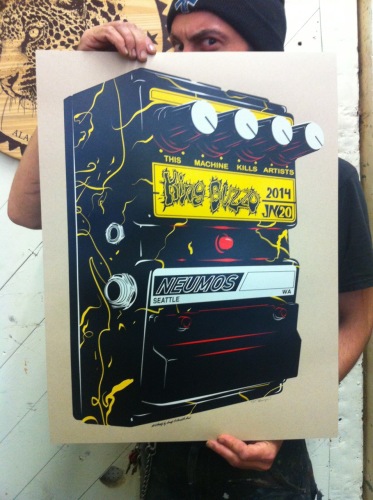 Parodied on my gig poster for King Buzzo is the DOD FX33, the "Buzz Box." According to lore (and King Buzzo himself) it was designed to emulate the Melvins guitar tone. DOD failed and instead designed something Buzz Osbourne described himself as "… totally worthless. It sounds like a vacuum cleaner." It was never meant to be an officially endorsed pedal, but c'mon, it's called the "Buzz Box." I wanted to do a poster featuring this pedal for something Melvins related, anyway. The man himself dropping all distortion for his material seemed the perfect time to do so.
The naming of the album and tour couldn't have been better. Is it coincidence to feature a distortion pedal when This Machine Kills Artists is the title of an acoustic tour? Or is it figurative? Someone ask Alanis Morrisette, because I'm damn sure it wasn't ironic.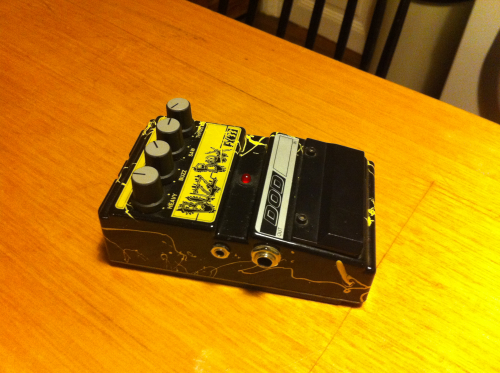 I don't have an FX33, thank goodness, so I had to find an image to work with. Yup, this is basically traced in Adobe Illustrator. It's not traced BY Illustrator, but traced IN Illustrator. I still had to put plastic-stylus to Wacom tablet (oh, the pain). Hey, you do what you gotta do when you don't have a drawing table anymore and instead are crouched over a laptop on a coffee table with cats darting around you.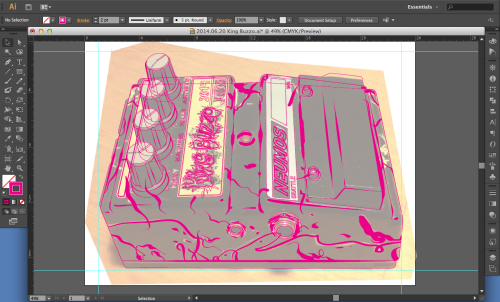 The original image was stretched around a bit so it would fit better in the poster's final 18×24″ dimensions. The bulk of the work was done in Illustrator, but the "King Buzzo" logo was done in Manga Studio. It has a much more intuitive drawing interface allowing me to freestyle it a bit more. I colored the objects in and then did the separations and trapping in Photoshop channels, yadda yadda.
The final print was done after-hours at my place of employ, Graveyard poster, I taped together all the films and burned a fifth screen for one gigantic swath of gloss varnish to go over the entire print. So really, it's four colors and one non-color to make the print "pop" off the paper.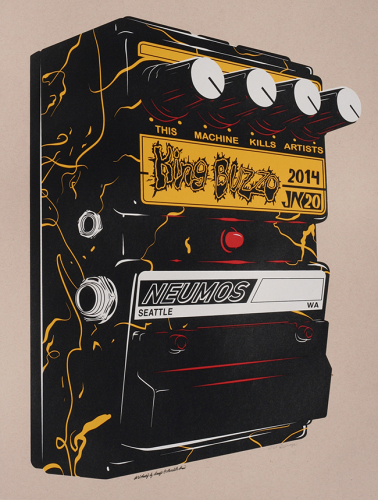 I sincerely hope that King Buzzo got at least a chuckle from seeing the "Buzz Box" super big on a poster for one of his shows. I don't know. I didn't get to meet the man myself. I'm happy with the final outcome, it being the most literal gestalt of my love for art and my fetish for music gear. If you're happy with the result, shit, son, consider buying one of these prints for yourself! It's available now in the Sewer Store. Happy shopping!