Last week I finished up a poster for the Ghoul show on January 8th (on sale now in my webstore). That was the easy part. As it turned out the show itself was the real ordeal.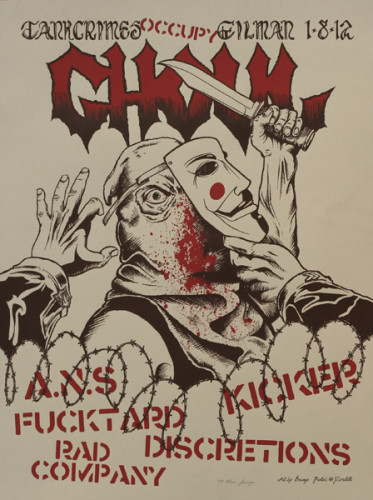 924 Gilman is a historic punk club situated in an industrial neighborhood of Berkeley. It's helped give rise to (for better or for worse) bands such as Green Day, Primus, Mr. Bungle, Rancid, No Doubt, and the Offspring. Tankcrimes Records decided to put on a label showcase there featuring Ghoul, A.N.S., Kicker, and Fucktard.
Being that this is a tiny punk club, not a theater, one can imagine the problems of hosting a band of European cannibals that are invariably followed by a giant, menacing robot and their monkey/bear bodyguard. We had to do some work beforehand to make this possible: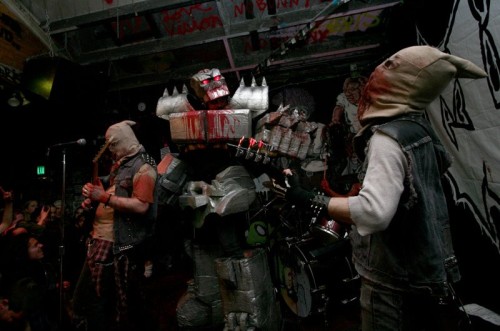 Yes, that's the 7.5′ tall Killbot trying to destroy Ghoul yet again. But he didn't come in through the crowd hurting people, being that he's a lawful agent hunting cannibal criminals. We had to build a backstage for him and the ghouls to enter from.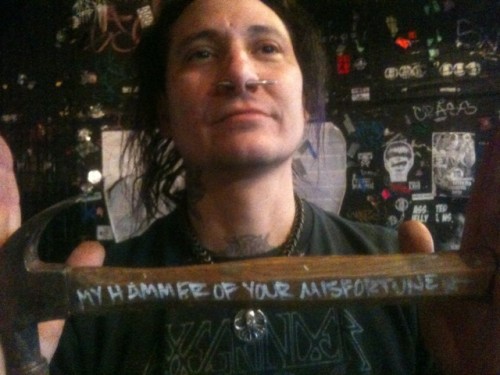 We brought our own tools, but we also had to raid the Gilman toolbox where we found this gem of a hammer. A lot of kudos goes to the punk volunteers who showed up early at 2pm to let us in and begin some minor construction.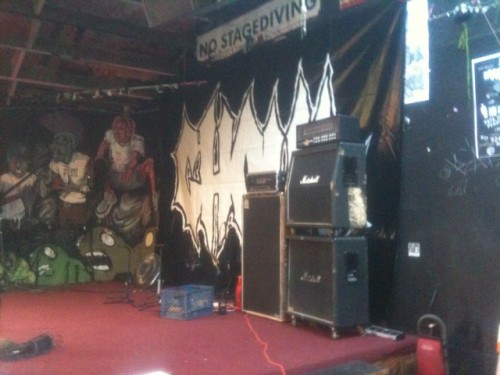 The Ghoul banner is enormous. It was printed that large because they were going to have to compete for space against the pros in Every Time I Die and GWAR on their last criminal touring spree through the States. It's got a lot of grommets and is certifiably fire-proof, lest bassist Cremator gets any crazy ideas in a fancy theater. In a little club like this, the 6′ pipe they had to clip banners to wasn't going to do. Luckily, the staff was amenable to us screwing the banner directly to the wall and we did just that.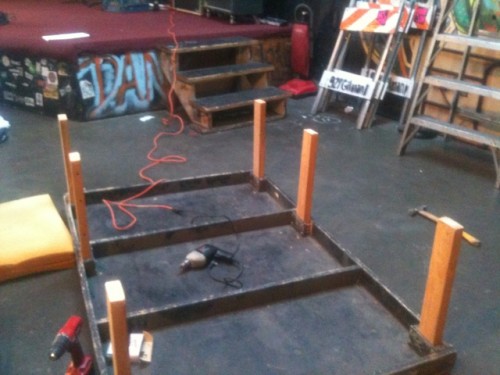 You can see the tiny stairs up to the stage in the background. We knew Killbot would have trouble managing these tiny stairs onto stage, being that his cousin is ED-209. In the foreground is a stage extension we borrowed from our jam space at Soundwave Studios. It was an easy matter to cut some plywood for the legs and then screw it directly to the stage. This would become the floor for our "backstage."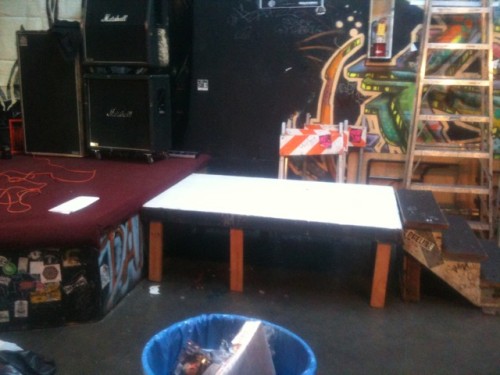 No one wants to see Santa without his beard or the failed balloonist behind the curtain who took over Oz. The backstage entrance was nice, but it needed to be covered. Imagineer Scott Bryan wired up some ropes to hang curtains from.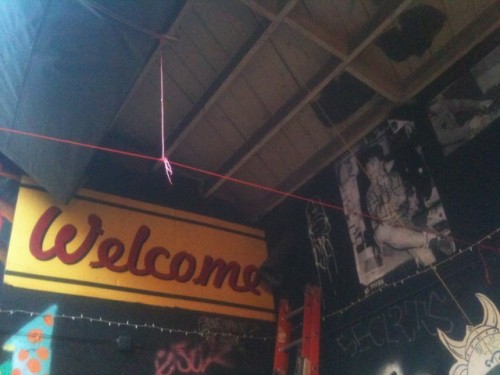 The curtains were cheap plastic sheets, but Scott hung them with care.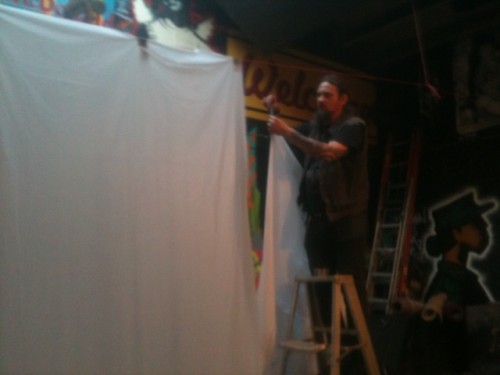 The backstage was set, the backline was ready to go, and the crowd of leftist punks were ready to be slaughtered.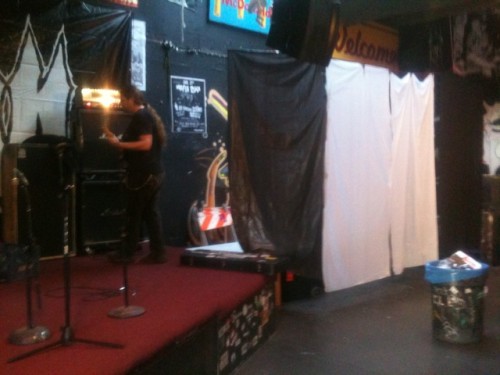 Not everyone was happy to see Ghoul showing up to play. And why should they be? These are cannibalistic killers who live in the cemetery and butcher other humans! They are total dicks! John the Baker, local punk rock folk hero and frontman for Fucktard had a few things to say on the matter when he protested the show before doors opened.
Later on, John took to the stage with his band Fucktard. They had an energetic set with a lot of John's old songs being played like "Fistfuck the Pope." He continued to rail against Ghoul-man Sachs, but I don't think the crowd was ready to Occupy. They had to worry about dog food for their pitbulls on rope leashes.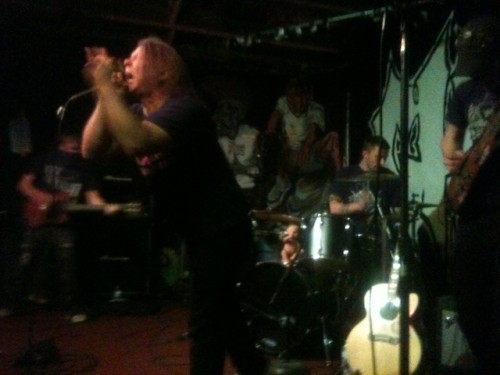 Next up was Kicker. This is something of an all-star band, featuring Mauz from Dystopia on guitar, Dave Ed of Neurosis on bass, and Pete the Roadie fronting the band. You might not know Pete the Roadie, but he's been helping bands roadie gear for over 20 years across the world. This is his first band, but you wouldn't know it the way he delivers his menacing punk rock and they way he interacts with the crowd. They're good vintage punk rock, as vintage as the men playing it.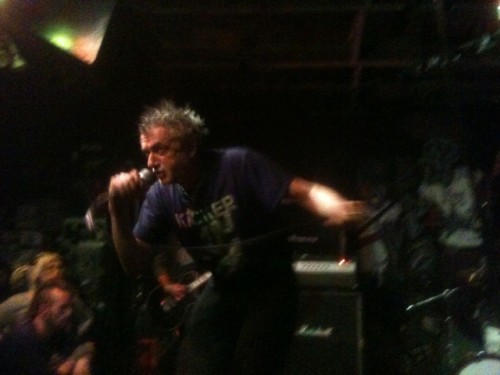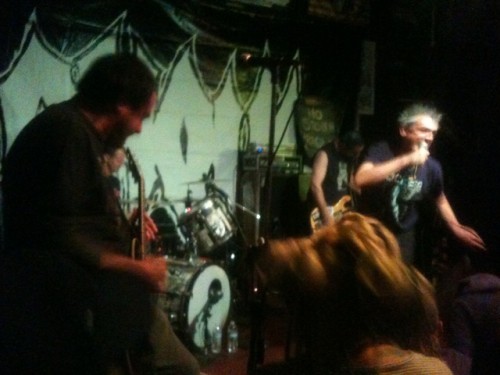 A.N.S. was on tour for this show and from places all over, kinda like Ghoul. They have members from Texas, New York, Los Angeles and the Bay Area. I guess they must practice over Skype. They had a great set, performing some blistering cross-over that kept the crowd moving. It was hard to get a photo that wasn't completely blurred by their frenetic antics.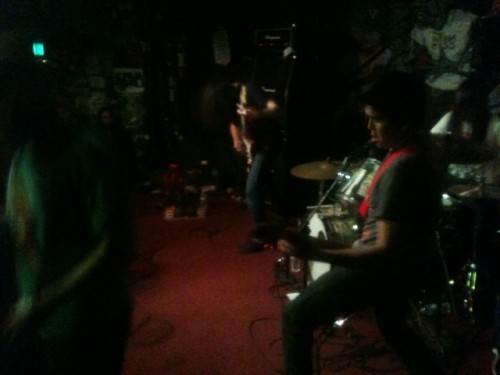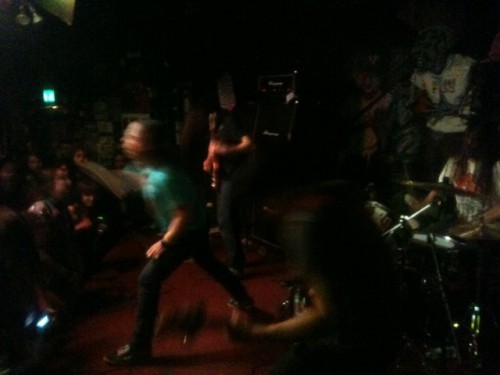 Finally, Ghoul took to the stage. I was too afraid of the onslaught of their butchery, though, so I headed out doors. By all accounts, they had a great set with kids going nuts in the pit and on stage. Killbot came out but failed once again to stop Ghoul from finishing their set once Kogar the Destructor booted him from the stage. Baron Samedi spilled the blood of yet another chicken all over the people up front when he made a guest appearance.
From what I could tell, the tigers were all pleased. Ghoul was able to nail it once we had put the ground work in for their wacky antics and killing spree. The only bummer was afterwards, having to lie down in blood and undo the construction to return Gilman back to normal. All in a days work.
Whether you were there or not, you shouldn't pass up the chance to buy one of these fine drew and printed for the show. There's a very limited number left, so get 'em now while they are in stock in my webstore!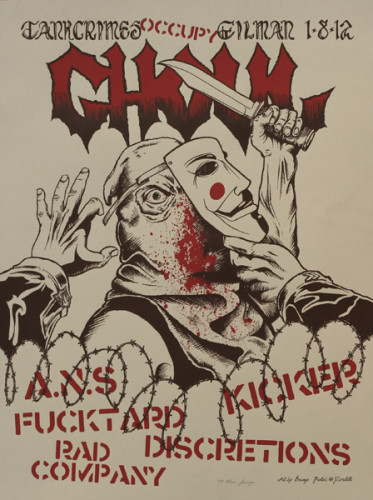 At 18×24″, it's a fine piece of wall art to show how much you love these murderous dick heads.