Some time back, my English friends asked me to design a tee for their band with "some gnarly riot cop with a beer gut and snarling face." With the 2011 English race riots still fresh, I opted for a more wicked idea: a riot cop inspired by the movie They Live. I wanted to eventually do an art print parodying the "Keep Calm…" poster. It is the most They Live-ish poster design ever. You don't even need special sunglasses to see the message of subservience. A few years later, I've finally gotten around to making that poster.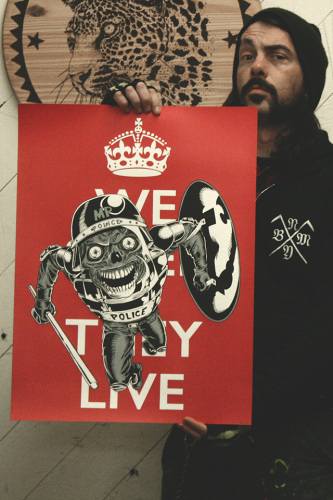 This very limited art print is for sale in my shop right now. It was kind of a bitch to print and I lost about half the prints. That's because that bright red is actually a metallic ink and it ain't the kinda shit you can go buy in the art store. It was specifically formulated at our shop, Monolith Press, by moi for another job. I had plenty of ink left over to make a kick-ass poster of my own, though.
Of interest only to screen printers, the ink mix is a touch of TW fire red, lots of gloss clear base, some Versatex fluorescent pink, and loads of gold and luster powder. It was a nightmare keeping the screen flowing for that amount of ink coverage containing so much particulate matter. But the results in the light speak for themselves.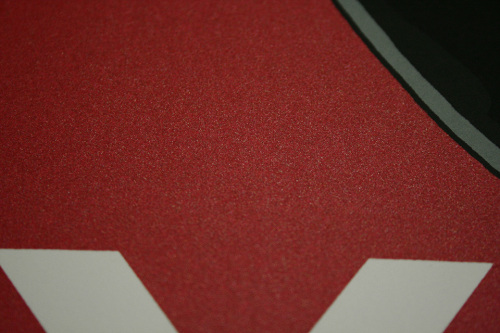 The original drawing was inked with pen on Bristol board. In my long list of regrets, this drawing is included. I wish I'd had more time to do it with a brush. But current living circumstances got in the way. A couple of rowdy cats and an open container of ink in a small apartment do not mix well.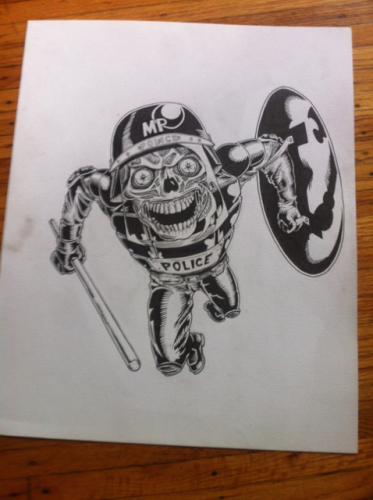 The drawing was done gratis for my friends in the English punk band Brutal Regime along with a more metal logo. They were pleased with the final result, but I think they still haven't actually printed the shirt. If I had a nickel for every design I'd done free for friends that never actually got printed, well… I might have like 50 cents. Still, that's quite a few nickels.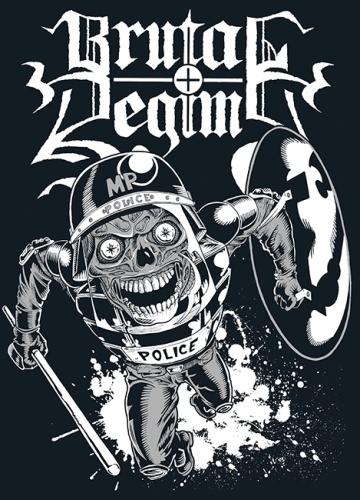 For the "Keep Calm…" poster, I downloaded a free .svg file with an open Creative Commons license. The font that most closely matched the original was Gill Sans semi-bold. I was able to run it concurrently with my poster for an upcoming Swans show. The art print dictated some of the colors of the gig poster. When yer a scrappy but poor D.I.Y. artist, you have to make some concessions to create this shit in a cost-effective manner.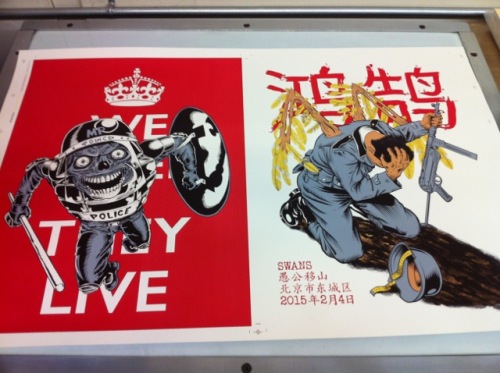 In light of the current hubbub surrounding police violence and race relations in America, I was a tad hesitant to release this poster. I don't hate cops, but I am also sympathetic to the other side. The imagery presented itself so readily, I said fuck it. I doubt my little shit stirring piece about class subservience and state power will have any blowback. It's more likely to inspire some dork like me to watch They Live again for the umpteenth time. And that is a-okay.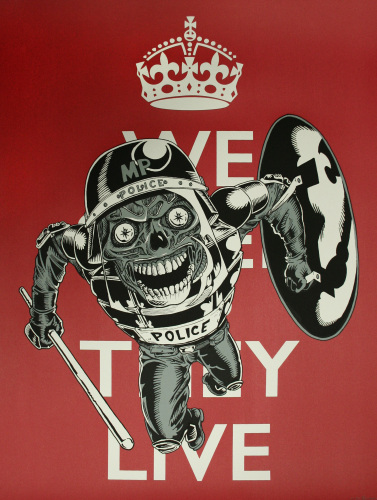 If you like it, then buy the damn poster from me so I can do some more sci-fi, horror, and vaguely political artwork. I love doing gig posters, but I'd love to be doing even more stuff like this.