First day of the tour, and already things were getting tense within the band. Sometimes aggression just has to be vented, and sometimes that just takes a machete to the head.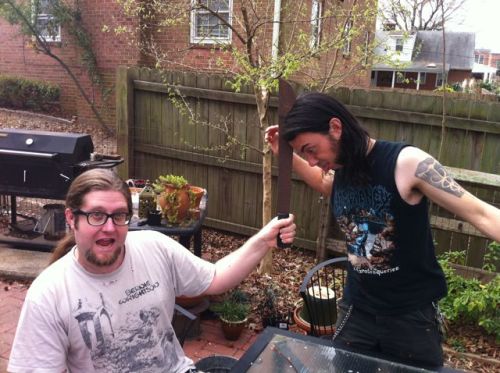 Right up to the last minute, we were working on props and running errands all over Richmond. I was pretty disappointed that we didn't have time to see the Slave Pit. Maybe at the end of tour.
We arrived at the National in Virginia and it was immediately big hugs from the guys in GWAR. It's like they forgot what bumbling, boisterous boobs we were just a scant five months ago. For my part, it felt like we'd just taken a few days off and no time had passed. Weird.
Of course, there was the addition of Municipal Waste to the line-up for this tour. We've known these guys for years, though, and played a bunch of shows together. Instead of the awkward days of getting to know each other, this was just a gathering of fiends. Nice.
The show at the National was a benefit for the Smoot Family Fund. Less a grievous affair, it was more a celebration of the man… with fake blood. Suppression opened the show bombastically. We found love in Richmond. The Municipal terrorized. And GWAR… nailed it. Basically the same show, but with a few song additions. I particularly enjoyed the closer, "The Road Behind." What was once a metal ballad parody took on a whole new significance and came out quite bone chilling. Beefcake the Mighty, though a tad shorter these days, killed it on the chorus like a day hadn't been missed since "America Must Be Destroyed."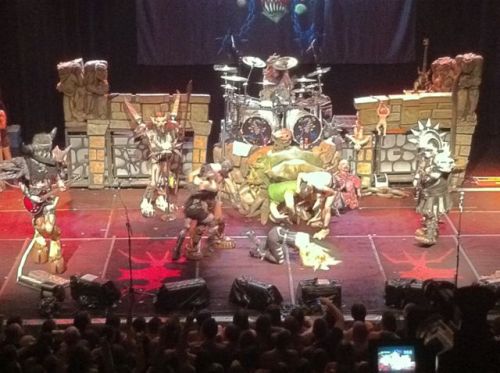 Tip: when you see a bunch of floozies in yer back room that you don't recognize, hide yer god damned beer so you can have one after you play. My mistake. The floozies apparently think clubs just love to give opening bands free beer all night. Nope. Clubs love to charge band members $7 for a god damned Bud Light. Well, the floozies paid me back in full with the most amazing quote: "'N I din't even know I was pregnant, but I got drunk so fast."
Big ups to Richmond store Backsage as well. I wish more places with casters, jack plates, gaffer tape, and other expendables like this existed.
We left early in the AM towards Pittsburgh. Right outside the city limits we stopped by the Monroeville Mall. No, we didn't need any mesh shirts from Hot Topic, we came to celebrate the best zombie movie ever made. This was the shooting location of George A. Romero's ORIGINAL Dawn of the Dead.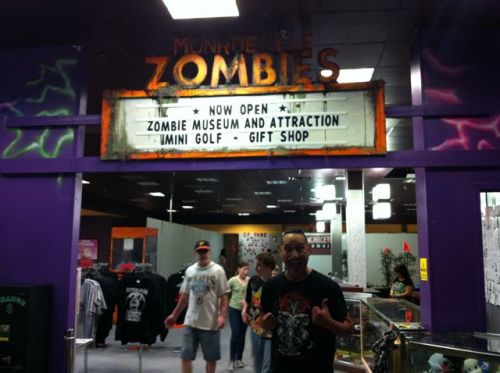 The first time Sean and I had been here, the mall hadn't been refurbished and it looked a lot like the movie. But there was nothing letting you know that this was a horror landmark. Now, it looks a bit different, but you can still see the hallway to the survivor's hideaway, the pond where they buried Roger, the department store they first looted, etc. And now that zombies are such a piece of popular culture, the mall has embraced its past and there exists a small but wonderful museum of zombies, complete with a bloody handprint wall of fame. If you're ever near Pittsburgh, it's worth braving the smell of S'barro noshing tween pukes.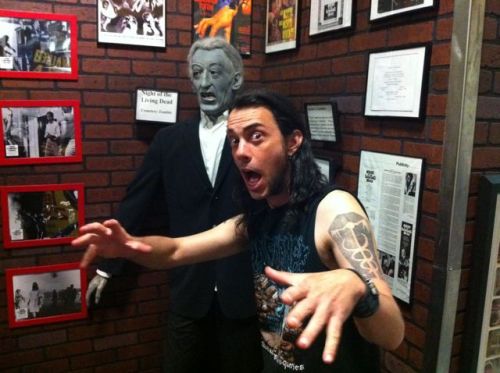 We showed up at Mr. Small's theater in nearby Millvale. Oderus informed us we were going to hate the load-in. How prescient for a scumdog who has his brain ripped open night after night. See, the only way to get the van and trailer to the spot we had to park was up and around a steep hill. How steep? Think vertical rock climbing and you get an idea. I took the van PRNDL down to 1 and gunned it. It was frightening, but we made it round the bend and pulled in… trailing about four quarts of transmission fluid in the street. Fuck.
What to do, what to do? Well, the next day was a Sunday so there was no one to even look at the transmission until Monday. Fuck it, time for the show. We loaded in and set-up, trying to not think about being totally stuck and fucked in the Pitts. I got a ride to an auto parts store and picked a few quarts of transmission fluid and some Lucas Transmission Fix. It's an additive that's supposed to help with SMALL leaks. That's not what we had, but every option had to be exercised.
We jammed out our set to the sold-out crowd, all the while preoccupied with our predicament. I barely even noticed the decor and that it was a former church we were sullying.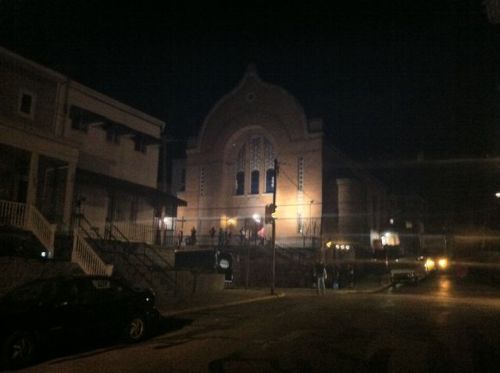 GWAR had some issues with power cutting out. It being St. Patrick's Day, one asshole emblazoned in green had a problem when he came out swinging from the club and accidentally clocked a cop.
We started up the car to leave the show, Sean kneeling in front of the engine in prayer to "Jaysus" to heal our van. I might become a believer, because the leak was no longer a sieve. A few drops were all we lost to my friend Mel's place. We picked up some extra tranny fluid the next morn, and a couple gallons of transmission fluid (rim shot). We had to risk the drive to Sayreville, NJ for the Sunday show and hope we could take care of the van on the following day-off.
We made it on a wing and a prayer. And good thing to, because the show was fantastic. The Starland Ballroom had an excellent crew, the sound was rad, I saw a couple of my Woe bros, and the tigers were nuts. GWAR was kind enough to pose in the doorway leading to the stage for about 10 minutes before their set so all the bohabs could snap photos.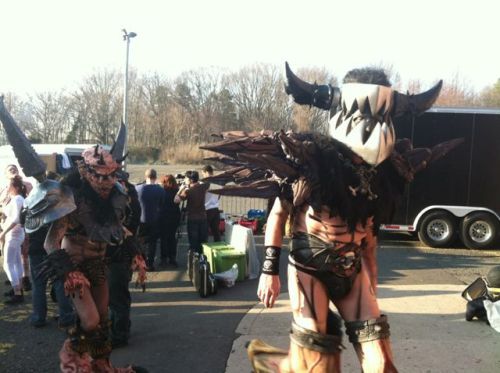 After the show, we headed to the house of Dino's cousins and grubbed on some excellent Italian food. The next morn we got the van to an AAMCO that guaranteed they'd have the van turned around by the next day. We told them we'd put that sealant additive in and you could hear the eyes rolling. Turns out, it works by swelling the fucked up seal in your transmission. But it also swells all the good seals, too. They had to rebuild the entire thing because of our precautionary step. So, my recommendation in the future, first try just adding fluid first and see if it holds after whatever dipshit thing ya did to make it pour out. That sealant is a last gasp measure, only. I'm figuring they would've said they had to rebuild it anyway, but for $2,200, it may have behooved us to gamble a bit more. We can't complain too much though; the van was practically free, and nothing is ever free.
We took leave of Dino's fine family and got to Boston on time. Legacy of Disorder joined the bill this night. No lie, I'm god damned jealous of their perfect gear and a sweet motor home for a ride. Taking a break from all my worries with Tony and Germ sure did help a lot…
We hit the stage at the Wilbur Theater and at first I thought the tigers weren't into us. They just stood there. Then I saw a pocket try to start moshing and the security stopped them. Ahhh… Facking wicked Boston haaawdcore violence has gone on too long and it's now illegal to mosh in Boston. Should've stuck to the pogo, tigers. Or, gather twenty folks and just go for it. Occupy the Pit!!!!
The anti-mosh may have put a bit of a damper on our little practical joke on Sean when we brought out Big Bird on stage instead of our usual chicken, as he usually announces it. Lemme tell ya, it ain't easy hiding one of these in a van full of six people.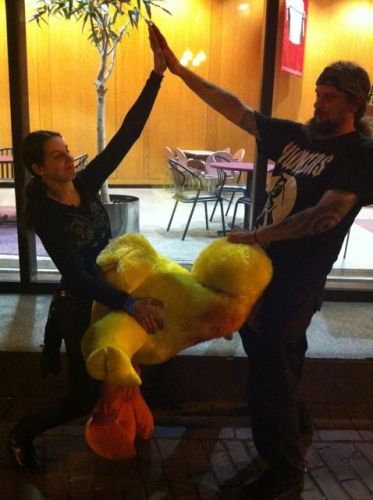 We retired to the lovely abode of some supporters. Fuck my life, biggest horror nerds ever. And I mean that so affectionately. Amongst the life size Predator and Robot and Pumpkinhead, the thousands of movies in DVD and VHS, the posters, the toys, dude-hammer pulls out an actual Freddy glove from Elm St. #5 and lets us start playing with it. These are some of the funnest moments of tour.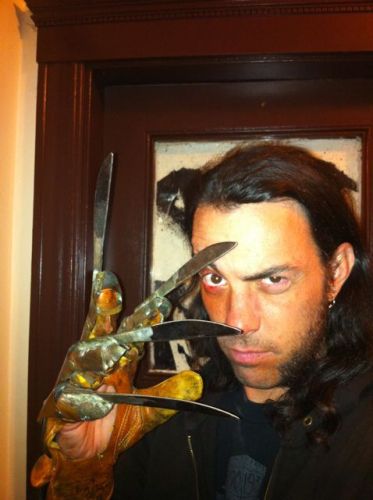 We had a leisurely breakfast with our new friends of Whore Church and took off to scenic Vermont. What an uneventful trip. I mean that in the best way… easy peasy for ONCE!
The show was at Higher Ground in South Burlington. I was hanging outside with Beefcake while he was strumming a guit fiddle. All of a sudden he started making his guitar gently weep, and I told him to stop playing that "Phish shit" or I'd have to break the guitar. That's when security informed me the club was owned by a member of Phish. Ah, fuck me. Hippies. Well, there must be something causing niceness in that Ben and Jerry's (drugs), because the crowd was great and very forgiving of our "robot incident." Let's just say, he did the exact opposite of rising. Nearly took down half the GWAR set, too. Luckily, no injuries.
I guess we had to get a hotel or something later. I don't remember much because I was busy hanging out with Mr. Jack Daniels. I woke up in a panic to find that I had indeed packed all my belongings. Laboriously packing everything in the same way night after night while sober ensures I can do the same while blind drunk. I got the continental breakfast in the lobby and made sure to stuff some "to go" in my pockets. Hotels suck.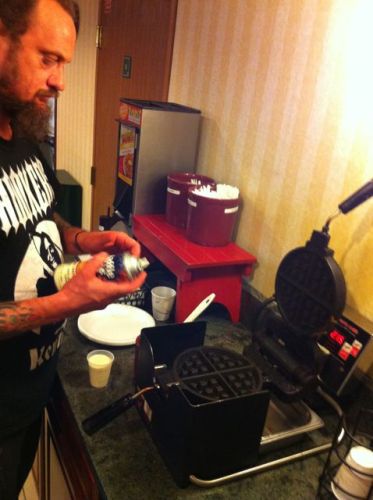 After a so-quaint-I-had-to-puke drive through Vermont, we made it to the Westcott Theater in Syracuse. It was a nice show space, but no backstage. GWAR had to build what amounted to a backstage out of curtains, or rather, their industrious slaves did.
We had a fun show and then hung out in the parking lot with some great tigers. Vinny was a particular favorite, regaling us with a story about being maced, then shot in the stomach, and then punching his attacker and knocking him out cold. We were really really nice to Vinny.
Then there was the kid claiming to be a promoter who asked me how much we would want for a show while on tour and then tried to lecture me how it wasn't about the money. Well our van doesn't run on hopes and dreams, but I just about tried running it on pulped human. After loudly explaining to him he should seek refuge elsewhere in order to have carnal relations with himself, I had a good night.
Vinny took us to his house, fed us, and we took the night train to Toledo. Ah, scenic Ohio.