The Dead Shall Dead Remain album cover is perhaps one of the most infamous pieces of art I have ever been involved in. The idea was conceived by Sean McGrath and executed with the help of every member of Impaled. I took the photo and printed it myself back when printing photos was a thing you did before you could actually see the image. 13 years later, we re-recorded the album and I was tasked with paying homage to ourselves.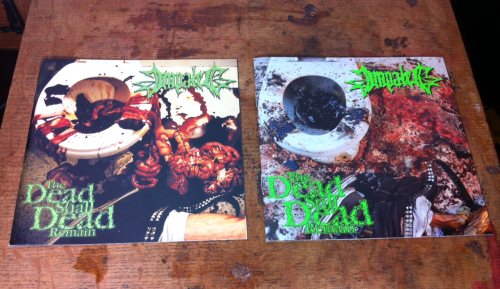 My concept was to play off the original title coined by Leon del Muerte. It made no sense other than its emphatic truthiness. Revisiting the music 13 years later, the new title, The Dead Still Dead Remain, supports the original's conceit that dead is dead; only it's a tad more rotten. I'll never understand what that has to do with a toilet full of guts, but it was gross, got us a lot of attention, and it cost nearly nothing to make.
When we were in our early twenties, throwing a bunch of guts around seemed like a great idea for an album cover. A lot of underground death metal bands at the time were grabbing forensic photos of an old site called rotten.com back then. Impaled had the notion to make our own forensic photo that would be hilarious and offensive all at the same time. So we threw some guts around and took photos.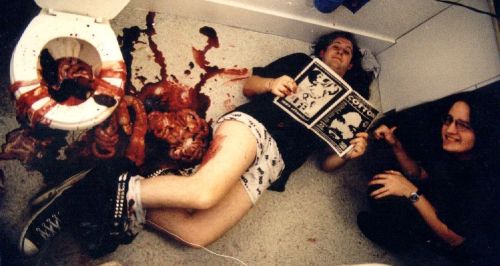 We got the guts from a chain of Asian grocery stores called 99 Ranch. They sell every part of an animal you can imagine. We filled the guts up with water to give them some fullness, ala a trick from George Romero's old zombie films. The doodie you see resting on the toilet was half-baked biscuit dough with food coloring. We opted on that route instead of actually taking a dump on the side of the toilet.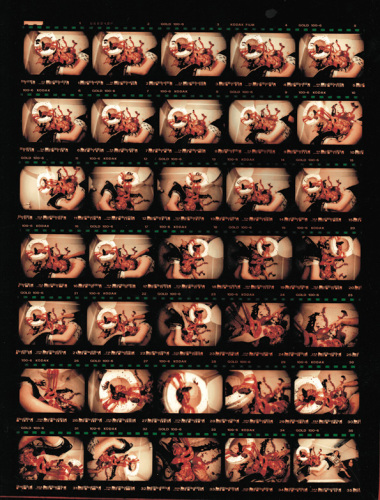 That is what is known as a contact sheet, kiddos. Back when I was in college, I had access to a pretty bad ass photo lab. I was able to print actual color photos, not digital. I used the contact sheet to look through my negatives and printed up the cover photo, adjusting the color and hue manually with a color enlarger. The actual print itself now resides in Dresden, Germany, in a private collection. That sounds super cool to say, but really, I just gave it to a close friend.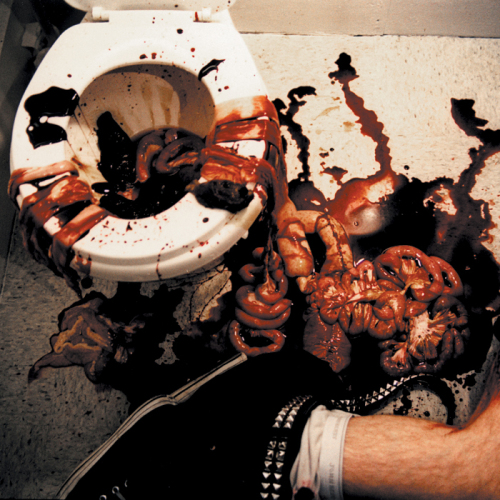 The cover shoot was executed in Sean's apartment in Oakland. The only things that cost us were the guts and the photo paper I printed on. This cover that garnered us so much attention was made for somewhere under $50. We got away with murder, but we still had to clean up.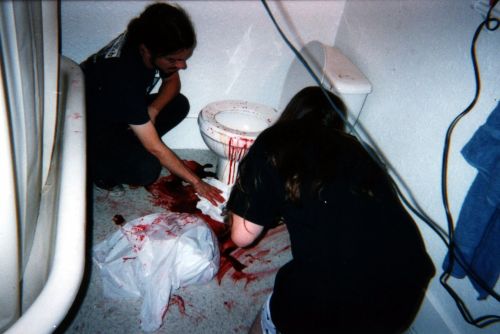 Fast forward 13 years, and we've re-recorded our old record as The Dead Still Dead Remain. It was the only way to get the songs back into print. This was partly due to the legal hassles from an old recording contract and also because we thought the original sounded pretty horrible. It had youthful spunk, but the entire production process was marred by amateurish ethics and way too much beer.
Once we came up with the modified title, the cover concept revealed itself. What if no one cleaned up? What if that shit was STILL there? Well, Sean's old apartment was gone. Being semi-responsible adults with significant others or roommates who might frown on the mess-age of our musick, I had to come up with another way to recreate the shot.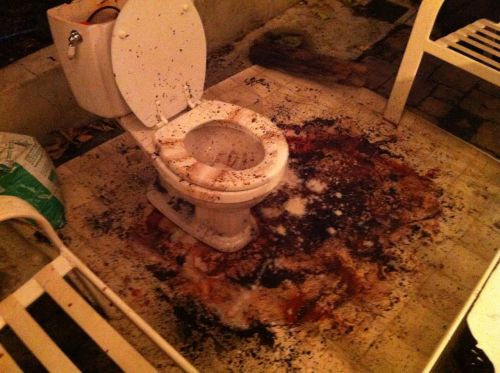 It was as easily done as said. First, I got a free, used toilet from craiglist.com. The person offering wrote to me, "This is a good toilet. This isn't gonna be used for some art project or something, is it?" I said, "Um, nooooo." I got a strip of linoleum for cheap at a local salvage place, Urban Ore. That is my backyard with plastic patio furniture holding it down. Super pro.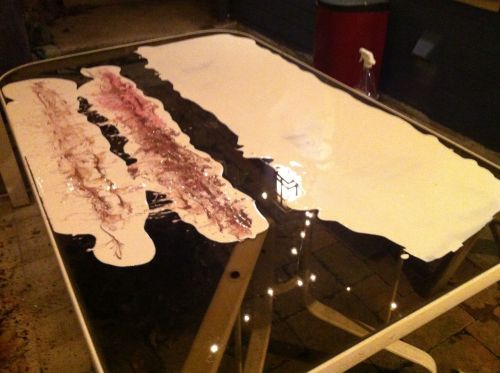 The picture was supposed to look rotten, but I'd be damned if I was gonna have guts sitting around rotting in my backyard. Instead, I decided to employ some special effects. I poured out some latex and gooped it up with acrylic paint. Once rolled around in some fake blood and covered with dirt and grime, it would look sick. The clear latex was for the legs.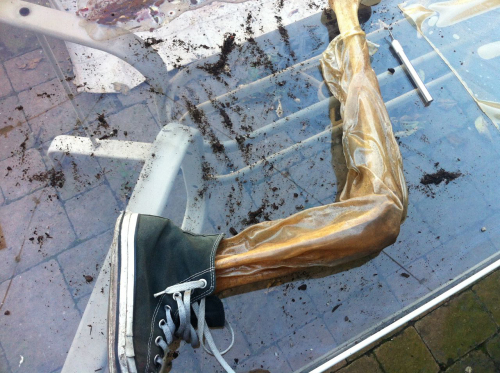 Here I got lucky. I was going to use some plastic femurs to simulate the leg bones. Then I ran into a friend who lent me actual human leg bones because she, rightly, said I had to get the tibia and fibula correctly in place or I was a poseur. I wrapped these in a sheet of dry latex and then lightly burnt the latex with a propane torch to get it bubbly and gross looking.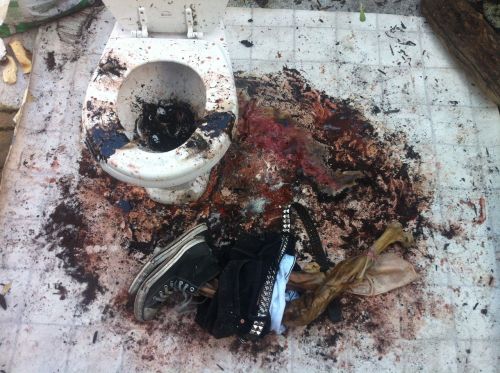 And the mess is complete. I used my torch to melt more latex to the toilet to give it that shimmery, goopy look. There's a lot of dirt and blood mixed in to increase the nastiness. The only animal products used in the photo at all are some dried up poops from our dog Roscoe. Unlike the original, in this version of the cover the guts are all fake but the poop is real. I took the photos on my Canon Digital Rebel SLR with a fixed lens using natural light augmented with some work lights.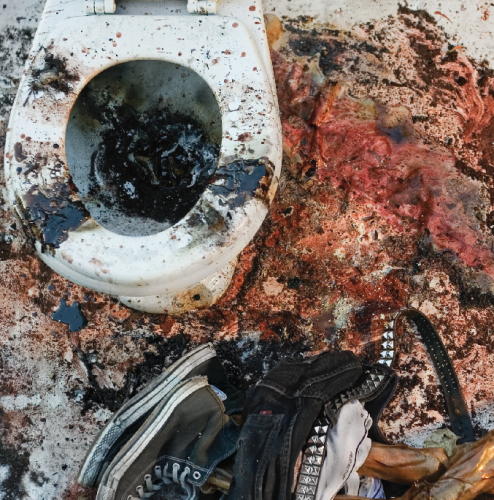 The only costs I incurred for this photo was for a little latex, a couple bucks for the linoleum, and a package of tighty whiteys because I don't wear them myself. It was even cheaper to do this cover than the original. It just took a little planning and a lot of chutzpah.
To get yerself a copy of this fine record, head on over to our label Willowtip's website and order it. Yer sure as shit not gonna find something this gross on display at your local Wal-Mart.http://www.willowtip.com/releases/details/impaled-the-dead-still-dead-remain.aspx