Well, this was quite an honor… doing layouts for the re-issue of Sodom's first LP, Obsessed by Cruelty. I got the gig thanks to my good friend Dan at Mammoth Sound Mastering. He introduced me to the fellas at Wax Maniax. My first gig (not my last) for them was just for, oh, I don't know, one of the best thrash bands ever? All in all, I think it came out quite smashing.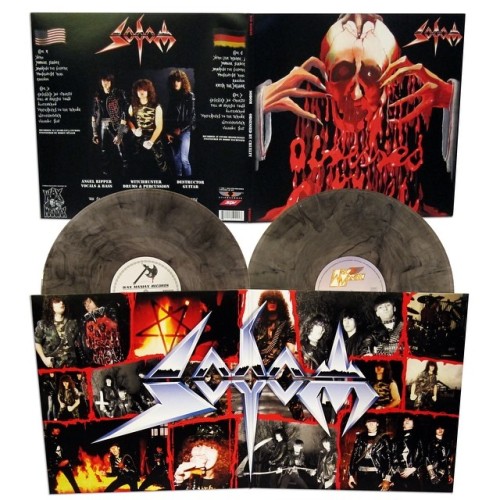 This version includes both recordings of the album, one that was released on vinyl in Germany and the other that is pretty much the only version most people have heard. It's a long story. In any case, I got to sift through photos provided by Tom Angelripper and make a bad-ass photo collage. I tried my damnedest to correct the shoddy, original lyrics sheet, and did a lot of photo correction. Even the LP labels reflect the original releases' designs of Metal Blade and Steamhammer Records.
This beauty sold out in just a couple weeks, but I'm sure they'll eventually have more over at the Wax Maniax website.