Musical instruments, good ones, are often compared to one's children. Well, how many children are thrown in a case, plucked, hammered on, plugged into, or hanged? Don't answer that. (Please, really, don't.) Without these precious musical items, though, it's hard to call oneself a musician. That is, lest ye fortunate to have the talent of Susan Boyle (hopefully not the face). My favorite, my child, my baby, my fifth limb… my B.C. Rich Ironbird. This thing is a mother fucker.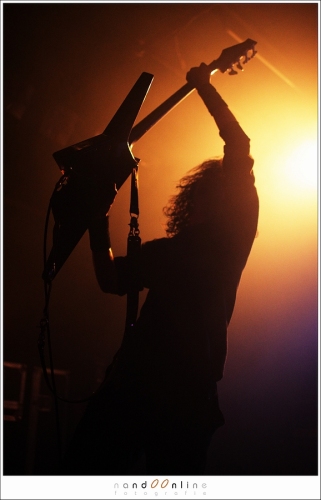 It's an American made (or at least assembled, I dunno) classic, with the big "R" inlay on the headstock indicating its origin in the land of the free. Birthed sometime around THIRTY FUCKING YEARS AGO, it's got neck-through construction, a rosewood fretboard, and a simple one-knob configuration. Because metal don't need a fucking tone knob. I scored it over a decade ago at a used-music shop in San Jose for a meager $300, during a period where "metal" was a dirty word and Prodigy was the band of the future (where are they know?). It's been with me on countless tours and tons of recordings.
Imagine my heartbreak when the neck broke.